Since its introduction to US consumers in mid-2015, Amazon's Echo has become a promising hit. By the end of last year, the e-commerce giant had sold an estimated 11 million of the smart-speaker personal assistants, which serve as vessels for Amazon's artificial intelligence software Alexa. But the Echo is not on sale in China, and it offers no Chinese-language support.
In its absence, China's tech giants are gunning to popularize rival devices for the domestic market. The competition suggests that China's voice-enabled AI products will remain separate from those in the rest of the world, much like search engines, ride-hailing, and other pillars of the internet.
The most recent Chinese tech giant to announce a smart home assistant is Alibaba. Today at a press conference in Beijing, it unveiled the Tmall Genie X1, which will go on sale on Aug. 8 for 499 yuan ($73). Shaped like the Echo but about half the size at only 12.6 cm tall, the device performs all the functions one would expect: scheduling and reminders, fact-finding ("How many calories are in an apple?"), control over other smart home devices ("Tmall Genie, turn off the lights!"), and media streaming.
Users can also buy products on Alibaba's e-commerce sites using their voice, and pay for goods using Alipay, the company's third-party payment system.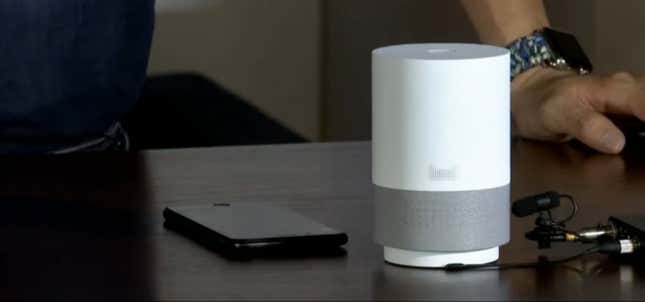 Also like Amazon, Alibaba is opening up the software behind the Tmall Genie X1 to third-party developers. At the press event, it touted a workout program developed by Keep, a Chinese fitness app.
But in China, Alibaba is a relative latecomer to smart home assistants. Search giant Baidu released Xiaoyu ("Little Fish") this spring. Unlike the original Echo, Little Fish comes equipped with a screen and camera, allowing for a visual interface and video chat. It's powered by DuerOS, Baidu's voice-recognition software (analogous to Amazon's Alexa). Baidu and Ainemo, its hardware partner for Xiaoyu, have marketed the device toward families. It sells for 1,699 yuan ($250).
Baidu, like Amazon and Alibaba, is also attempting to broaden its reach beyond a single device. Today at Baidu Connect, a developer conference where the company touted its latest developments in AI, Baidu announced the DuerOS Open Platform, a scheme that lets third-party developers and brands build hardware and software products around Baidu's voice-recognition software.
E-commerce giant JD is also in on the smart-home assistant game. The company released the Echo-esque DingDong in 2015, and now it has seven in-house branded models. In addition to offering the usual services, it lets users order goods from JD and track delivery status. The most expensive DingDong device sells for 799 yuan ($118) on JD.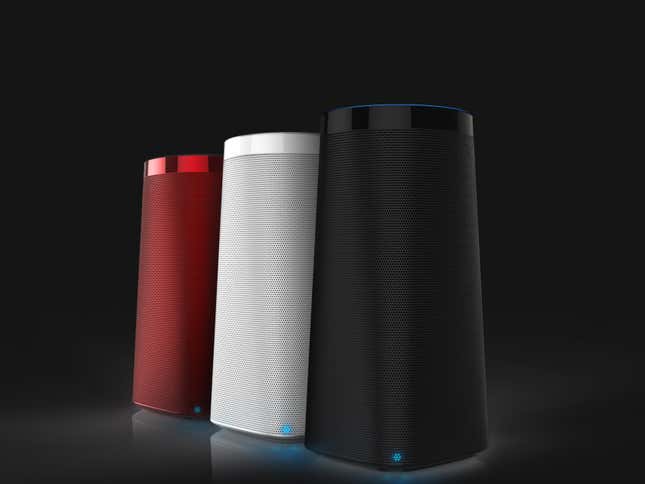 JD developed DingDong through a joint venture with iFlytek, a Chinese artificial intelligence firm backed in part by state-owned China Mobile, the country's largest telecom.
Tencent, maker of the behemoth chat app WeChat, has also unveiled a voice-assistant program it calls Xiaowei. No products stuffed with the software have yet hit the market, but judging by the company's recent push into AI, an Echo-esque device will likely arrive sooner rather than later.
Which device will win over consumers? It's still early stages for the smart home industry, and for artificial intelligence at large. If success depends on software, the leader could be Baidu, which has been investing in artificial intelligence longer than its competitors have. But if success depends more on selling, then JD and Alibaba will have the upper hand, as they can promote their devices front-and-center on their e-commerce sites.
Or, given that these products appear to be pretty similar, it's possible the best-selling one will simply be the cheapest. That could mean that smart home assistants will soon become just as commonplace as microwaves, refrigerators, and smartphones—and just as commoditized.
Visen Liu contributed to this piece.