China's most famous dissident, Liu Xiaobo, has died in custody at age 61. The cause was liver cancer. His death, confirmed Thursday evening local time on July 13 by Chinese justice authorities (link in Chinese) in the northeastern city of Shenyang, comes more than two weeks after prison authorities announced he was being moved to a hospital for treatment, news that was followed by pleas from around the world to allow him to travel abroad for care.
Thursday's brief statement didn't mention the Nobel Prize awarded to Liu for a life dedicated to the memory of the protesters killed in Beijing's Tiananmen Square in 1989.
In April 1989, Liu, a literary critic and comparative literature professor, was in New York City as a visiting scholar at Columbia University when he heard of the protests in Tiananmen Square. He hurried back to Beijing and spent weeks among the student protesters. Two days after the Communist Party's deadly crackdown on June 4, Liu was detained and jailed. When he was freed in 1991, he resumed his public demands for greater freedoms in China over the next two decades.
In 2008, along with other dissidents, he drafted Charter 08, a document that called on the Chinese state to fundamentally change its character and abandon one-party rule. Soon after he was tried for subversion. According to freedom-of-speech advocacy group PEN America, he was convicted in 2009 for writing seven sentences, a total of 224 Chinese characters. He was given an 11-year sentence.
On June 26, 2017, after serving more than seven years of his sentence, the prison holding Liu announced that he was being transferred to a nearby hospital to be treated for late-stage liver cancer—the same disease that killed his father.
Here is a timeline of the life of a man who has been deeply admired, who is being deeply mourned, and whose last days have become for many a symbol for many of the darkness that clouds the story of China's economic rise.
Liu Xiaobo is born on Dec. 28 in northeastern China's Jilin province, the third of five brothers.
The Cultural Revolution begins. Millions of urban youth head to the countryside to be "re-educated" by peasants, following leader Mao Zedong's exhortations to "go up into the mountains and down to the countryside (上山下乡运动)" (paywall). Liu's grandmother, whom he is very close to, is designated a "landlord" and sent away. Meanwhile, his father, a Communist Party member, is busy, and his older brothers go away to become Red Guards. Liu remembers this time of turmoil as one of unexpected freedom according to his biography, Steel Gate to Freedom:
"My parents were off 'revolutionizing,' schools stopped, and I was for a time able to be rid of the constraints of an 'education.'"
Liu is admitted to Jilin University and studies Chinese literature. During his university life, he organizes The Innocent Hearts (赤子心), a poetry group with his friends.
Liu starts a two-year master's program in Chinese literature at Beijing Normal University. After receiving his master's, Liu stays at Beijing Normal University to teach and marries Tao Li, with whom he has a son, Liu Tao.
Liu begins his doctoral studies and publishes literary criticism in dozens of magazines. In 1987 he publishes his first book, Criticism of the Choice: Dialogues with Li Zehou, which critiques a prominent intellectual. It becomes a bestseller.
Liu works abroad at universities in Oslo and Hawaii and at Columbia University as a visiting scholar.
While Liu is still in America, Chinese students break into massive pro-democracy demonstrations in Tiananmen Square. He flies back to stand staunchly on the side of students. Liu, as well as others, including Zhou Duo and Hou Dejian (a Taiwan-born singer), play pivotal roles, including organizing a hunger strike. Thanks to Liu's efforts to persuade students to leave the square, many of them escape death. However, because of his leadership role in the protest, Liu is detained, fired from his job as a teacher, and his books are banned.
He later divorces his wife Tao in order to protect his family, according to the Guardian newspaper. His son, then about six years old, goes to live with his grandparents; Liu will see little of him for the rest of his life, according to his biography.
Liu doesn't stop writing. His book The Monologues of a Doomsday's Survivor, about his memories and evaluation of the Tiananmen Square protest, is published in Taiwan. In the book, he points out what he sees as the misjudgments of the movement. He says that it delayed China's democratization, and that students and intellectuals had become "conceited—just as if we had reverted to the time of the Cultural Revolution."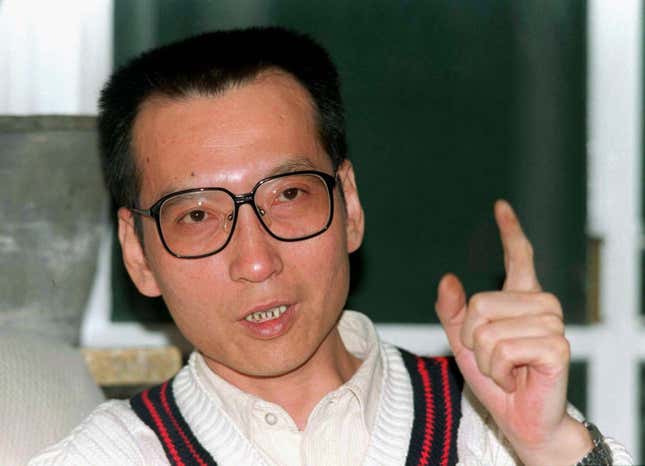 Liu is sentenced to three years behind bars for a letter criticizing party rule. While still in the labor camp, he marries his current wife, fellow poet Liu Xia. According to Ian Johnson, writing for the New York Review of Books:
They had met in the 1980s but became close only after Tiananmen. In 1995, Liu Xiaobo was detained for writing an open letter calling for basic rights and then formally sentenced in 1996 to three years in prison. Liu Xia traveled regularly up to the labor camp and—in a phrase that is now legendary—told the guards that "I want to marry that enemy of the state!" Eventually she did, while he was still in prison; their wedding banquet was in the prison cafeteria.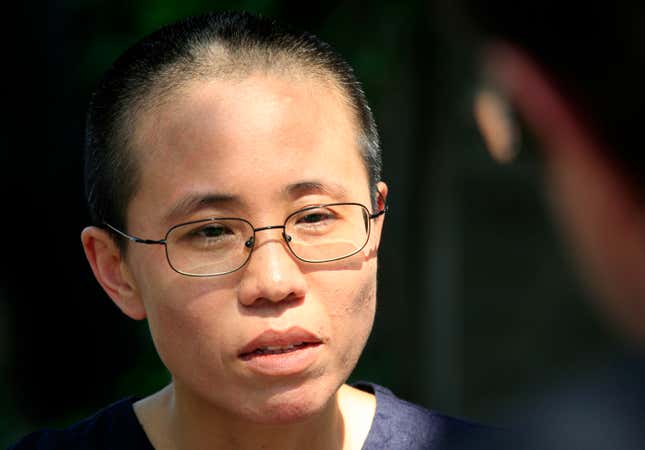 Liu Xiaobo is released in October.
Liu Xiaobo helps establish the Independent Chinese PEN Center, a "non-political, non-profit organization of writers that fights for the protection of freedom of expression and publication," and serves as its president from 2003 to 2007. During this time he writes the essay "The internet is God's present to China," about his belief that the internet is making China freer (republished later in the Times of London).
Liu Xiaobo co-authors Charter 08 with other dissidents, a political manifesto. The document appeals for a fundamental political transformation including a new constitution, separation of powers, and guarantee of human rights. In December 2008, he is detained.
He is put on trial. On Dec. 25, he is convicted of "inciting subversion of state power." According to PEN America, his conviction is largely for writing seven sentences, including this one: "One-party monopolization of ruling privileges should be abolished."
In October, Liu wins the Nobel Peace Prize while in custody, "for his long and non-violent struggle for fundamental human rights in China." His wife Liu Xia is placed under house arrest in Beijing the same day.
At the December ceremony (video), the medal and diploma are placed on an empty chair since Liu is still in prison. Norwegian actress Liv Ullmann reads the statement Liu had written prior to his sentencing: "I have no enemies and no hatred."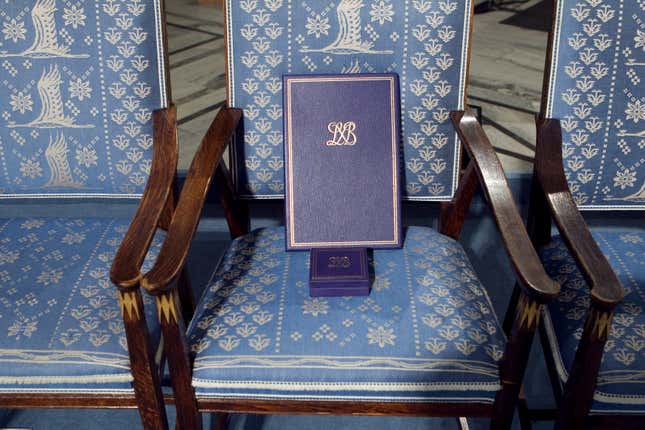 Liu's father dies of liver cancer; he is briefly paroled to attend the funeral, according to Steel Gate to Freedom.
On June 26, the Liaoning Prison Administrative Bureau prison makes the announcement that Liu is being transferred from prison in Jinzhou to a nearby hospital in the final stages of liver cancer. His lawyer confirms the news, setting off an outpouring of grief and anger among people who know and respect him globally.
As Liu's condition deteriorates, concerns over his treatment grow. The couple seeks to go abroad for treatment, news reports say, but his doctors in China say he is too ill to travel. China invites German and US doctors to visit him. Liu Xia is with her husband in hospital in his final days.