The average American worker will spend about 35% of his or her waking life in an office. And yet, close to half of U.S. workers are not satisfied with their workplace environment. This group is facing inefficiencies at the office that result in lost productivity, lackluster engagement, and an absence of innovation.
That's a startling gap, and companies are delivering increasingly lavish perks to try to close it. This approach—one that favors smoothie bars over substance—often fails to consider what actually drives employee fulfillment. What is needed instead is a space that prioritizes communication and cooperation, and one that can adapt quickly to an ever-changing market.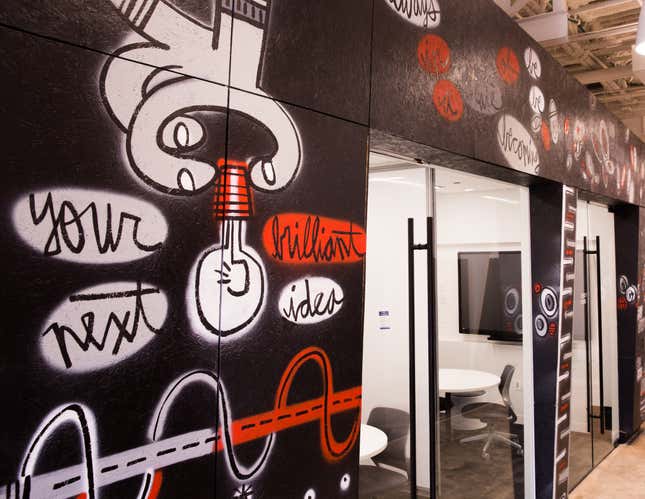 Create spaces that respond  
A productive office design can adapt to company or market needs at a moment's notice. The PwC Experience Centers—labs that can be tailored to the needs of a business—use real-time simulations and advanced technology to help employees navigate challenges before they reach the customer. "Our spaces are fungible and not married to any one technology," says David Clarke, Global Experience Officer, PwC. "They can morph into what is right for each team." Using a thoughtful combination of technology and design, these spaces enable teams to quickly move ideas from vision to reality.
Tear down the walls
"Cubicles inhibit people's ability to evolve and improve," says Clarke. "They learn in dynamic environments. They learn from each other, by fighting, by getting in the pit. The magic happens when people are face to face and are able to co-create." Companies are abandoning traditional materials and floor plans, instead opting for flexible modular arrangements. Modular offices are quicker and easier to install, which reduces costs, and their impermanent nature allows businesses to better future-proof their infrastructure. Moveable walls and desks use less building material, produce less waste, and are configurable down to the needs of the hour. Giving each employee and team the flexibility to customize their space facilitates the speedy transfer of information and encourages dynamic thinking.
Balance open workspaces
PwC also encourages employees to find a workspace that suits their needs on any given day by employing open seating plans and social spaces. While offices with open-concept floorplans have become increasingly popular, some studies show they can be difficult to navigate for introverts, and can hamper concentration. Truly productive workspaces pair "quiet zones" designed for privacy and focus with open spaces that foster collaboration. These choices empower employees to work in whatever space is most productive for them.
The value of values
Millennials are the largest demographic in the workplace, and are most likely to rate "values and culture" highly when considering job satisfaction. But this needn't translate to an indoor amusement park: the most effective office planning considers the balance of emotional and functional needs, and incorporates design elements that embody corporate culture. Designers should balance a variety of ergonomic needs, such as multiple chair options and standing desks, and employ layouts that encourage movement. Visual cues, like wall art and plants, give office environments a personalized feel, while healthy food offerings demonstrate a commitment to well-being.
Ultimately, the ideal office space acts in service of the people who work in it. "Offices aren't museums; they are like mechanic shops," says Clarke. "It's not about how cool the tech is, it's about whether it is relevant. It's about bringing together the right assets because the whole is greater than the sum of its parts."
Discover how 
PwC's Experience Center is reimagining workspaces to help companies build for the future.
This article was produced on behalf of PwC by Quartz Creative and not by the Quartz editorial staff.