Chile con queso is a siren song. The Tex-Mex staple is a divine dip of molten processed cheese spiked with the bright tang of tomatoes and a kick of chilies. Its blazing yellow beckons from tailgating tables across the state and in the appetizer section of most Tex-Mex institutions.
So naturally, when we here at Quartz learned that the fast food chain Chipotle Mexican Grill has introduced queso at its new open-to-the-public test kitchen a few blocks away, we heeded the call and headed south on Sixth Avenue to the Chipotle NEXT Kitchen. As a Texas native and sometime purveyor of Texas-style barbecue, I was nominated to lead the charge. 
https://giphy.com/gifs/xUOrw97wNAEZTi5qtW
Making queso is not a complicated process. For Texans—and particularly Tejanos, Mexican-Americans from Texas—the bar for queso is set by a simple recipe: dump a can of Rotel-brand diced tomatoes and green chilies over a bowl of cubed Velveeta cheese; microwave it for a few minutes; serve.
Every Texan has a favorite restaurant to go to for chile con queso. In a casual Facebook survey of my own friends, there were more than 25 comments and as many opinions on where to get the best queso and how to eat it, as well as a call for "queso as food group."
There have been attempts to elevate the humble dish with new culinary standards for ingredients, but most fans of the dish will celebrate it in its original form for its texture, tang and versatility. As the food writer and Texas culinary historian Robb Walsh, explains, "Chile con queso is controversial because the 'genuine' Tex-Mex version includes processed cheese. It probably first became popular as a way for Tejano families to use up their supply of 'government cheese.'"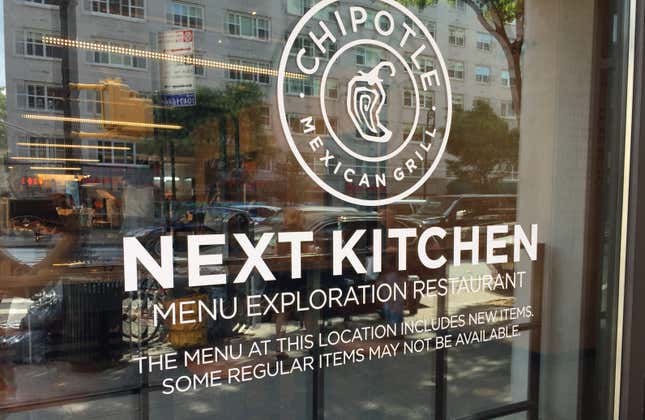 This makes Chipotle's entry into the queso wars confusing. Why would a fast-casual chain built on the brand promise of serving "real food"—without added preservatives, colors or flavors—roll out a dish that is primarily a vehicle for industrially processed cheese product? Because the customers want queso, explained Tim Wildin, Culinary Director for Chipotle NEXT Kitchen: "Queso has been the most widely requested menu item from our guests for years, so we thought we should develop one that is made from real, great, beautiful ingredients and deliver something that is delicious and has the potential for people to fall in love with."
There's the rub though: Chipotle's queso offering may address a consumer demand, but it falls short on "genuine" part—because genuine queso actually has little to do with "real, great, beautiful ingredients."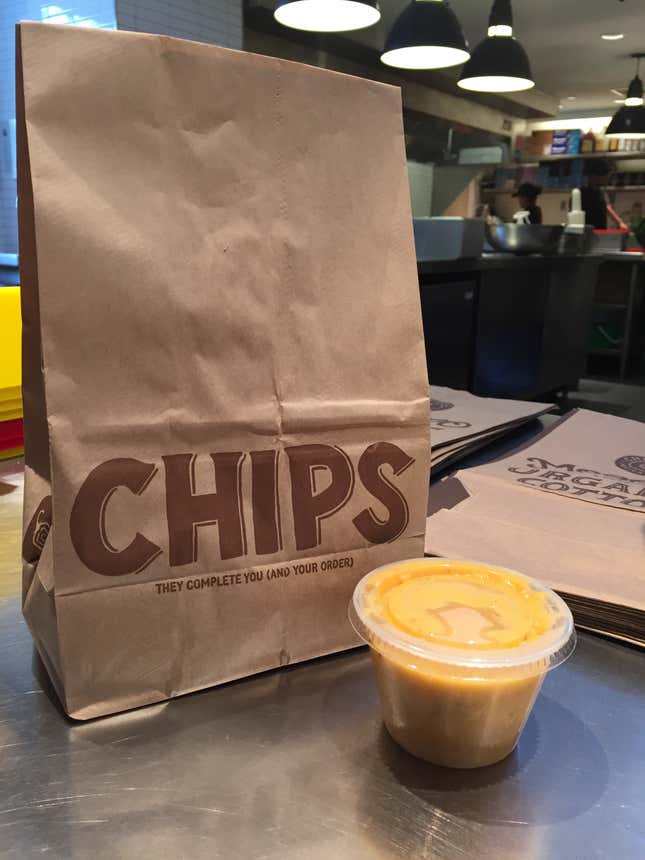 But it's not just what it's made of that misses the mark with Chipotle's queso. At NEXT Kitchen, you can order "genuine queso" as a topping on a burrito or with a side with chips. But in the Tex-Mex tradition, Chile con queso is served as a standalone offering, not as a condiment. (Burritos don't even register in the Tex-Mex culinary landscape, although a solid chimichanga is welcome at any table.)
The "genuine queso" itself is not terrible. It has a nice kick to it, thanks to the blend of roasted tomatillos, tomatoes, jalapenos, cumin, oregano, and chiles. But it's clear from the first glance that the consistency wouldn't live up to the great quesos of Texas. As with a lot of melted cheese sauces, the sharp cheddar in Chipotle's queso has a grainy texture, a problem with emulsifying natural cheeses without additives such as sodium citrate or cornstarch. For this reason, it works well enough when melded with the other ingredients in a burrito, but not as a singular experience—as the Tex-Mex gods intended. 
https://giphy.com/gifs/3oKIPq0oIHo9Gcld72
For Chipotle, this experiment in queso is part of a $50 million marketing plan to find new avenues for growth. The Chipotle NEXT Kitchen has also debuted another Tex-Mex innovation, the frozen margarita machine, as well as a new avocado-citrus vinaigrette and a fried tortilla-based dessert served with a chipotle dark chocolate dipping sauce.
Taco Bell introduced its own queso dip to a national audience in November of 2016, while regional chains like San Antonio-headquartered Taco Cabana and Austin favorite Torchy's have long included queso on their menus as a staple. 
In the spirit of testing that drives the NEXT Kitchen, some advice for Chipotle: If you're going to serve queso, adjust your recipe to honor the simple delight of the original.