Donald Trump Jr., eldest son of the US president, admitted on Twitter today (July 11) that he had accepted a meeting with someone he was told was a "Russian government attorney" who had incriminating evidence about Hillary Clinton.
In the end, Trump Jr. said, the lawyer did not provide any useful information on Clinton, his father's rival in the 2016 presidential race. But the meeting on June 9, 2016, at Trump Tower in New York is the strongest evidence showing the Trump campaign's eagerness to get Russian help against Clinton. Trump Jr. was a frequent speaker on the campaign trail, and was compensated by the campaign for his travel. He also insisted that claims of Russian interference in the campaign were "fake news."

In order to be "totally transparent," Trump Jr.'s statement on Twitter said, he was releasing his entire email chain with Rob Goldstone, a British public relations executive. Trump Jr. said Goldstone had set up the meeting at the request of "Emin," who is a "person I knew from the 2013 Ms Universe Pageant near Moscow," someone who has a "highly respected" company with his father in Moscow. (Emin Agalarov is the son of a Russian billionaire with close ties to Russian president Vladimir Putin.) Trump Jr. explains:

In the most relevant part of the email chain, Goldstone promises Trump Jr. "official documents" from the "Crown prosecutor of Russia" that would be "very useful to your father," and were "part of Russia and its government's support for Mr. Trump," helped along by Emin and his father.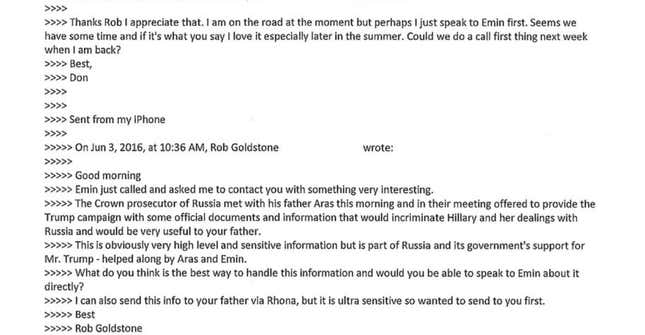 Trump Jr. responds "if it's what you say I love it." Rhona, who is referred to above, is president Donald Trump's longtime secretary Rhona Graff, who has worked for the Trump Organization since 1987. Trump Jr. tweeted the information minutes before a New York Times story containing the same email chain was published, and as journalists from other organizations said they were trying to nail it down.
Trump Jr.'s actions raise a host of questions, particularly about whether he may have broken any laws. It is illegal for US citizens to solicit or receive aid for a campaign from a foreign entity, and US citizens who receive information they believe was obtained through a felony, such as hacking a computer system, are obligated to report that information to the US government.