China is a rising power, but so far in modern times it's had no overseas military bases. That's about to change.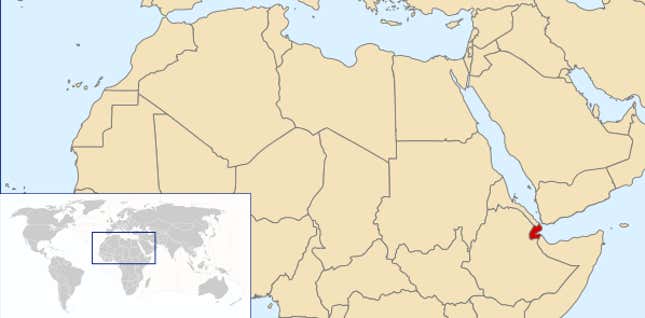 On July 11 Chinese troops shipped out of the port city of Zhanjiang, in the southern Guangdong province, to occupy China's first base abroad, according to state wire agency Xinhua. Their destination? Djibouti. The tiny country in East Africa is near the Middle East—touching the Red Sea and Gulf of Aden, and right across from Yemen—and some of the world's busiest, most important shipping lanes. It's also a stable country in a volatile region that factors heavily into global energy supplies, which helps explain why the US, France, and Japan also have bases there.
The base will be used for military exercises, maintaining seaway security, and evacuating overseas Chinese in emergencies, according to Xinhua, as well as humanitarian aid and peacekeeping in Africa and west Asia.
In April 2015, the Chinese navy evacuated over 500 nationals from strife-torn Yemen. It also helped more than 200 foreigners—including ones from Europe, Pakistan, and Singapore—escape to safety. That same year it deployed troops on a peacekeeping mission in South Sudan, with Chinese troops posing for selfies with Sudanese children. (China also has oil interests South Sudan, and has been known to sell weapons there.)
China has much at stake in Africa. It's invested heavily across the continent, with its companies often dominant in extracting resources, building infrastructure, and manufacturing products. A recent count put the number of Chinese firms operating in China at over 10,000, and it noted that they generally make healthy profits. Some accuse China of essentially playing the role of a modern colonialist on the continent.
Africa also factors heavily into China's "One Belt, One Road" infrastructure initiative, which aims to connect China—and its products—with Europe, Africa, and the Middle East.
Thanks to the new base, Djibouti will become one of few places where Chinese and US forces are neighbors. The US has about 4,000 personnel at Camp Lemonnier, which is near the new Chinese base and is the only permanent American military installation in Africa. The US is wary of its new neighbor (paywall) and worried about potential surveillance.
Not that the US has much say in the matter. Both countries are renters in Djibouti. The US pays the nation over $60 million annually for its base, and China will pay closer to $100 million.