Silicon Valley has been roiling with high-profile sexual harassment allegations in the past few weeks, so it's perhaps no surprise that at one of Asia's biggest tech conferences, RISE in Hong Kong, held from July 11 to 13, discussion of the issue was widespread.
The conference's organizer, Irish firm Ci Labs, made an effort to get more women to the event by giving them free tickets. Official figures show that 40% of attendees were female. An interactive wall was established in the center of the venue for attendees to place their votes on how serious several questions are for the tech industry: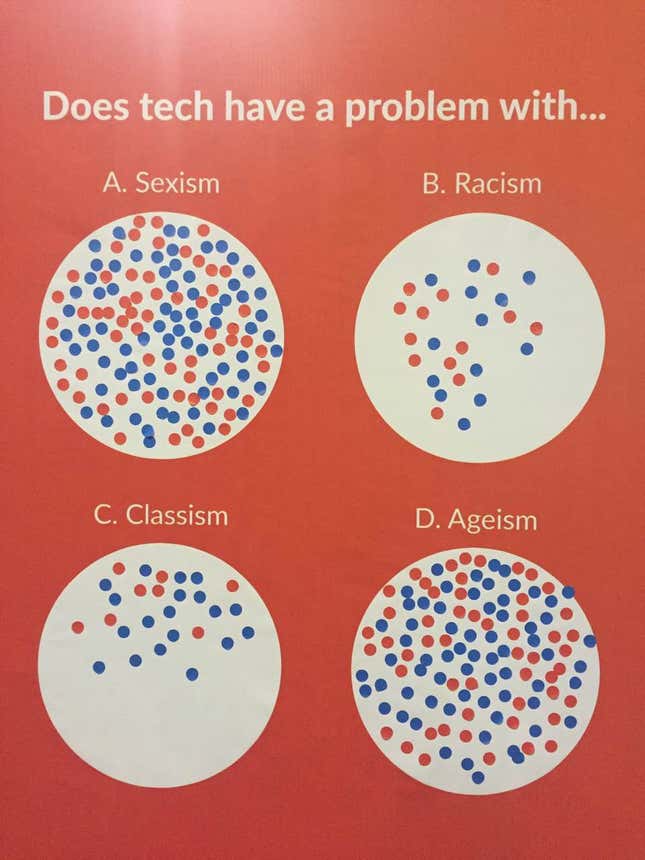 Sexism won the vote by the end of the three-day event, by a tiny margin, over ageism.
Amid the chatter, one old solution remained controversial: gender quotas. Surprisingly, perhaps, women are not universally in favor of quotas. At a panel discussion on the topic, Phil Chen, founder of Presence Capital, a San Francisco-based venture capital fund focusing on virtual reality and augmented reality argued that quotas are needed; Melissa Guzy, founder of Arbor Ventures, one of Asia's largest fintech-focused venture funds, disagreed.
People have an unconscious bias to hire people like themselves and quotas help break that, Chen said. "Quotas are one way to get the people in power to be more open to change, to be more open to not just the status quo," he said.
Guzy says she is a believer in gender equality, but not in quotas. "If you are going to get derailed because of a guy acting like he was in a high school locker room for about three minutes, you'll never get anywhere in a startup," said the veteran venture capitalist, who spent over two decades in Silicon Valley before moving to Hong Kong. "Sexism is just one of the things you have to come across."
Guzy then argued that the right approach to improve gender equality is to have more women study computer science, mathematics, and statistics. They then will naturally be able to get jobs at tech companies. "We should all earn for what we get," she said.
Moderator Tim Culpan, a tech columnist with Bloomberg, asked Chen how to handle women who get hired, but aren't as well suited to a job. He said such a woman should be moved to a position where she can excel. Culpan then asked Guzy why tech companies are reluctant to have more female representation on boards, even though studies suggest it makes good business sense. Guzy referred back to her points on education, saying it's an "ecosystem problem" in the startup world; there just aren't enough women with good entrepreneurial skills.
At the end of the debate, Culpan asked the predominantly male audience to raise hands for a vote on quotas. The result was largely in line with a separate opinion poll he posted on Twitter:
Random chats with startup founders at the conference showed that women have mixed views on quotas. Shadia Saba, a founder from Thailand, likes the concept. "There's a million people who have the same qualities, business skills, that they are looking for," she said. "So if they have all the smart people, and they can choose to hire 50 women and 50 men, that's better than hiring 100 men and 1 woman."
"If we are fighting for the same rights, you can't differentiate," said Carla Pereira, a startup founder from Portugal, opting against quotas.
Lilian Mak, a product manager with Shopline, a Hong Kong-based e-commerce platform startup, is on the fence. "I'm not against it… but I don't think it's a must-have." Maks says Shopline's gender ratio among its two dozen employees in Hong Kong is 50-50 because the firm hired "the right people who happen to be women."
It's difficult for startup founders to take gender diversity into account, but venture capital funds should wield their power to influence them to do so, said Telle Whitney, president of the Anita Borg Institute, an American nonprofit founded to advance women in the tech business.
As for established firms, Whitney said, diversity hiring goals tied with executives' bonuses have been proven successful. The next step could be gender quotas.  "When you are trying to overcome a built-in bias, quotas get you over that hump," she said.