Over the weekend in Anaheim, California—just down the road from its original theme park—Disney hosted the D23 Expo, a convention focused on Disney fandom and the future of the company's franchises and resorts.
There were myriad updates Disney announced over the weekend, including new footage for the next Avengers film, new hotels, cruise liners, and cast news for a live-action Aladdin. But perhaps the most ambitious plans were for the company's Star Wars franchise, which it purchased for $4 billion in 2012. Here's a quick rundown of what it unveiled:
Star Wars lands at Disney parks
Disney unveiled what it's calling "Star Wars: Galaxy's Edge," the forthcoming Star Wars-themed additions to its theme parks. The new area is supposed to look like a planet in the Star Wars universe, The Verge reported, and will blend characters and objects from across the franchise's films into a completely immersive world.
There will be rides that take guests off the planet, including onto a Star Destroyer ship and a face-off against AT-ATs, and even flying on the Millennium Falcon—with all the requisite Star Wars vehicles and foes included. The world itself, from the few pictures that have been released of the massive diorama that Disney built for D23, appear to combine aspects of other Star Wars planets, including Luke Skywalker's home world of Tatooine and the forested world of Takodana in 2015's The Force Awakens.
Familiar faces, including Chewbacca, BB-8, and members of the First Order, will dot the rides and attractions. Disney said in a release that its Star Wars-themed worlds would be coming to its Disneyland and Disney World theme parks in California and Florida in 2019.
Star Wars hotel
Details from Disney are so far thin, but TechCrunch reported that Disney plans to create a Star Wars-themed hotel. Employees will stay in costume and in character at all times, apparently to give the impression to guests that they are actually staying on a space station somewhere deep in the Star Wars universe.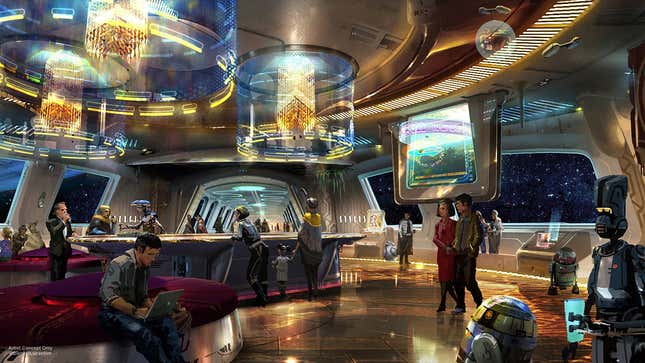 The windows of the hotel won't show the real world, just the infinite expanse of space—rather like a Las Vegas hotel, but with less gambling and more Darth Vader. Guests will constantly be engaging with a storyline as they stay at the hotel that will "touch every single minute of your day," according to TechCrunch. While the mock-ups of what the hotel will look like are rather impressive, presumably only the most ardent of Star Wars fans will be up for living a Star Wars life every second of their vacation. The hotel will first open in Florida, but no information yet on when.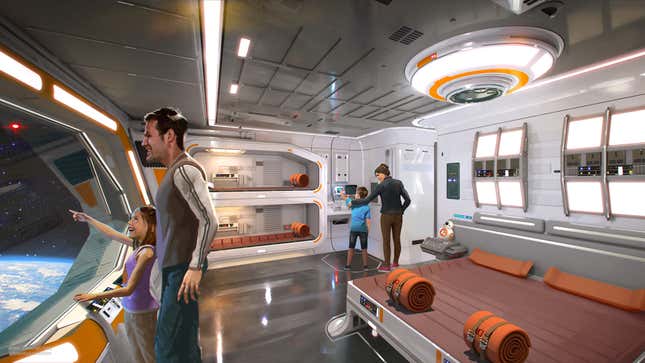 More information on The Last Jedi
The eighth film in the main Star Wars saga is set to be released this December. So far, Disney has not released much information about the movie, beyond a poster and a teaser trailer. But at D23, Disney unveiled a short film about what has been going on behind the scenes during the filming of The Last Jedi:
The three-minute video shows some of the new worlds in the forthcoming film, and what went into making the eight installment in a saga that first began in 1977. Daisy Ridley, who plays Luke Skywalker's newest apprentice, Rey, says of the film's director Rian Johnson," Rian has written a story that's unexpected, but right—some of the stuff that happens, people are going to be like, 'Oh my god.' "
It was in the original trilogy's second film that we first learned of the saga's biggest twist—that Darth Vader was Luke Skywalker's father—so perhaps some equally large bombshell will be dropped this time around.
The clip gives us glimpses of new worlds, creatures, and characters—including Laura Dern's new character, the purple-haired politician, Vice Admiral Amilyn Holdo—and how some of the film's visual effects are created.
The video also shows a few poignant shared moments between Mark Hamill and Carrie Fisher, who passed away in December 2016, after the film had finished shooting. Hamill and Fisher play brother and sister Luke Skywalker and Leia Organa, and Hamill long considered her like an actual sister.
Other tidbits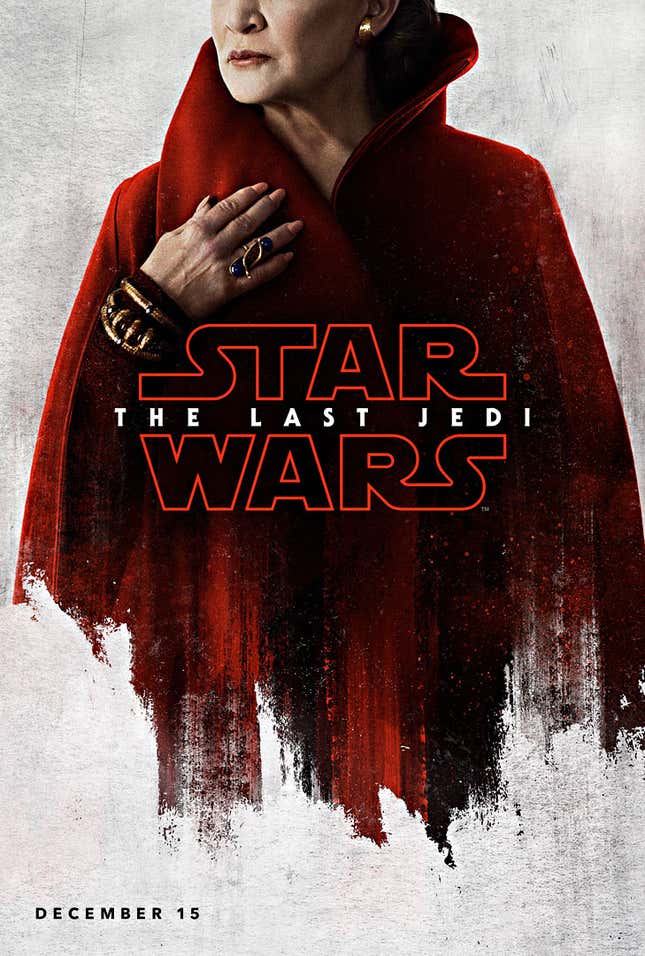 Disney also unveiled a series of new posters for The Last Jedi, focusing on all the main characters, ominously wearing red for some reason, including this poster of Carrie Fisher as General Organa.
There was also new information about a forthcoming multiplayer game, Star Wars: Battlefront II, to be released in November. The game will feature a fleshed-out single-player mode story, and a host of new worlds to fight in.