Over Sunday brunch in a luxurious Hong Kong residential area, Charlotte Fong found herself fantasizing over a Taiwanese man, whom she and her single female friends concluded was the perfect husband.
"He radiates this warmth that makes you want to touch him and hold him. He appears to be the kind of guy a woman can trust. He gives people a sense of security, which is something most Hong Kong men cannot offer," the 32-year-old marketing executive said.
He is Joseph Chang Hsiao-chuan, a 33-year-old Taiwanese actor known as the "national husband" (link in Chinese) across the Chinese-speaking world. More important than his looks, Chang's Mr. Nice Guy image gives hope to women who have lost faith in men. In Hong Kong, Taiwan, and mainland China, where cheating and keeping mistresses is common, a loyal and honest man seems to many to be a dying breed.
"Too many men cheat," said Fong.
The "little three"

The number three is a scary one for Chinese women—in Chinese, "little three" (xiaosan) means "mistress." It's a very real fear.
In Hong Kong, the gossip pages of newspapers and magazines are littered with stories of wealthy businessmen openly flaunting their mistresses, and the women's machinations to vie for the top mistress spot. Casino mogul Stanley Ho, for example, has four wives—the family broke out into open warfare (paywall) over the division of Ho's assets in 2011 when the tycoon, then 89, fell seriously ill. Real-estate billionaire Joseph Lau, who has a long-term partner, published a full-page ad in a local newspaper last year clarifying his breakup with an ex-girlfriend, including the financial details. He has children with both women and a late wife. Actor Jackie Chan had a child with his mistress. The husband of Hong Kong's new leader Carrie Lam had to publicly deny rumors that he has a mistress in the UK.
Nor is cheating limited to tycoons and celebrities. The number of mainland mistresses of Hong Kong men was big enough to turn certain areas in southern China into "concubine villages" (paywall) in the 1990s. The weekend routine of Hong Kong men visiting brothels in Dongguan, a manufacturing hub in Guangdong province, remains a recurrent theme of popular culture.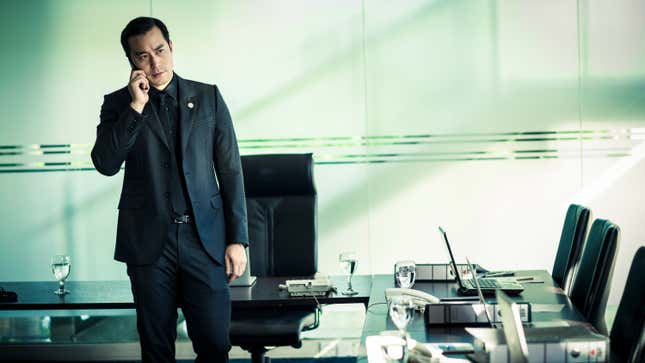 Chang, the "national husband," seems to many like a man who isn't anything like that. One Hong Kong newspaper column (link in Chinese), for example, describes him as a man who isn't only handsome and well-built, but also emanates a sense of warmth and security.
"That is a very kind compliment… but it is embarrassing," said Chang, when asked how he felt about the moniker "national husband." "I have no idea why women see me that way."
Chang was speaking on the set of Trading Floor, Fox Networks Group's first miniseries filmed and set in Asia, which is expected to be released at year's end. He plays the role of an economics professor's student who finds himself embroiled in scandal in Hong Kong's financial industry.
Chang first came to fame in the Taiwanese coming-of-age drama Eternal Summer in 2006, but it was his role as the loyal partner of a woman who loses her memory in the Chinese romantic tragedy The Stolen Years (2013) that sealed his status as the regional heartthrob.
The frenzy of becoming Mrs. Chang only escalated after Chang broke up with his girlfriend last fall.
The "warm man"
According to a survey (link in Chinese) conducted in March by China's largest dating website Zhenai.com of 1,920 single women, 90% said they prefer the boy-next-door type, someone who is caring and trustworthy—known as "warm man," or "暖男" in Chinese.
"The fact that Chang isn't the best-looking movie star around makes him more accessible and down-to-earth for women," said relationship counselor Fan Lai, who writes a column about relationships in Hong Kong newspapers. "But to dream of a husband or a partner who does not cheat is simply naive and unrealistic."
A 2011 Durex survey (link in Chinese) revealed that nearly 30% of Hong Kong men admitted to cheating, a much higher percentage than in Taiwan, China, and the United States. Lai believes this figure is an underestimation.
"I think most men in Hong Kong cannot make women feel secure. With instant messaging and all these dating apps, you never know what the man does and where they are. It is the betrayal we can't stand," Fong, the marketing executive, said.
The fantasies of Chang will never betray these women.