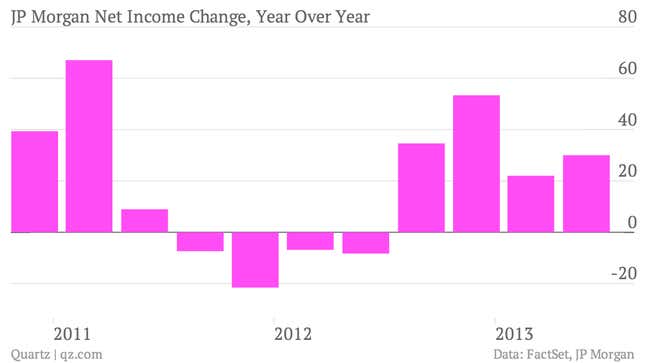 The Numbers: They were good. JP Morgan beat analyst estimates with a second quarter earnings per share of $1.60 on revenue of $26 billion. Net income was up by 30%.
What's Interesting: The world's biggest bank by assets certainly had a good quarter, coming in with the top ranking in global investment banking fees, while consumer deposits were up by 10%. But there were also numbers that were worrisome to investors. Mortgage originations were up by 12% from the same period last year, but they were down 7% from the last quarter. Net interest income, the revenue generated from the difference in interest paid on deposits versus interest earned on assets, was also down by 1% due to lower deposit margins and smaller loan balances. JP Morgan CEO Jamie Dimon said "loan growth across the industry continued to be soft, reflecting a cautious stance by consumers, many small businesses and corporations. However, we continue to see broad-based signs that the US economy is improving and we are hopeful that, as jobs are added and confidence builds, the US economy will strengthen over time."
The Takeaway: The softer numbers on mortgages and net interest income will be even more important to watch during the second half of this year, especially because of the bump in interest rates from the second quarter. The full impact of that jump in rates will be felt in the coming months. Regulators are also getting tougher. The US recently doubled the capital threshold for the biggest banks compared to current global standards as a way to prevent another financial crisis.