Taipei, Taiwan
Some women compare it to going to prison (paywall) after having a child, but Taiwan is turning the tradition of postpartum confinement for mothers into a luxury getaway—with baby in tow.
The millennia-old practice of postpartum confinement, or zuoyuezi (literally "sitting the month"), is widespread across Chinese-speaking societies, but in Taiwan the practice is being elevated to another level of lavishness, and commercialization.
The boom in "postpartum centers," which in reality are often more like five-star (or more) hotels, seems counterintuitive in a place where the birth rate remains ultra low—in 2011, Taiwan had the world's lowest, and this year it's on track to be the lowest since the 2008 financial crisis. Industry practitioners say (link in Chinese) that as women choose to have fewer children—often only one child—and as the average age of first-time mothers increases, families are more willing to splurge on pampering themselves after childbirth.
According to figures from the Taiwanese government, the number of postpartum facilities increased over four times from 2006 to 2016, with 193 registered, a rare growth industry in Taiwan's sluggish economy. Some property developers and hoteliers, hit by the reduction in the number of tourists from China to Taiwan, are even switching their plans to open such centers instead (link in Chinese) of hotels. A five-star hotel in Taichung, Taiwan's second-largest city, opened one in late 2016 (link in Chinese), charging up to NT$13,000 ($430) per night for a room.
Not your mother-in-law
The postpartum experience in Taiwan has evolved a great deal from how things used to be, when sitting the month was overseen strictly by the mother-in-law.
"The grandmas are usually elderly, and taking care of the new mother and new baby is exhausting. These sorts of facilities fill the gap for that need… it's kind of like outsourcing it to the professionals," said Chun-ying Wei, a 36-year-old doctoral student who gave birth in March in Taipei to her first child, and then stayed in a maternity hotel for 25 days.
In the past, mothers were very much confined to the house after childbirth, and were under strict orders not to wash their hair, bathe, or go outdoors for a month, out of fear that doing so would make the woman more susceptible to catching infections while her body is already weak. Women were also forced to eat foods that are believed to be nourishing after giving birth. In Cantonese culture, for example, new moms are fed a stew of pork trotters, ginger, and sweet vinegar. In Taiwan, the equivalent is sesame oil chicken.
As more Taiwanese moved to cities away from their extended families, being cared for by immediate family became an inconvenient option, giving rise to the business of postpartum centers. In Hong Kong, such facilities are uncommon as many families have live-in domestic helpers to help with taking care of the baby and the mother, though some more wealthy families may still choose to hire an older woman as a nanny to assist the new mother with sitting the month. The trend is also taking off in China, as people become more affluent (paywall), with many of the businesses owned by Taiwanese.
Over 50% of women used some sort of postpartum facility in Taiwan as of 2014, according to government figures, with each person spending on average about NT$120,000 each time ($4,000)—more than three times the median monthly income. It's common for grandparents to chip in to the cost as a gift, especially if the baby is going to be their only grandchild, say operators of birthing centers.
May-yi Shaw, an academic who lives in Hong Kong, returned to her native Taiwan to give birth in April and spent three weeks in a birthing hotel in Taipei before returning to Hong Kong. The stay cost around NT$7,000 a night ($230). Shaw, in her late 30s, said she mostly wanted to learn how to take care of the baby, as birthing hotels typically offer classes to new mothers on how to bathe and feed newborns, while some higher-end ones provide services such as lactation consultants and yoga.
"You're being pampered," said Shaw, who said that the relentless care and attention was at times overwhelming. "You feel like people are always knocking on the door."
An escape from reality
"'Confinement' has negative connotations," said Elizabeth Wang, whose company operates Gem Care Postpartum Health Center, a luxury 19-room maternity hotel that opened in late 2016 in central Taipei.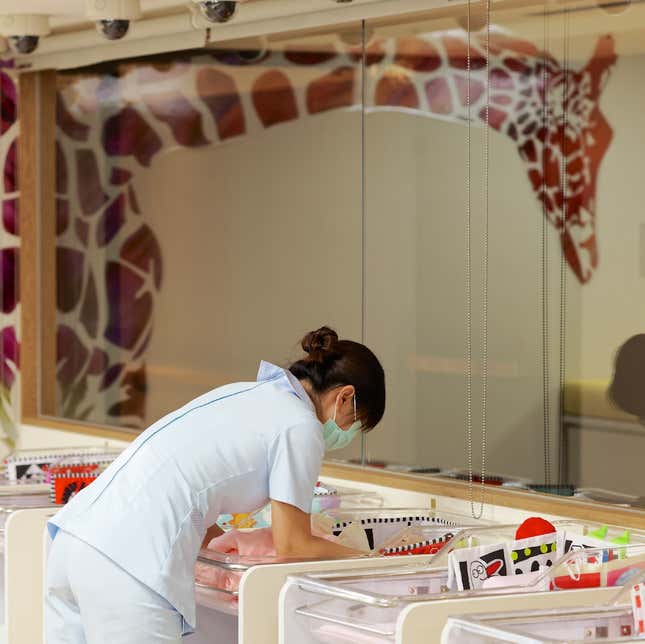 Gem Care is the first foray into the industry by Chia Hsin Cement, a listed company in Taiwan with six decades of experience in the cement industry in Taiwan and China. In recent years, said Wang, who is an executive vice president at Chia Hsin, the company started branching out into the hospitality and services industry as the cement industry slowed.
Rooms cost around NT$10,000 a night, on the high end of the price spectrum, and partners are welcome to stay (fathers can monitor the baby while they're at work via the center's app). To differentiate itself in the highly competitive industry, rules regarding hygiene and health are very strictly enforced. For example, each bedroom has an individual air-conditioning unit, so that germs do not get transmitted around the property, a spokeswoman for the facility explained. Guests must leave their shoes at the entrance, face masks are mandatory, and young children are not allowed to visit. If the mother goes outside with the baby, the baby must be quarantined upon return to the hotel, away from other newborns, in case it was contaminated while outdoors. Warm air machines are installed in the ceilings of each bathroom, so that mothers don't run the risk of catching a cold when they shower—a modern take on the old practice of not washing for a month.
Wang said that the Taiwanese approach to postpartum care shifts the traditional focus of childbirth from solely on the baby's health to the mother's physical and mental needs as well. Staff are trained to watch for symptoms of postpartum depression, for example. "We don't want mothers to feel trapped," she said.
Like many similar facilities in Taiwan, one of the main selling points for mothers is the menu, which is usually designed to provide the utmost nourishment for the mother and also to facilitate lactation, including fish soup, clams, soy beans, and pig trotters. The meals are tailored for each mother based on advice from Chinese doctors, said Wang. Once a week mothers get a "Happy Day" menu, or a cheat day—where they're allowed treats like steak sandwiches from Ruth's Chris Steak House and macarons from Sadaharu Aoki.
"We want to create the feeling of being on holiday," said Wang. "Once you go home it's back to reality."