Let me tell you a secret. Vinyl records suck. I'm a long-time DJ and used to carry crates of records to the clubs in West Philadelphia and then fly them overseas to places like Nairobi and Johannesburg. They're really heavy.
Vinyl is dusty too. It reacts to weather and moisture and it warps. Finger smudges and scratches make the needles bounce and skip. Each time the record plays, it literally loses part of it's being and let's not even get into the accessories needed to maintain and play them: needles, brushes, sleeves, etc.
But it's no secret that sales of vinyl albums are on the rise. US vinyl sales totaled 990,000 in 2007 according to Nielsen Soundscan. In 2012, over 4.5 million units sold. A 350% increase in 5 years. Daft Punk famously sold over 19,000 vinyl units in the first week of its most recent album, Random Access Memories, in May (at $35-$40 a pop, yikes!). All the while, professional use of vinyl by DJs has dried up to about nil and labels are largely increasing the cost of their records. Hell, the most revered turntable ever, Panasonic's Technics 1200, was discontinued three years ago due to "market realities."
So who is buying these relics? The first week in July, the top three in US vinyl sales according to Billboard are Daft Punk, rock/rap band The Transplants and Minnesota femcee Dessa. So it's likely that the audience is a younger set, which qualitative responses from record stores support. So the kids are tearing up record stores searching for warm analog jams they can't find online, right?
Not so fast.  While vinyl sales have increased at about 30% compounded annually over the last 6 years, turntable sales have remained fairly flat over that time, ranging from 104,000 to 115,000 according to the Consumer Electronics Association. So either the newer turntables purchased are far, far more durable than those in recent memory (they aren't—high quality electronics companies like Panasonic are discontinuing their units and those that are sold are increasingly cheaper, portable models like this one I bought from Urban Outfitters) or something else is happening with these records.
In an increasingly digital world, there's not only charm and soul in the retro sound of wax, but it's also found in the 12" physical art that comes with them. The further we dive into the digital, virtual world, the more ironic and iconic the physical manifestation of music (and information for that matter) becomes.
Music and art have always been intertwined. Both are not only used for personal enjoyment but are also representations of ourselves to others. People make statements about their business with music and art. We've all seen people speak silently about themselves through albums displayed in their home. In fact a whole mini-industry has risen out of their display. Even Bed Bath & Beyond has gotten into the mix. It's become an accepted piece of art.
A simple analysis gives the appearance that overpriced vinyl records are not generally being bought by kids for their rediscovered fidelity. From Williamsburg to Portland, our musical choices define some part of our identities and displaying these choices, along with our apparent respect for the value of music, makes our identities non-virtual—i.e., real—as well. Even iTunes has default settings, which display covers from our music library as art. They're not only time capsules of moments in our lives but; for the first time, also for a certain unique transitory time in the arc of the world as we know it.
For whatever it's worth, I do enjoy vinyl. I have hundreds of records and have even released my own records. In fact, I've put out my own record on vinyl, pictured here: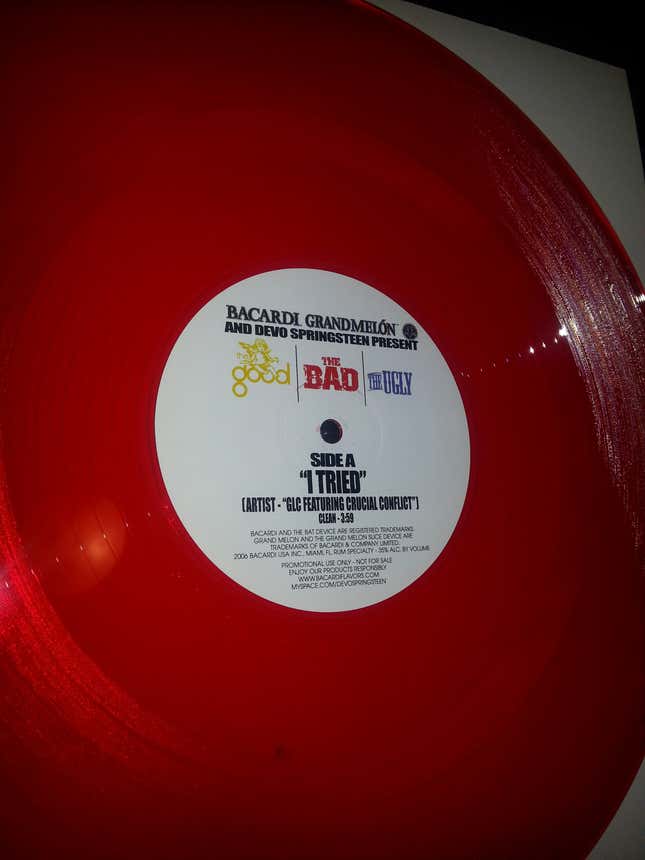 Many of my friends have badgered me for this vinyl for years and often I'll give them a copy or two. Weeks or months later I'll often stop by their place where I'll see the album leaning against a coffee table or hanging on a wall by a nail. I'll often ask them what they thought of the music. I'm still waiting for the first one who's actually listened.