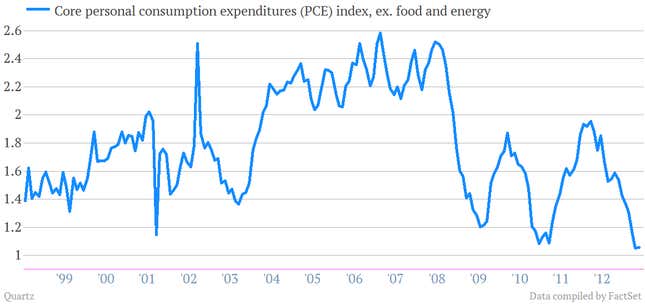 The US Federal Reserve says it targets 2% inflation. But today, inflation is well below that; the Fed's preferred measure of inflation—annual growth in the core personal consumer expenditures index (core PCE)—hit its lowest level ever in April: 1.05%. It rose just 1.06% in May compared with last year, which is giving some members of the Fed the heebie jeebies.
James Bullard, the President of the Federal Reserve Bank of St. Louis and a Fed moderate, has already voiced his concerns that inflation is too low. "I think if [inflation] goes any lower we'd need to rethink [our] strategy," Bullard told reporters today at an economic conference in Jackson Hole, Wyoming. He was referring to the Fed's plans to slow down its massive program of bond purchases known as quantitative easing (QE), which have pushed down long-term interest rates. "If [inflation] stagnated at 1% for a long time, for six months or something like that, that would also be a concern."
More surprisingly, the hawkish Federal Reserve Bank of Philadelphia president Charles Plosser agreed that low inflation is a problem—even though he wants the Fed to end QE pronto. "It's important for us to commit to defending our inflation target on either side. My own forecast is that we're going to trend back to 2%," he said, even as the Fed begins to taper bond purchases. Plosser doesn't think QE has been very successful at increasing inflation.
"I would be increasingly uncomfortable if inflation kept falling," Plosser added. "It may be very difficult to do much with in the short term so yes, it would be a problem."