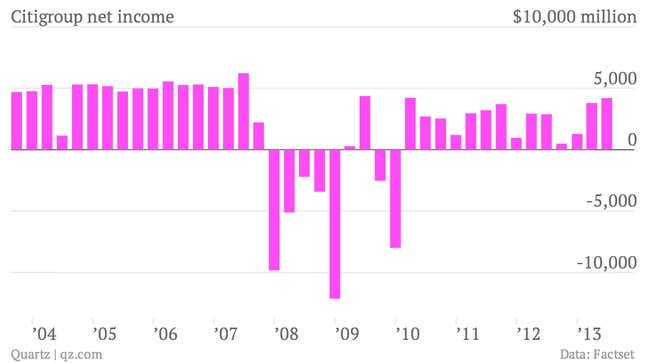 The numbers: Citigroup soundly beat Wall Street's expectations, reporting (pdf) net income of $4.2 billion and earnings of $1.34 per share. Revenues–$20 billion in the second quarter–were up 8% from the same period last year.
The takeaway: Citi's plans to get back in shape after the financial crisis appear to be bearing fruit. Revenues climbed or stayed stable in just about every division of the bank, and shares were up nearly 3% in pre-market trading.
What's interesting: Citi Holdings, the division of the bank that has helped unwind toxic mortgages and other bad assets from the financial crisis, lost $570 million in the second quarter, which is 28% less than it lost last quarter. The unit has been a drag on the bank's profits, and CFO John Gerspach has warned it will not break even this year. Even so, these results are a step in the right direction.