On his first day at work, the new White House chief of staff, John Kelly, brought in some order: He pushed Anthony Scaramucci, the flamboyant and divisive new communications director, out of his job. But whether Kelly can impose some discipline on the rest of the Trump administration and its allies in Congress is another matter.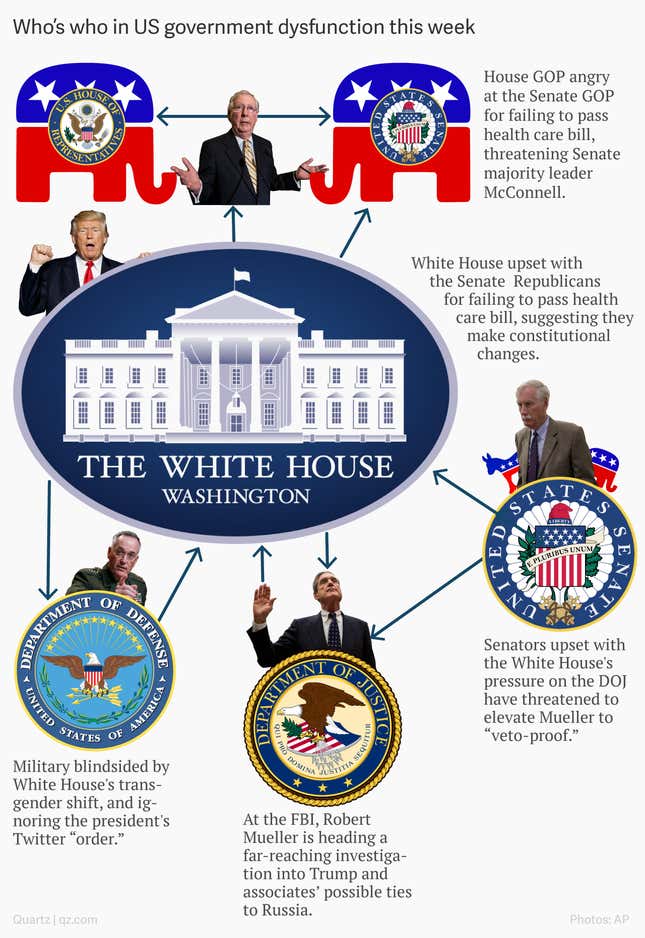 The US federal government has become a group of warring factions, swirling around a chaotic White House. By design, there is always friction between Congress, the White House, and the Department of Justice, but the current situation is unprecedented. In recent days it's been called an "existential crisis" that raises questions about Trump's legitimacy, a governing coalition at the "risk of unraveling," and a threat to global stability.
At the center of the problem is the Trump White House. "There is always a paper diagram, and then there is the way that real authority flows," says Stephen Biddle, a defense policy fellow at the Council on Foreign Relations. "In this White House, it is pretty clear that Trump makes all the decisions that matter." The normal process that involves vetting decisions through a group of experienced advisors "seems pretty well broken," he said. "There is every reason to be alarmed."
Here's a pocket guide to how the factions are split.
GOP vs. GOP
After the collapse of the Senate's attempt to repeal Obamacare last week, Republican members of the House are are threatening Senate majority leader Mitch McConnell by calling for him to step down and running against his favored candidate in an Alabama special election.
GOP vs. White House
After the failed health-care vote, Trump appears to be essentially cutting ties with the party that elected him. He urged Senate Republicans on Twitter to change the US constitution to make it easier to get bills passed, calling the current process "A JOKE," and ousted the most prominent GOP stalwart in his administration, chief of staff Reince Priebus, on July 28.
White House vs. DOJ
Trump has openly attacked US attorney general Jeff Sessions because he recused himself from an FBI investigation into potential Russian interference in the last US election, and is reportedly considering moving him to the Department of Homeland Security.
Congress vs. Trump
Upset with Trump's open criticism of the Department of Justice, lawmakers from Republican, Independent, and Democratic parties have warned that firing Sessions or meddling with the FBI's investigation would lead to swift retribution from Congress. Special prosecutor Robert Mueller would be immediately elevated to a "veto-proof" position if he were fired, Angus King, the Maine independent, said July 28.
Trump vs. the US military
Trump's surprise announcement last week on Twitter that the US would ban transgender people from the military was quickly followed by a statement from general Joseph Dunford, the chairman of the joint chiefs of staff, saying the military wouldn't change its policy without a formal order from the White House that goes through Defense secretary James Mattis. Mattis was on vacation when Trump tweeted the change.
Nikki Haley, the US ambassador to the United Nations, warned on July 30 that the US was "done talking about North Korea," adding the threat of military conflict to the already chaotic situation. Asked what he could do about North Korea today, the president had no specifics, and said only "We'll handle North Korea. We're going to be able to handle them. It will be handled. We handle everything."
Editor's note: A previous version of this story incorrectly identified Nikki Haley's administration role.