When North Korea launched its second intercontinental ballistic missile (ICBM) last week, of immediate concern was how far the missile traveled, and where it could have reached had it been sent on a lower trajectory (most of the US, as it turns out). But the launch location mattered, too.
In a first, the missile took off from the northern Chagang province. Geolocation wizards quickly found the precise coordinates.
That location will bother both the US and China. In a straight line on the map, from there it's only about 50 km (31 miles) to the China border—Pyongyang is actually further away.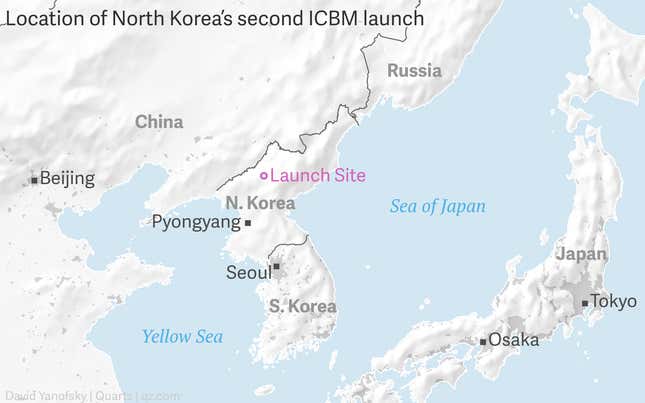 From Beijing's perspective, it's uncomfortably close. That's no doubt fine with Pyongyang since it isn't happy with China anyway. Earlier this year it criticized its neighbor for halting imports of North Korean coal. The location "appears to be a message for China," Kim Yong-hyun, a professor at Seoul's Dongguk University, told UPI.
From Washington's point of view, the site's proximity to China is obviously a concern. The location "is in mountainous terrain close to the border with China, so it is difficult for the US to hit it with a preemptive strike," Park Hwee-rhak, a professor at Seoul's Kookmin University, noted to Nikkei Asian Review.
For North Korea, the launch location helped it demonstrate that it can fire from places other than the usual spots. The rogue nation also threw observers for a loop by launching late at night (most launches this year have happened in the morning). Jeffrey Lewis, a nuclear nonproliferation expert at the Middlebury Institute of International Studies at Monterey, noted in the Daily Beast:
"They tested from a surprise location deep inside North Korea, near the Chinese border where it would be hard to strike. And they did it at night when satellites that rely on optical images are useless."
North Korea is improving its ability to surprise enemies in other ways. In February (and again in May) it tested a mid-range missile that used solid fuel, an advancement that vastly improves mobility and makes the detection of an imminent launch more difficult. And this week the US military detected "highly unusual and unprecedented levels" of submarine activity, including tests done to prepare for missile launches—submarines, of course, have even more location flexibility.
All of this is done by North Korea not to prepare to preemptively attack the US and its allies—that would be suicidal for the Kim Jong-un regime—but to make anyone considering action against it more fearful of the consequences, and thus less likely to act. If you can't be sure where launches might come from, or are leery about targeting an area near China, it's hard to be confident about striking the regime—and about the price that might be paid for doing so.