When JiaJia, a Chinese-built robot, did a short Q&A with an AI expert earlier this, year most tech journalists focused on the delay in her responses and her less-than-brilliant answers. Many in China were struck by something quite different: her white embroidered robes and elaborate hairstyle: "Beautiful!" was a common comment.
For the occasion she wore hanfu, a historic style of clothing inspired by China's ancient and medieval rulers. That's frequently how JiaJia dresses for public appearances—or rather, is dressed by the slew of humans responsible for choosing her outfits. As "humanoids" like Jia, developed to look like people, become commonplace, the developers of these machines are going to have to think more often about this: What should a robot wear in the 21st century?
To a human reared on western 20th-century movies about the future, the words "robot" and "fashion" bring to mind outfits dramatically unlike JiaJia's attire—they generally involve black leather (or fake leather) for male robots, and form-fitted jumpsuits of some kind of shiny fabric or a punk-rock aesthetic (video) for women.
But for robot "women" in Asia, just like for human women, fashion is shaped not by visions of a cyberpunk future, but also ideas about the past, society and race.
JiaJia, China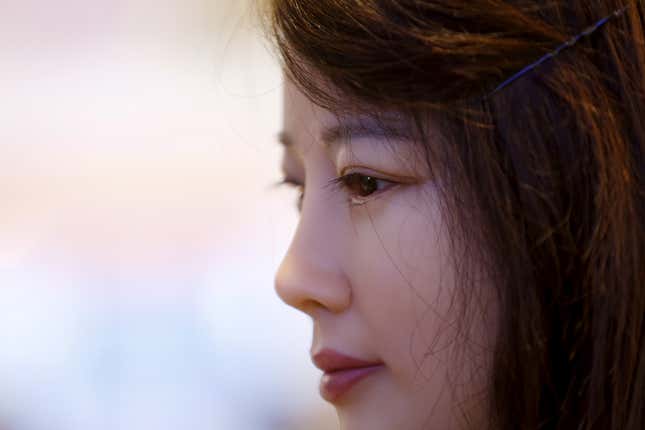 Apart from the occasions where she's appeared in a gold lamé gown, Jia Jia, who has been in development since 2012 at the Hefei-based University of Science and Technology of China in eastern China, usually wears "Han" clothing. One of her creators explained to Quartz via email that while deciding how to dress her, the team drew inspiration from a Chinese folk tale about a helpful fairy.
In The Conch Fairy, according to a summary from Chen Xiaoping, director of the university's robotics lab, an orphan farmer brings home a conch shell. While he's away tilling the fields, a beautiful fairy emerges from it each day to secretly surprise him with a spotless house and an array of delicious dishes on his return. Professor Chen cites the tale, which he says dates from the 4th century, as inspiration for the "service robots" the lab is developing. In the future, Chen believes robots will be commonplace for service tasks in restaurants and nursing homes.
JiaJia is a newer iteration of a robot the lab first developed in 2008, whose name, KeJia, was inspired by the tale.
"We all agreed that Conch Fairy in the tale is a prototype of service robots. This is really amazing since the tale was recorded in a Chinese historical document," said professor Chen via email. "JiaJia/KeJia follows up the old dream of service robots since ancient times. We would like to reflect this with JiaJia's dresses and outfits of Han and Tang dynasties, as you see in the photos."
Professor Chen added that the elaborate clothing is designed and hand-made by students and experts at the lab's figure-design group—a level of craft beyond the reach of most human women.
There are also practical reasons for the clothing choice—robots aren't as flexible as humans and draped or wrapped clothing is more forgiving. "The robot can hardly wear modern dresses without remolding or re-designing them, since the structure of JiaJia's shoulders is a little different from humans'. But JiaJia can wear Chinese traditional dresses easily," wrote the professor.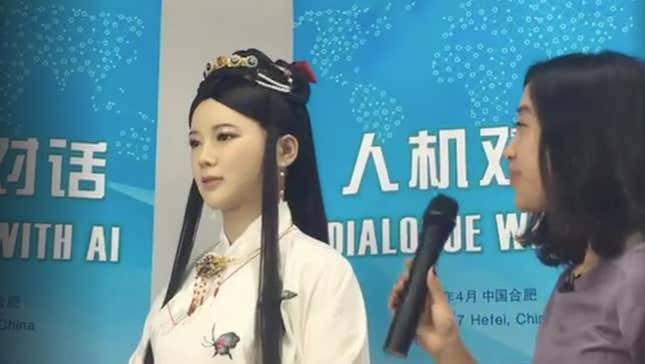 The aesthetic adopted for JiaJia shows how movements built around tradition can seep into spaces that are ostensibly about science and technology—as well as how robots can contain ideas about culture. In May, a calligraphy-drawing male robot in flowing robes (video) appeared at an expo, this time modeled on a Ming dynasty-era philosopher admired by Chinese president Xi Jinping. The Chinese leader has sought to promote a new respect for historic Chinese figures such as Confucius, once disparaged by the pary.
Kevin Carrico, an anthropologist, linked JiaJia's clothing to another effort in China built around the past, noting that one enthusiast for the "robot goddess" commented online that the "the era of Han Clothing has arrived." Carrico has studied a two-decade old grassroots clothing movement in China whose adherents have taken to publicly wearing what they call Han clothing. He describes the movement in a new book as involving invention rather than revival—and has noted that is followers are invested in the idea of the cultural superiority of the Han, the ethnic majority that forms China's mainstream.
"This robot is a very interesting development—it combines mastery of the most advanced AI technologies (or at least attempts at mastery) with a 'traditional' look," said Carrico, in an email to Quartz soon after JiaJia's interview. "In that sense it's almost a metaphor for all of the contradictions in culture in China today, the desire to master science and technology while maintaining a 'Chinese' essence,' this ti-yong ideology."
Sophia, Hong Kong
So far, JiaJia has mostly been on the exhibition circuit in China. But a humanoid developed in Hong Kong named Sophia, modeled physically after Audrey Hepburn and Caucasian in appearance, gets around a lot more than her Chinese counterpart. She's been on the Tonight Show with Jimmy Fallon in New York, sung at Hong Kong's Clockenflap music festival, where she wore a jean jacket and a blue wig, and appeared last year on the cover of Elle Brasil.
Jeanne Lim, chief marketing officer at Hanson Robotics (pdf), which created Sophia and other lifelike robots, does double duty as Sophia's stylist.
"She's kind of like us, we sort of dress for the occasion," Lim told Quartz. Lim bought Sophia a jacket for Clockenflap from Hong Kong department store SOGO, and has also bought her ready-to-wear items from the US department store Nordstrom. For the Elle photo shoot, magazine staff showed up with a rack of clothes, the same as  they would for a human model, Lim recalled. They photographed her holding a clutch though it's not clear what Sophia might put in it: a spare battery, perhaps.
The challenges to dressing Sophia involve both form and function, Lim said. For starters, Sophia's body ends at her waist. For the Fallon show (watch from about 2:20), Sophia appeared on a wheeled pedestal, which allowed her to don a long skirt and speak with the late-night host more-or-less face to face. Because Sophia's interactive capabilities depend in part on a front-facing camera on her chest that allows her to "read" expressions and react appropriately, lower-cut necks are better and turtle-necks are out. Dresses are hard because she needs somewhere for her power cord to emerge from. Lim said breathable fabrics are important too—Sophia tends to get quite warm when she's powered up, and needs something that dissipates heat.
As well as off the rack, Lim's tried out designers to make bespoke clothing for Sophia but hasn't been entirely happy with the results. "I guess I've only looked at designers for human beings," she said.
Lim thinks Sophia looks good in silver, and other materials and color that are sleek and convey an aesthetic of advanced technology. "She could blend in, but because she is not human she just looks better in something that is more edgy and futurist," said Lim. "We want her to represent future technology, future architecture, future design."
Lim is still working on Sophia's look: "It's sort of like the robot as well—her intelligence and character evolving, so is her fashion sense. It doesn't do justice to box her into a specific style right now."
Chihira, Japan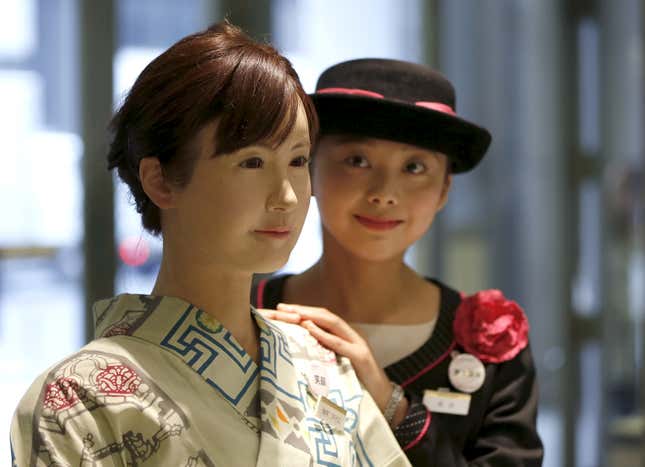 Toshiba's Chihira android is probably the most low-maintenance of the three.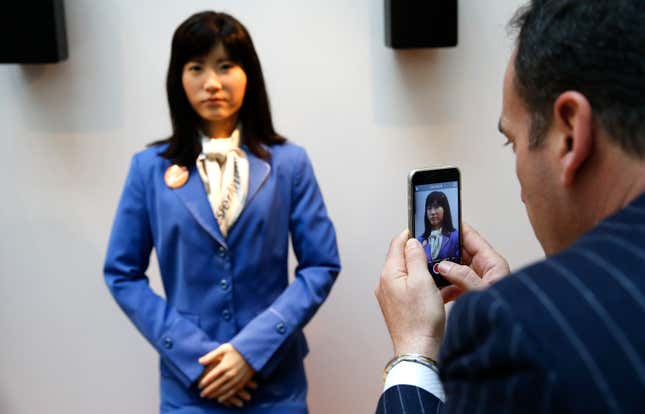 Chihira has at times been seen wearing a kimono, for example at an event at a department store in Japan in 2015. Toshiba told Quartz that Chihira Aiko, an earlier version in the series, used to make public appearances on seasonal occasions and her outfits would be chosen from readymade options in collaboration with the clients at whose events she was appearing.
A later iteration, Chihira Junco, leads a less exciting life. She mostly works as a receptionist and in this role, the company said, she generally wears a corporate uniform. Toshiba did not elaborate on who chooses these or how many different suits she has.