Germany's immigrant population has reached a new record high—again.
In 2016, the number of people with migrant background in Germany—either first or second-generation immigrants—rose to a record 18.6 million, up 8.5% from the year before. It was the fifth year in a row that the number of residents with migrant backgrounds set a new high, according to official data released this week. In percentage terms, last year's increase was the highest since records began in 2005.
More than one in five people living in Germany (22.5%) are now first or second generation immigrants. The latest rise in this share was due to a record influx of refugees and migrants in 2015 and 2016.
Since 2005, the German population with an immigrant background has increased by nearly 24%, or some 3.5 million people. The native German population, meanwhile, has fallen by nearly 5%, or 3.3 million people, over the same period.
In 2015, Germany's fertility rate rose to a 33-year high, thanks in large part to its immigrant population. On average, women in Germany now bear 1.5 children. While the fertility rate increased slightly for German women between 2014 and 2015—from 1.42 to 1.43—it jumped by more among foreign-born women, from 1.86 to 1.95.
While the recent rise in Germany's fertility rate and population is noteworthy for a country of its size, it won't be enough to shield it from demographic decline. Germany's projected population is still on course for long-term shrinkage. By 2060, the population is expected to fall to between 68 million and 73 million people, from around 83 million today.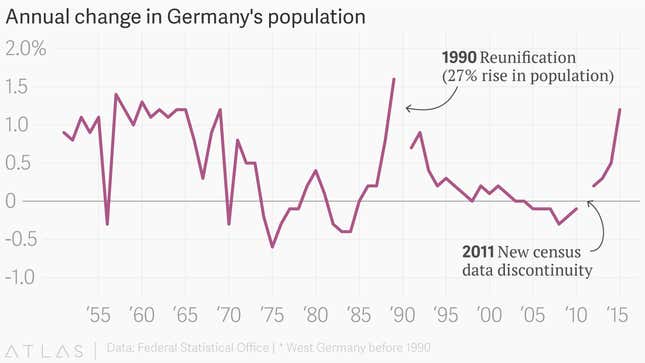 The implications are particularly grim for Germany's workforce, with the share of residents of prime working age (between 20 and 64 years old) expected to shrink by 10 percentage points—from around 60% in 2015 to 50% in 2060.