Everything happens somewhere.
It's an obvious if not always fully understood truth that takes on greater significance now that modern data science and smart mapping technology is empowering new analytic capabilities. The problem is that the vast majority of location information goes unused, its value untapped.                
By 2021, 22.5 billion devices will be connected to the internet, each with a unique location. The Internet of Things (IoT) has introduced enormous amounts of location and geographic data into the business space, so much so that companies are struggling to keep up. By some estimates, less than 1% of collected data are currently being used, the bulk of which are geographic data. The need to make sense of the tidal wave of location data will only grow. IBM's Arup Dasgupta explains: "Despite vast increases in computing speeds and storage capacities, it is still true that our capacity to acquire geographic information, in orders of magnitude, is greater than our capacity to examine, visualize, analyze, or make sense of it."
That's where location intelligence technology comes in. The technology starts by combining multiple layers of information—like customer relationship management, business intelligence, and asset management—onto interactive, real-time maps and visualizations. The subsequent spatial analysis can provide unique insights, revealing previously hidden patterns and relationships that drive stronger decision-making for businesses. Fed by spatial analytics and real-time data, the technology's applications are broad, ranging from optimizing supply chain management to using real-time field updates for utilities. Even the film industry is using GIS-powered location intelligence to build and manipulate 3D models of cities.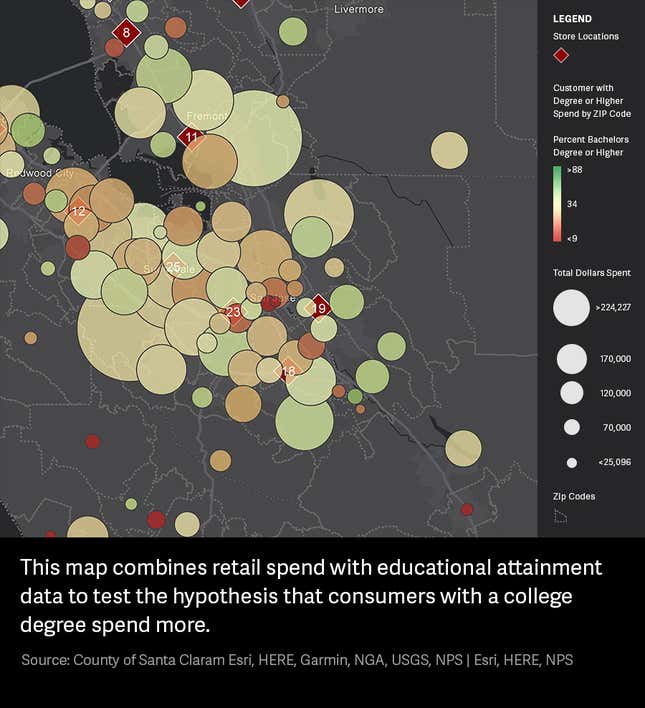 Here's how it works:
Visualization
Spatial analytics and location intelligence allow you to place data in a visual context, which is far more inclusive and powerful. It grounds the data in reality, revealing patterns, connections, and opportunities that are difficult–or impossible–to decipher in rows and columns. For instance, a utility in Seattle is using location intelligence and a visualization of real-time social media information to stay connected with its customers and mitigate potential outage issues.
Not only does representing information visually allow businesses to see the way data are distributed in an environment, it allows them to make strategic decisions that will improve efficiency, productivity, and safety.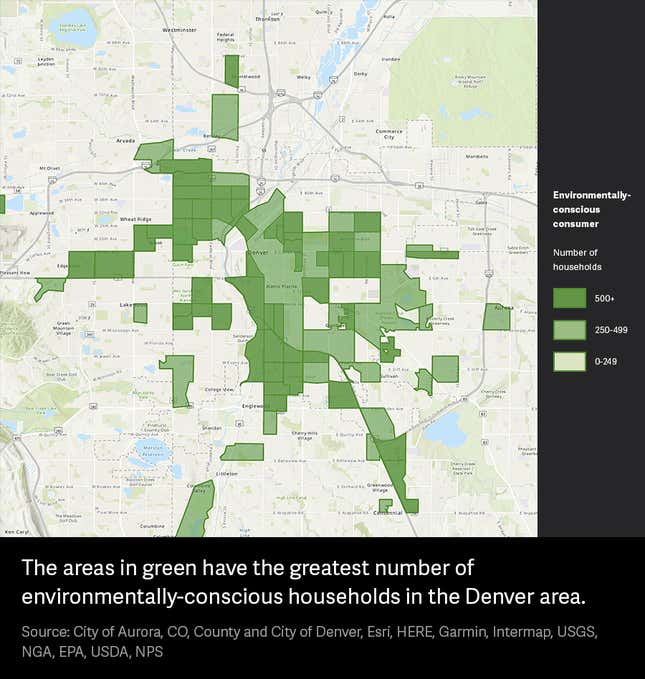 Insight
Location intelligence tools can capture the same number crunching that happens in spreadsheets, while revealing insights in a clearer, more accessible format. Take, for example, a large retailer that wants to better understand its customers. They could create a map overlaying sales data, census tract data, and psychographic survey data to pinpoint who and where their customers are. By implementing spatial analytics and location intelligence into daily operations, they could more confidently define their target audience and the paths to reach it.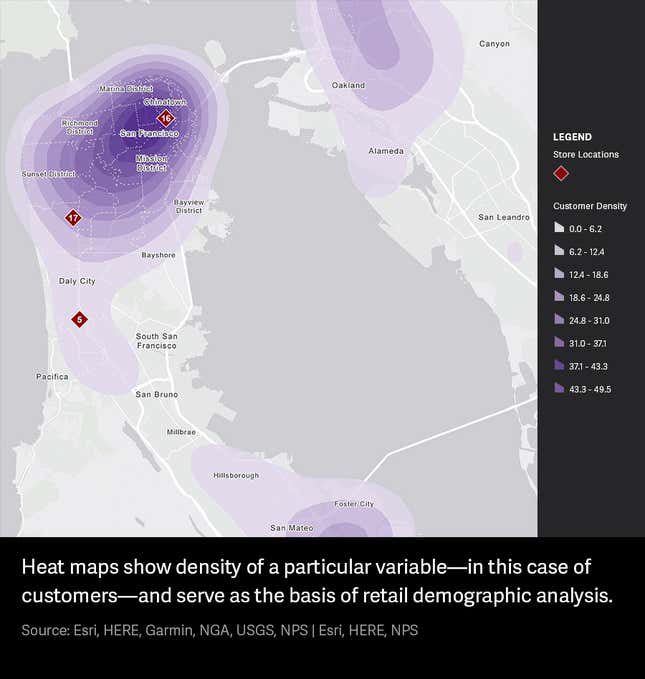 Collaboration
Businesses collecting data across several departments or locations often silo information. But interactive maps and visualizations, fed by real-time location data, provide a window through which different stakeholders can view the right data and build common understanding across the company. Spatial analytics makes data accessible across an enterprise, rendering it far less intimidating. A manufacturer, retailer, or utility overseeing complex operations can use a centralized GIS-enabled location intelligence platform to record all data in one place.
As the data deluge from IoT accelerates, business success will be defined by a company's ability to analyze and interpret information in a meaningful way. Spatial analysis is a crucial piece of that understanding. Whether performing precise risk-analysis, tracking real-time social media trends, or maximizing supply chain efficiency, GIS-enabled location intelligence has the power to advance insights across industries.
how modern location intelligence can transform your organization.
This article was produced on behalf of Esri by Quartz Creative and not by the Quartz editorial staff.