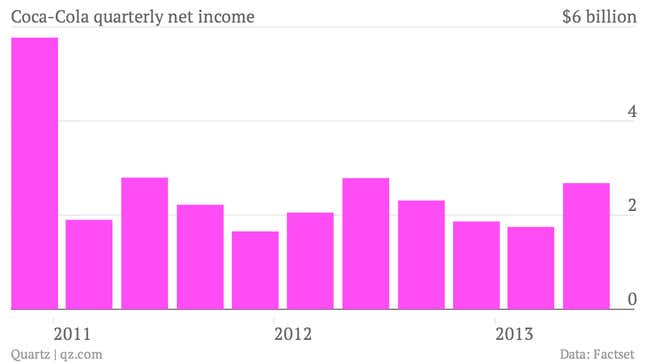 The numbers: Second quarter profits for Coca-Cola, the world's largest soft drinks manufacturer, fell 4% from a year earlier to $2.68 billion. Revenues fell 3% to $12.75 billion.
The takeaway: Coca-Cola blamed the results on cooler, rainy days in the US and Europe at the beginning of the summer, meaning fewer people reached for an ice-cold Coke. "Our second quarter volume results came in below our expectations, reflecting an ongoing challenging global macroeconomic environment and unusually poor weather conditions in the quarter," chairman and chief executive Muhtar Kent said (paywall).
What's interesting: It's not just weather that's hurting sales of Coke. Coke has been hit by higher costs of raw materials, economic uncertainty in Europe and falling soda consumption in the US. The company has been depending on emerging markets to make up for slower sales in the US and Europe, but even growth in Asia and Latin America has been slowing.