Ealing, London
A game in the third-tier of the English rugby league is usually a more subdued affair. But the crowd was especially raucous one cold Friday night in March in this sleepy suburb in London. The chorus of howls came mainly from the young fans of the Toronto Wolfpack, especially as one of their players managed to cross over the try line.
But an elderly flat-cap-wearing man supporting the local team, the London Broncos, just laughed. The player had failed to ground the ball. "This is not American football where you just have to cross the line," he shouts back, his beer sloshing in his large plastic cup. The Toronto Wolfpack won the game that night by 30-26 and, in doing so, continued its leap into the unknown. This little-known team is based in Canada, but competes in England. It describes itself as the first major transatlantic sports team.
When Eric Perez, the founder and CEO of the Wolfpack, first approached the English Rugby Football League (RFL) about entering a Canadian team in 2013, many rebuffed him. "People thought it was crazy. This has never been done," he says.
"We were taken a little bit by surprise," admits Nigel Wood, the director of the RFL. "I don't think any of us had properly opened our mind to the possibility of a transatlantic club entering our competition." It took him three more years to convince them that it was realistic to have a team in Canada's biggest city, based 3,500-odd miles (5,700 km) away, play in their League 1, where teams more usually come from places like Hemel Hempstead and Barrow-in-Furness (pop: 56,700).
The Wolfpack's first match took place in February, but the team has ambitions to reach the top table of the sport, the Super League, in five years. If they succeed, they'll not only revolutionize rugby league, but might just usher in a new era in all of sports. "It means an era where borders don't matter," Perez says.
A pipe dream
Every major sport has long fantasized about creating a global super league. The mere sighting of English soccer's so-called "big five" clubs—Arsenal, Chelsea, Liverpool, Manchester City, and Manchester United—meeting with representatives of American billionaire Stephen Ross last year sent the soccer world into a frenzy. Was soccer taking a bold step to creating a European league with other heavyweights like Real Madrid and Bayern Munich?
The Americans are already showing what a global soccer league could look like. Over the past few years, champions from England, Germany, Italy, China, and Australia have played in an US tournament called the International Champion Cup (ICC), which takes place during pre-season. Once dismissed as kind of joke, a match between Bayern Munich and Real Madrid drew in more than 80,000 fans in New Jersey. This year, it featured the first clásico in North America, between Real Madrid and Barcelona, in Miami.
The frontman of the ICC, Charlie Stillitano, hasn't been shy about his true intentions—restructuring Europe's elite Champion's League into something bigger. He says that "teams could easily represent Tokyo, Beijing, and New York to take on the big European and South American clubs in a World Super League."
The National Football League is also eyeing global dominance. American football has long flirted with the idea of expanding into Europe; since 2007, an annual series of games in London take place in Wembley Stadium and have regularly sold out. The NBA also plays regular basketball matches in England. Rugby union—a more popular version of the sport than rugby league, which has a large fan base in the north of England and Australia—spring-boarded from its most financially successful rugby World Cup in 2015. Rugby union is now hosting regular games in the US; a match between Ireland and the US national rugby team in New Jersey was attended by over 22,00o fans.
The biggest barrier to bringing these dreams to fruition is the distance.
Technology has gone a long way in making transportation less of a barrier. Until the 1950s, Major League Baseball league existed largely in the northeast corner of the US. It wasn't really until widespread air travel that the league finally opened up to the rest of the country and led to the introductions of teams as far as the west coast of California.
The trouble, according to Victor Matheson, a sports economist at Holy Cross College, is the lack of significant progress in air travel since then. While flights are getting cheaper–making it easier for fans to follow their teams around—flying across several time zones is still a significantly challenge for athletes. Leagues that already require players to play several times a week can't realistically fly to other continents and be expected to play well.
Another challenge is playing in a league with multiple currencies and salary caps in place. This is already an issue of for the NHL, which has both Canadian and American teams. Every contract in the NHL is paid in US dollars, so if the Canadian dollar is particularly strong one year, Canadian teams in the league are in a competitive position, but if it's particularly weak, it puts those teams at a significant disadvantage. In France, there was a fight for years between the soccer governing body and AS Monaco, a team based in a principality with no taxes.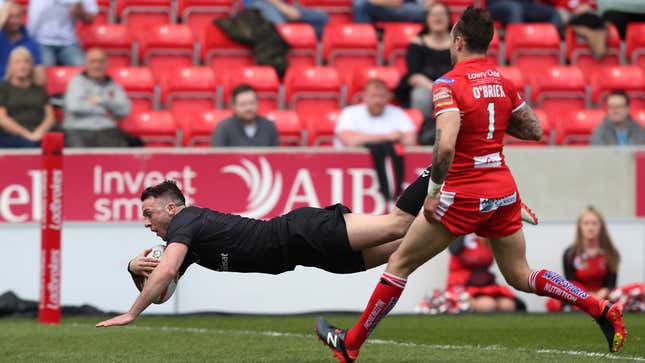 So, for all this potential and talk of a global super league, it has thus fair remained just that—talk. "We've never really seen teams on different continents playing regular seasons against one another," Matheson says.
Until the Toronto Wolpack, that is.
Forget about borders
"Borders are artificial lines," the Wolfpack's Perez says. "The more we get away from those kind of things, the more harmoniously the whole world will live."
Perez, a former Canadian TV executive, instantly fell in love with rugby league the moment he saw the sport. "I just thought it was the most entertaining, quickest, exciting sports I've ever seen," he says. By 2010, Perez set up the Canadian Rugby League and got a weekly TV show on Sportsnet (where he featured rugby-league highlights). Perez worked to set up some smaller clubs, but it quickly became clear the infrastructure wasn't there to have a competitive league in Canada. That's when his mind wandered to England. "It's the only established league in the northern hemisphere," Perez says. "That was the logical choice."
After Perez took his proposal for a Canadian team to join the RFL, it failed to pass. But Perez wasn't too discouraged. He worked on it, showing the team was financially viable (it is backed by the Australian mining millionaire David Argyle), there was a stadium that could be played on in Toronto (a 9,600-seat venue), travel and accommodation would be covered for visiting teams, and that the Wolfpack had backing from the local government and local celebrities —and presented it again.
In 2016, the RFL announced the Toronto Wolfpack would enter League 1 the following year.
There were nerves before the team's first home game on May 6. For many team members like Gary Wheeler, an English player who normally plays at center, it was the first time they stepped onto Canadian soil. Wheeler says he "thought it was going to be quiet," he says, but when he stepped onto the pitch, there were thousands of Canadians cheering the team on. "It's been unbelievable to be honest," he says. The fans are somewhat different to those back in England, Wheeler says, with many chanting, howling, and even setting of flares. It was a world away from the match in West London.
For Perez, the crowd's reaction has made the project worthwhile. "Just like it captured me, it captured other Canadians," Perez says. (There's already a fan podcast about the Wolfpack.)
The Wolfpack's distance means that they have required a complete rewriting of the traditional fixture schedule. They play their matches in blocks of five games—which means four weeks in England, followed by four weeks in Canada.
English fans have also made the trip to eight-hour flight to Toronto to see their teams battle the Wolfpack. Several teams have brought over around a hundred fans this year, according to Perez, who believes that number will get into the thousands soon enough. This is largely possible with Wolfpack's partnership with Air Transat, a Canadian airline. Air Transat offers a weekend package deal where fans can buy a ticket to the game, return flights, and nights in a Toronto city-center hotel. (The partnership also covers the costs for British teams to come to Toronto.)
Quentin Laulu-Togaga'e, a fullback player originally from New Zealand, was wary of joining, initially. The traveling from Canada to England sounded exhausting and would also keep him from his wife and two children. After months of deliberating, Laulu-Togaga'e finally decided to join the team. "You're not always going to be apart of something special like this," he says.
Wheeler admits the long plane ride is "tough on recovery after games." To ease the struggle of the journey, the team enlisted Liverpool John Moores University to devise a program to minimize jet lag. Perez is adamant that rapidly changing technology will soon ease the challenges of hosting a league on two different continents.
For fans who can't afford the travel, the Wolfpack's games can be watched on TV—indeed, it is the only team in the British leagues to have every game broadcast live, thanks to a broadcast agreement with CBC Sports announced in March this year. Perez hopes to cultivate more partnerships between Canadian and British companies. He's set up what he calls "the chairman's club," a business club, facilitated by the Wolfpack, to support companies in England that want to do business with Canadian companies, and vice versa.
Though the RFL were initially thrown by Perez's plan, the governing body says the acceptance of the Wolfpack fits with rugby league's history and philosophy of taking risks. "We've always prided ourselves on being relatively fast on our feet and capable of adapting and introducing things that we think are consumer friendly," Wood explains. Rugby league boasts a lot of firsts; once working-class clubs in Northern England broke away from rugby union, rugby league dared to play on a Sunday (the day of rest!). They were also the first to hold matches under floodlights and they also put a French side in the league in 2006.
Perez bid to create rugby league's first transatlantic team is still a risky move. According to a 2013 study, the Super League clubs—the top-level rugby league club competition—were facing combined debts of £68.5 million ($89 million in today's money). One of the few teams that have done consistently well, the Leeds Rhinos, generated an annual turnover of £10.9 million in 2014-15, with £1.1 million in pretax profit.
While this is a substantial increase from the year before, the figure is pennies when compared to popular European soccer clubs. Manchester United, for example, made more than £500 million last year.
Perez suggests the Wolfpack is in a unique position to generate a substantial amount of money because the club is breaking into two markets—the British and Canadian. Merchandise is already flying of the handle and fans are keen to make trips to Canada and Britain, Perez says. And another Canadian team will be joining the RFL league in the next season, he says.
And perhaps similar moves are taking place in other sports. Barcelona women's soccer team are currently in talks to enter a team in the American National Women's Soccer League in 2018—which would be a first for the world's most popular sport.