Montreal Olympic Stadium, better known as the Big O, for the O-shaped design of its seating area, hasn't been home to a professional sports team since 2004, when the Montreal Expos baseball team became the Washington Nationals. It has since been used for trade shows, concerts, and the odd sports event.
This week it holds hundreds of temporary beds for asylum seekers who have left the United States fearing deportation under US President Donald Trump, according to the New York Times and news reports from the Canadian Broadcasting Corporation (CBC).
Originally built for the 1976 Olympics, the stadium building with its striking inclined tower has become a makeshift shelter for refugees who have crossed into Quebec illegally, walking across fields and through forests, avoiding border control posts where they risk being turned away. Thus, they can take advantage of a legal loophole that allows asylum seekers to stay in Canada and apply for refugee status once inside the country.
Since January, when Trump moved into the White House, more than 4,300 asylum seekers have entered Canada this way, according to Government of Canada statistics. By comparison, in all of 2016, the RCMP reportedly arrested about 2,500 people who had illegally trekked over the border.
Quebec has been the entry point for the majority of the latest wave of refugees, so authorities there were already struggling to process a larger than expected number of applicants when they saw a sudden spike in arrivals over the past two weeks. In that time, the number of people walking into the province has quadrupled, reaching 250 arrivals per day.
Overwhelmed, the agency assisting asylum seekers began channeling many  to the stadium after other city shelters hit capacity last week. A spokesperson for that group, Programme régional d'accueil et d'intégration des demandeurs d'asile (Praida), tells Quartz that 800 people are currently sleeping in the stadium. That number is expected to fluctuate daily between now and September, when a new shelter should be available.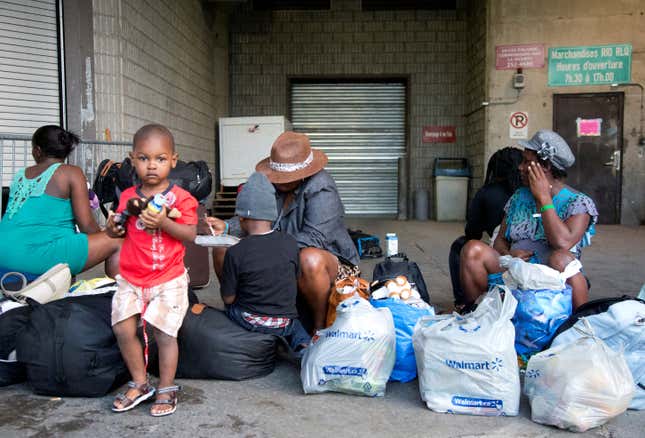 As the CBC reported, a crowd of Canadians rallied for the new arrivals this weekend, holding signs that read "Refugees welcome" or "No one is illegal" outside the Big O. Many of the travellers are Haitians who left the US believing that, in January, Trump will end a program that has allowed them to stay in the country since the 2010 earthquake; they have been met by volunteers from the large local Haitian community and others offering food and basic necessities.
The images of refugees moving into the massive stadium calls to mind more distressing photographs from recent history and from stadiums around the world. "There's a real irony to these temples," says Benjamin Lisle, a professor of American studies who has a new book out,  Modern Coliseum: Stadiums and American Culture.  Ironically, former "expressions of extravagance" from the 1960s and 1970s have occasionally become holding pens for people for whom we don't have the social commitment to care for properly.  
Even among peacocking urban design projects, Montreal's Olympic Stadium is a standout. Its more common nicknames are the Big Oh-Oh and The Big Owe for the $1.6 billion spent over 30 years to complete its construction and repairs.
Both stadiums and airports, including Greece's Olympic venues built for the 2004 games, have become campgrounds for thousands of  migrants seeking asylum in (or transit through) Greece. In 2015, ethnic Rohingya escaping violence in Myanmar were left living in small stadiums  in Sumatra. That same year, Burundians fleeing conflict at home found themselves sleeping in stadiums in Tanzania.