A patriotic Chinese action movie about punishing those who offend China has become the highest-earning film ever shown in the country.
Set in a war-torn African country, Wolf Warrior 2 tells the story of a former special-forces soldier saving his compatriots and locals from the hands of American-led mercenaries. It has grossed 3.5 billion yuan (about $524 million) in its first two weeks at the box office, according to (link in Chinese) research group Entgroup. Directed and co-written by Chinese martial arts star Wu Jing, it has quickly surpassed the previous record holder, Hong Kong director Stephen Chow's The Mermaid (2016).
The movie has taken off in China for a few reasons. First, the protagonist (played by Wu) is a fearless, muscle-bound warrior who works mostly alone and has been compared to Rambo. Chinese audiences have long craved for a homegrown version of this type of hero. In addition, many moviegoers have praised the film's special effects and fighting scenes, which include everything from gun battles to car chases to a tank showdown.
Also helping the movie: It's faced no competition from Hollywood blockbusters like Dunkirk, which won't debut until September. That's thanks to China's media regulator, which traditionally halts imports of foreign films to help domestic productions in the summer.
Another factor behind the film's success is its unabashedly patriotic tone, perhaps best captured by its tagline: "Whoever attacks China will be killed no matter how far the target is." Written as "犯我中华者虽远必诛" in Chinese, the words are slightly adapted from a military general's vow to his emperor, made during the Western Han dynasty (206 BC–9 AD), to defeat foreign invaders in the north. In the first Wolf Warrior movie, released in 2015, a Chinese military commander used the line to motivate his troops at the film's ending. Although the quote doesn't reappear in the sequel, it features prominently in several movie posters.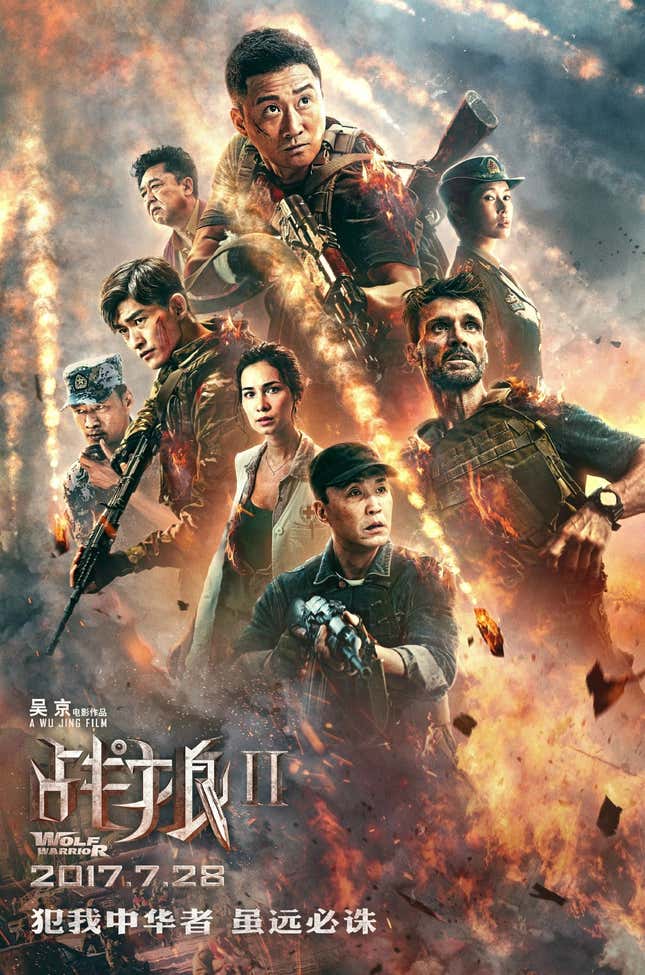 The quote has made a comeback in society at large, too, amid rising Chinese nationalism. In recent years, China has taken a more assertive role in global leadership, billing its unique political system as an alternative to the West. National pride among young people is growing in China, and it's being directed by the government toward foreign countries.
The quote about killing invaders has also been widely used by Chinese bloggers when opining on the country's territorial disputes with other nations, including the recent border standoff with India and the territorial disputes in the South China Sea.
It's also been deployed to attack those who support Taiwanese independence, or anyone who offends China. When a football player from England's Chelsea club posted offensive messages about China on social media, Chinese fans fired back at him using the quote.
The movie's debut coincided with a series of celebrations marking the 90th anniversary of the People's Liberation Army. It also came just before China officially opened its first overseas military base (located in East Africa, it is, Beijing insists, purely for peacekeeping and humanitarian purposes). As the Financial Times notes (paywall), the film's scenes are sprinkled with dialog praising China's foreign policy, and the film ends with a shot of a Chinese passport and the message that citizens will be protected by their motherland.
Wolf Warrior 2 currently holds a 7.5/10 rating on Douban (link in Chinese), a film portal similar to IMDb. That's higher than 79% of the action movies rated by Douban users, and is considered a decent score for a Chinese production. But the most "liked" comments have shown a mixed reaction to the film's nationalist sentiment. One described the film's promotion of patriotism as "phony" and "redundant," while another said he could practically feel the testosterone oozing off the big screen.
"The film tells us Chinese people can also save the world," he wrote.