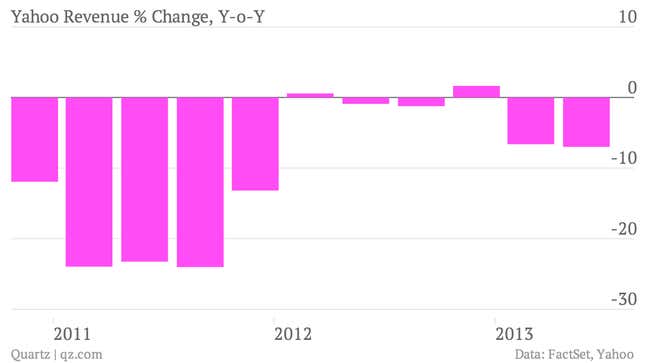 The Numbers: Not good. Yahoo reported earnings per share of $0.35 on revenue of $1.07 billion in the second quarter, which beat analysts' ho-hum estimates. But its revenues fell by 7% compared to the same period last year. Its outlook for the rest of the year was also disappointing. Yahoo shares were down by as much as 2.7% in after hours trading.
What's Interesting: Yahoo's display advertising revenue took a 12% hit, falling to $472 million while the number of ads sold (excluding Korea) fell by 2%. The numbers show that Google and Facebook are continuing to eat Yahoo's lunch when it comes to display advertising. Search revenue fell by 9% to $418 million. Yahoo's market share loss in search has been Microsoft's gain. Even though Yahoo partners with Microsoft to use its search engine Bing, Microsoft continues to attract more advertising dollars for Bing's platform than does Yahoo.
The Takeaway: Yahoo CEO Marissa Mayer, who just celebrated her one-year anniversary at the company, has revived the company's image. Her moves to acquire hot startups like news reading app Summly and blogging site Tumblr have created a lot of buzz and upped Yahoo's cool factor. That's bought her time to get Yahoo back on track, after years of its trailing competitors and suffering from bad management and board changes. But her honeymoon period may soon be coming to an end. Buzz gleaned from hot startup acquisitions doesn't necessarily attract ad revenues, and that's been the heart of Yahoo's problems and what investors wanted her to turn around. Another flashy thing that won't solve Yahoo's problem: video conferencing its earnings report.