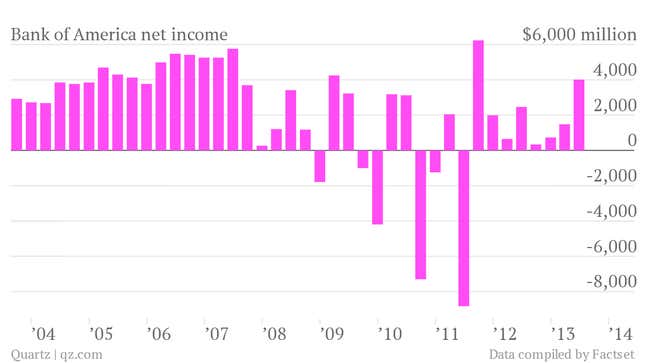 The numbers: Bank of America's profits soared to $4.0 billion in the second quarter, up 63% from the second quarter of 2012 and 171% from the first quarter of 2013. That's equal to earnings of $0.32 per share.
The takeaway: The bank reported strong numbers, but enthusiasm in the markets might be dulled because those profits could be more cyclical than Wall Street would like. For example, revenues from investment banking, which can be volatile, rose 36% t0 $1.6 billion. But the bank's real estate unit didn't fare so well, losing $937 million in the quarter. Shares of BAC were up 1% in pre-market trading.
What's interesting: Even though it recently lost its top spot as the world's largest private bank to UBS, wealth management continues to be a strong point for Bank of America. It reported record profits in the second quarter of $758 million.