It didn't take protesters much effort to topple a century-old Confederate statue at a rally in Durham, North Carolina, on Aug. 14. One protester climbed atop its stone plinth, inscribed with "In memory of the boys who wore gray," and tied a rope around the statue of the Confederate soldier—a symbol of the slave-owning South from the US Civil War. Then, with a good pull, the crowd, gathered in solidarity with the anti-racist demonstrators who clashed with white supremacists in Charlottesville, Virginia over the weekend, sent the towering effigy crashing hard to the ground.
Update Aug. 17: The cities of Baltimore and New York have since acted to remove statues honoring Confederate figures, and the idea is gaining supporters across the country. US president Donald Trump, whose Virginia golf course features a memorial to a fictitious Civil War event, is taking it rather badly. "You can't change history, but you can learn from it," he argued in a series of impassioned tweets today.
Many Americans view these monuments as symbols of ongoing tolerance for white supremacy, and they're still extremely common throughout the southeastern US. A recent study by the Southern Poverty Law Center tallied at least 1,500 (pdf) symbols of the Confederacy in public spaces, concentrated largely in states like Virginia, North Carolina, and Georgia.
The reasons there are so many of these statues, and why they're so easily toppled, are one and the same: Many of them were mass-produced in northern foundries and shoddily installed across the American South.
A large share of Confederate statues are of nameless, generic soldiers, like the one the protesters took down in Durham. Towns erected them in the early 20th century, decades after the Civil War, because their Confederate mythologies helped to justify Jim Crow laws in the South that oppressed black citizens, Taber Andrew Bain, a librarian at Virginia Commonwealth University, pointed out on Twitter.
The statues are often called the "Silent Sentinel," "Single Soldier," or something similar, and depict a regular soldier in Confederate uniform staring solemnly into the distance, at ease, with feet spread—a stance called "parade rest," according to art historian Lola Arellano-Fryer, who wrote about the statues for Hyperallergic. The statutes proliferated specifically because they were cheap.
To sculpt a statue in marble would have been time-consuming and prohibitively expensive for small towns in the early 1900s. But northern foundries that worked in cast bronze or zinc could churn them out quickly and sell them at much lower costs.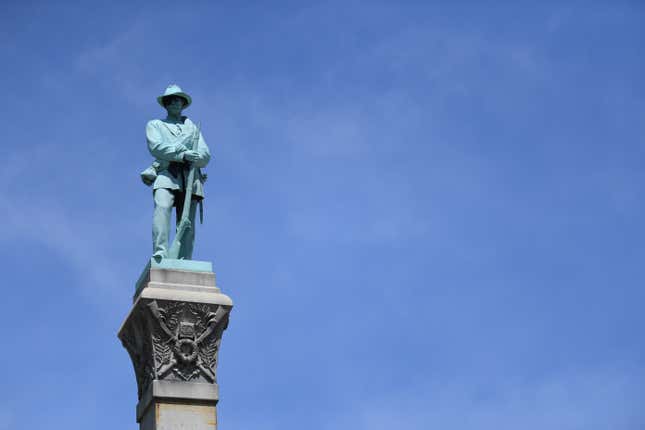 One of the leading manufacturers was the Monumental Bronze Company of Bridgeport, Connecticut, which specialized in a cast zinc it called "white bronze" (a light gray or pale blue color). In 2015, the Associated Press dug into the company's history: It sold life-size statues for just $450 and larger eight-and-a-half foot versions for $750. Commissioning marble or granite statues, meanwhile, would have cost tens of thousands of dollars.
"It's like going to Wal-Mart," Timothy S. Sedore, who wrote An Illustrated Guide to Virginia's Confederate Monuments, told the news wire. "It's less expensive."
Sarah Beetham, an art historian at the University of Delaware and an expert on soldier monuments, explained to the AP that as many as half of these citizen-solider statues were in the "Silent Sentinel" style. Southern citizens felt personally connected to them; they commemorated all Confederate soldiers, including their family members who may have fought for the Confederacy.
Because these mass-produced statues were put up on the cheap, they may not have been firmly anchored to their pedestals, making them easy to pull down. That makes them an attractive target for protesters who want to see them, and all they represent, removed.