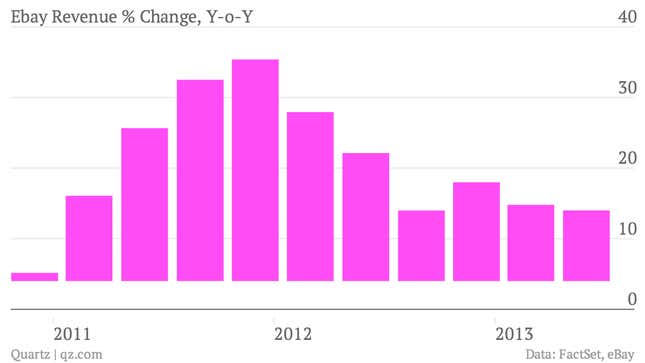 The Numbers: They were OK. EBay's $0.63 earnings per share, on revenue of $3.88 billion, were largely in line with analyst estimates. Its net income dropped by 8%.
The Takeaway: EBay has been having some success with its turnaround strategy to better compete against Amazon. But as a result, it has also faced growing expenses, investing in its mobile business and international growth. Donahoe said despite the "headwinds" facing eBay in the second half of the year, the core businesses are strong. But given the investor reaction to eBay's outlook, that may not be enough.
What's Interesting: EBay CEO John Donahoe warned investors that the second half of the year wouldn't be great, partly because of continuing economic challenges in Europe. As a result, eBay said its third quarter outlook for revenues would be in the range of $3.85 billion to $3.95 billion, which was disappointing. That outlook caused shares to fall by about 6.3% in after-hours trading. The one bright spot was eBay's PayPal payments unit, where revenues grew by 20% to $1.6 billion.