In the 72 years since the end of World War II, the wreckage of the USS Indianapolis has lain undiscovered at the bottom of the North Pacific Ocean, the only evidence of its horrific ending the memories recounted by its 316 survivors. Its discovery this weekend solves a decades-long mystery that researchers hope will bring closure to the men and their families.
Parts of the US Navy Cruiser were located in the Philippine Sea on Friday (Aug. 18) by an expedition led by Microsoft co-founder Paul Allen. The expedition has decided to keep the exact location of the wreckage a secret out of respect.
The Indianapolis was en route from Guam after a successful mission to deliver components of the atomic bomb when it was torpedoed by a Japanese submarine on July 30, 1945, two weeks before the end of the war. It sank in 12 minutes. Of a crew of about 1,200 men, 800 were left adrift in oil-covered water, dehydrated, and circled by sharks (a scene that would later inspire a gripping, but inaccurate speech in Jaws). The crew also suffered from mass hallucinations, believing that the ship had not sunk at all or that an island lay ahead, as vividly recounted by the ship's surviving medical officer, Capt. Lewis Haynes.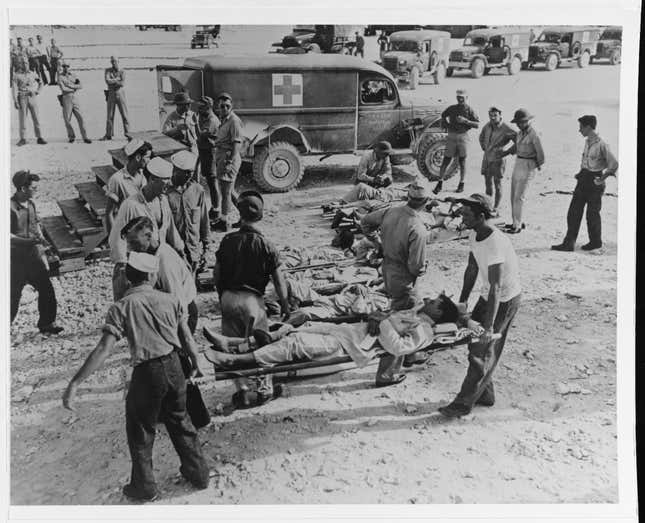 Communications errors meant the sinking went unnoticed until a passing aircraft spotted the oil slick from the ship by chance on Aug. 2. Only a quarter of the crew survived to be rescued, of which 22 are still alive today.
"To a man, they have longed for the day when their ship would be found, solving their final mystery," Capt. William Toti, a spokesperson for the survivors, said in a statement. "They all know this is now a war memorial, and are grateful for the respect and dignity that Paul Allen and his team have paid to one of the most tangible manifestations of the pain and sacrifice of our World War II veterans."
Previous expeditions led by Allen, whose father served in World War II, led to the discovery of the Japanese battleship Musashi and the Italian World War II destroyer Artigliere. In a statement on his website, Allen said the discovery of the ship had been humbling. "While our search for the rest of the wreckage will continue, I hope everyone connected to this historic ship will feel some measure of closure at this discovery so long in coming."