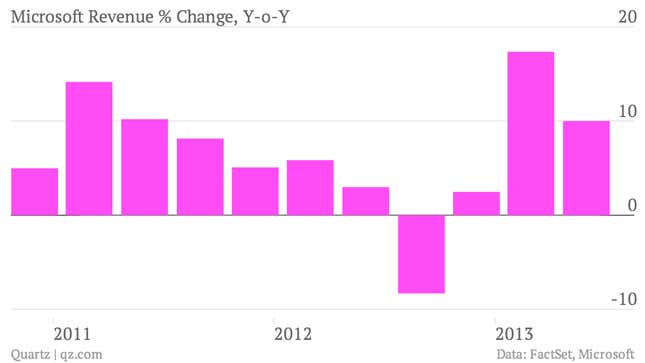 The numbers: Not good. Microsoft reported earnings per share of $0.66 (excluding a $0.07 inventory charge) on revenue of $19.9 billion in the fourth quarter, missing analyst estimates. The company's shares were down by about 5.5% in after hours trading.
The takeaway: Analysts had expected Microsoft to have a strong quarter, so the disappointing earnings were surprising. Microsoft shares had been lagging for a while, but this year, the stock has been rising and is up by about 28% in 2013. New Microsoft CFO Amy Hood said the company was impacted by the continuing decline in PC sales, but emphasized strong demand for its enterprise and cloud offerings. The fourth quarter figures also include a $900 million charge for inventory adjustments related to Microsoft's Surface tablet. The company recently cut prices for the Surface by as much as 30% to try to boost slow demand. Its new Xbox One also hasn't wowed consumers.
What's interesting: The disappointing performance of Microsoft's consumer-oriented products once again puts the focus on why the company is spending so much effort in this space. That's a key complaint of some investors, including activist shareholder ValueAct, which has a stake in Microsoft and is possibly angling for a board seat. Microsoft CEO Steve Ballmer recently announced a major reorganization aimed at getting Microsoft's previously disparate divisions to work better together. But today's earnings show he will have to do more than just shuffle around some executives to prove to investors he has the right strategy for the company.