Samsung announced the successor to the ill-fated Note 7 smartphone today, an updated phone named the Note 8. The new phone resembles a larger version of Samsung's flagship devices, the S8 and S8+, but is slightly larger and includes a stylus called an "S pen," which slips into the device.
Here are the Note 8's specs:
6.3″ Super AMOLED display
6 GB RAM
10nm processor, same as S8 phones
64 GB base storage, expandable with MicroSD
3300 mAh battery
S Pen, updated with .7mm precision nib and 4096 levels of pressure
IP68 water and dust resistance (30 mins underwater down to 1.5m)
Dual front-facing cameras:
Telephoto: 12 megapixel, f/2.4, 2x optical zoom
Wide angle: 12 megapixel, f/1.7
Samsung is emphasizing that these phones won't explode, as the Note 7 did. They stress that the Note 8 has a new interior design, with a slightly smaller battery that's physically guarded from the rest of the phone. Samsung said the phone passed its new, 8-step safety test. In addition, the company partnered with Underwriters Laboratories (UL) to further test the phone, making this the first Samsung phone to get UL's stamp of approval. Note 7 phones famously blew up due to manufacturing and design defects that caused the battery to short circuit and explode in a ball of flame. Recall of the phones cost the South Korean company about $3 billion.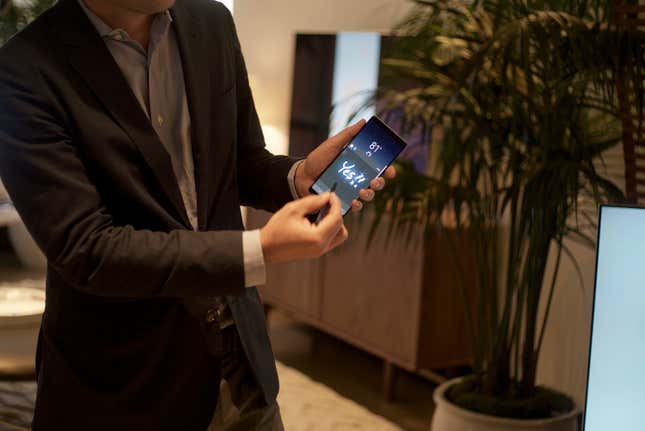 Aside from not blowing up, the new phone has features such as optical image stabilization, easier to access note-writing with the S Pen, a Live Focus mode where users can change the focus of an image after the fact, and multitasking shortcuts that allow users to launch two apps at once.
We've tinkered with the phone and it seems to live up to the hype (nor has it flamed out), and we'll have a full review coming soon.