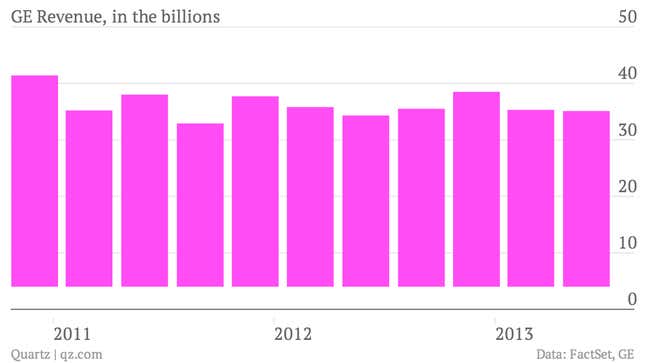 The numbers: They were solid. Industrial conglomerate GE reported earnings per share of $0.36, which beat analyst estimates. Revenues for the second quarter were $35.1 billion, which was slightly below expectations. Its stock was up by almost 2% in pre-market trading.
The takeaway: GE revenues were down about 4% from the same period last year but its US orders were up by 20%, reflecting an improving economy. GE rival Honeywell also beat earnings estimates and raised its outlook for the year. GE's infrastructure orders increased by about 4% while the company's backlog of equipment and services orders at the end of the quarter were at its highest ever at $223 billion. GE CEO Jeff Immelt was even a bit bullish on emerging markets, while other companies have said they've seen disappointing performance in that region in the last quarter. Immelt said in a statement that "we executed in a business environment that was slightly improved versus the first quarter. Emerging markets remain resilient, and in the US we saw strong growth in orders this quarter. Europe is stabilizing but still challenged."
What's interesting: The company's financing arm, GE Capital, continued to shrink as the company had planned. Its earnings fell by 9%, as GE reduced its assets. GE has been contemplating what to do with GE Capital, and had considered possibly bidding for the financing arm of PC maker Dell to combine it with GE Capital. With that option off the table, GE will continue to look for ways to deal with its financing business.