From exploding phones to execs charged with embezzlement, it has been an eventful year for Samsung. Today, vice chairman Lee Jae-yong, heir apparent to the electronics giant, was sentenced to five years in prison for bribing the confidante of former South Korean president Park Geun-hye.
Instead of panic, investors have been counting their cash. Since last August, when Samsung's fire-prone Note 7 device was first unveiled, the company's shares have gained more than 40%, a rise worth some $85 billion in market cap.
Over that period, Samsung's shares have performed in line with Apple, and better than Amazon, Facebook, and Alphabet. What gives?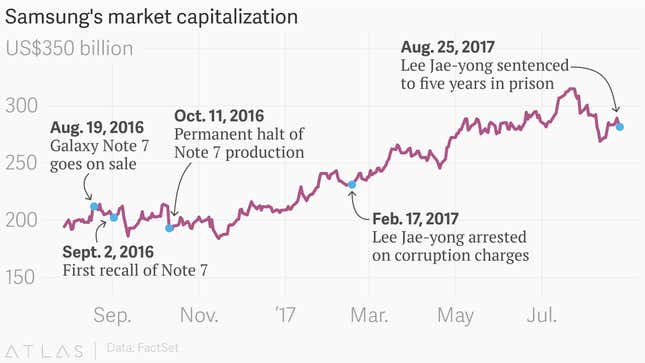 Samsung's profits increasingly depend on components, not smartphones—making the Galaxy Note 7 fiasco, which cost the company billions of dollars to recall, a marginal concern to the broader business. The group's OLED and memory technology, meanwhile, leads the industry, and investors are confident that it will take some time for smaller manufacturers to catch up and offer components with the same sophistication at lower prices.
And Lee's conviction? While his prison sentence is somewhat unprecedented, an embattled corporate heir is nothing South Koreans haven't seen before.