Cheerios doesn't have a monopoly on breakfast yellow.
The US trademark court office denied the US cereal brand's appeal last week, capping their two-year campaign to claim the color yellow. In an Aug. 22 ruling, judge Anthony R. Masiello explained that the 76-year old brand can't have exclusive claims to the color because all sorts of breakfast items also use it in their packaging. He pointed to the "the industry practice of ornamenting breakfast cereal boxes with bright colors, bold graphic designs, and prominent word marks."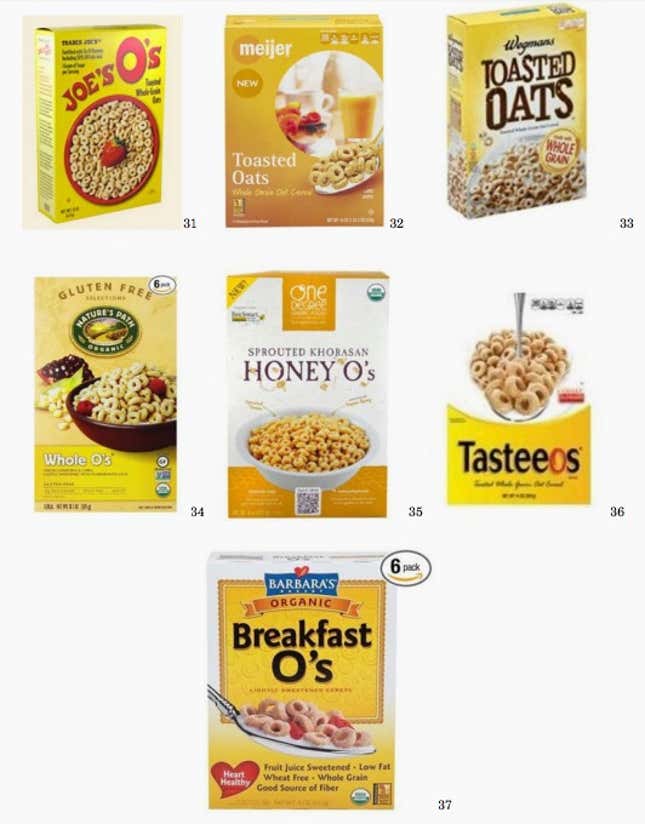 Indeed, yellow is a kind of lingua franca in cereal box design. Several cereal brands use the cheerful, serotonin-inducing color: Kellogg's Corn Pops, Trader Joe's Joe's O's Toasted Whole Grain Oats, Post's Honey Comb and Nature's Path Honey'd Corn Flakes, just to name a few. If Cheerios maker General Mills had won the appeal, many of their competitors would be forced to change their packaging.
The Trademark Trial and Appeal Board also pointed out that Cheerios hasn't been particularly consistent in their use of the color yellow. Their bestselling Honey Nut variant, for instance, is sold in a predominantly red-orange box.
Trademarking a color is possible only if a company can prove that most customers instantly equate their product with a signature color. Cadbury secured a trademark for royal purple, Moët Hennessy has exclusive rights to the yellow-orange color (Pantone 137) on their Veuve Cliquot champagne labels, and Coca-Cola has a trademark on "Coke Red."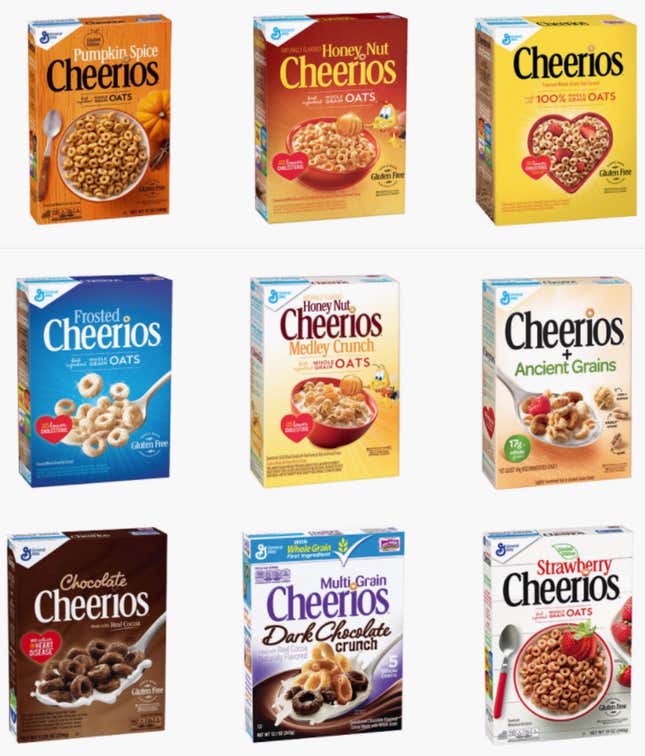 "We are not persuaded that customers perceive the Applicant's proposed mark, the color yellow alone, as indicating the source of Applicant's goods," wrote Masiello.
This is the second time the US trademark office has rejected General Mills' claim to yellow, but brand media relations manager Mike Siemienas tells Quartz they're not ready to give up just yet. "We are working to protect the iconic yellow color for our Cheerios box," he said. "We are evaluating our next steps."