Much like an inexperienced runner trying to figure out how to pace themselves the midst of their first long run, Fitbit is evaluating how much it has left in the tank in a wearables race that is more competitive than some may have expected.
At one point over the summer of 2015, Fitbit, the maker of a popular line of step-tracking devices, saw its stock being traded at nearly $50. It seemed that everyone was tracking their steps, and Fitbit seemed to be the stocking-stuffers of choice, as the company raced to the front of the nascent wearable market.  But delayed products and increasing competition from Apple, Xiaomi and others, Fitbit has tumbled to third place in wearables market share, and its stock hasn't traded over $9 since November 2016. Through the first six months of 2017, the company has lost $118 million, according to earnings filings, and now has roughly $318 million in cash in the bank.
In an effort to turn regain ground, the company announced a litany of new products today. Here's a quick rundown of what was released:
Ionic
This is Fitbit's second smartwatch, after the Blaze watch it released in 2016. The new watch, which can pair with any smartphone, has all the mod cons you'd expect in a contemporary smartwatch, including the ability to automatically detect when you're going on a run, answer calls, GPS, a litany of third-party apps (including Pandora, Starbucks, and AccuWeather), contactless payments, and obviously, step tracking. The watch costs $299 and has a roughly four-day battery life, but will face stiff competition from the Apple Watch, which starts at $269, and has the backing of a far larger app ecosystem, and a less dramatic design.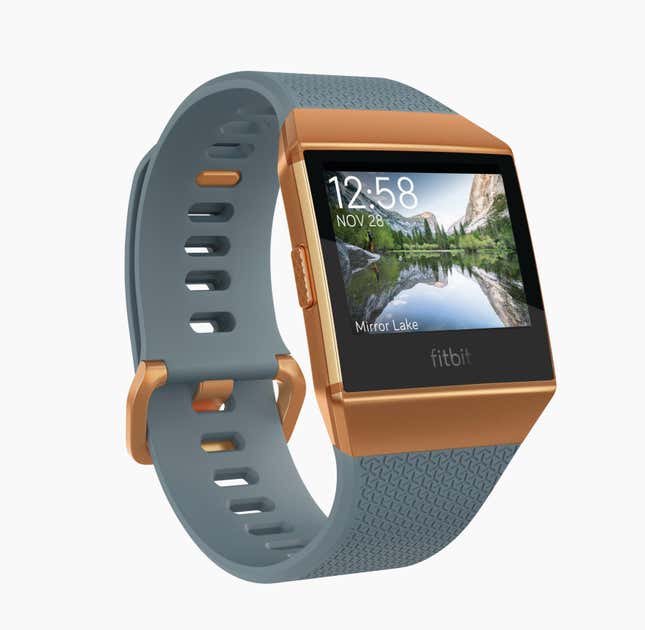 Flyer
These are Fitbit's first wireless headphones, meant to work with the Ionic watch. They're durable enough to withstand the sweat and heat of a workout, and can charge for an hour's worth of listening in 15 minutes. They can also connect to two devices at once, meaning you could be listening to music on your Ionic, and take a phone call without dropping the connection. The headphones will cost $130, and will have to compete against more established headphone brands like Bose, Beats, and even Apple.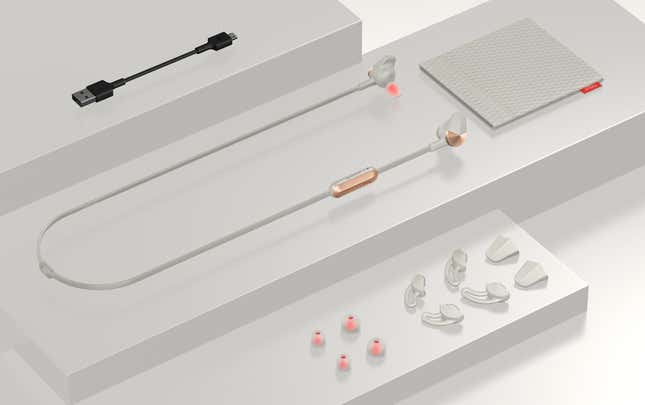 Aria 2
Fitbit has revamped its Aria wireless scale, which logs all your weight fluctuations to the Fitbit mobile app. The new scale can now handle eight different users, and will cost $130.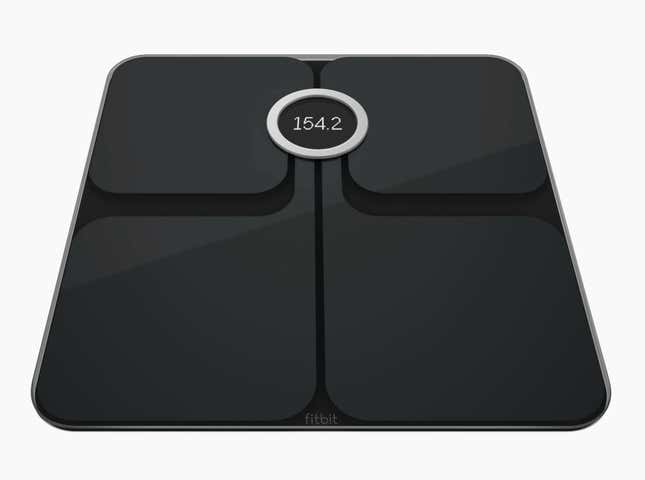 Coach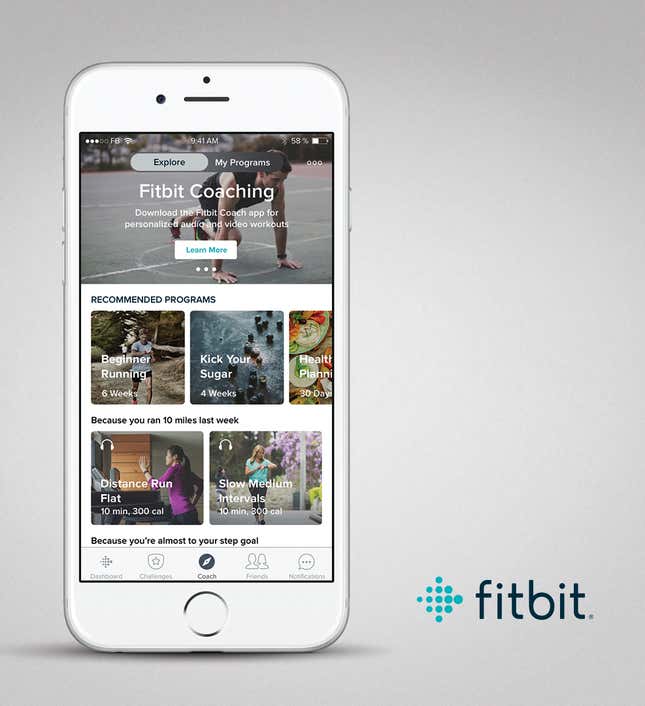 Fitbit launched a new app that it claims will help you better achieve your fitness goals. It has personalized workouts for your body weight, a library of exercises to work through (with instruction guides), workouts that help you work every part of your body—knowing what you worked on last—and an "audio coaching" section that has over 40 workout lesson plans that walk you through how to exercise, regardless of your experience level. The app will cost $8 per month (or $40 per year), and will initially be available on iPhone, Android, and Windows devices, and then on the Ionic smartwatch in 2018.
Whether any of these will be prove enough to capture market share back from Xiaomi, a company that works to make the most affordable devices it can, and Apple, a company that charges a high premium because of its history of design and build quality, remains to be seen.