The shipping industry, which ferries everything from food to gadgets around the globe, may be out of most people's sight, but it is one of the world's biggest polluters. It only produces 3% of carbon-dioxide emissions, but it produces 15% of sulfur, 13% of nitrogen, and 11% of particulate emissions.
After much stalling, the International Maritime Organization (IMO), which regulates international shipping, has begun to address the shipping industry's worldwide pollution problem. Starting in 2020, it has ruled that the sulfur content of shipping fuel must go down from 3.5% of fuel weight to 0.5%. The numbers might seem small, but a new report from IHS Markit, a provider of market and financial data, suggests that both shipping companies and refineries are likely to face difficulties meeting the regulation.
"The two industries are vastly unprepared," Sandeep Sayal of IHS Markit told Hellenic Shipping News. "Neither has made the necessary investments for compliance, which means that the 2020 implementation date will result in a scramble."
To follow the regulations, ships will need cleaner fuels, such as marine gas oil, which are more expensive, or they'll need to install equipment to clean up the dirtier fuels, such as heavy fuel oil, that they use right now. Based on oil prices in August, marine gas oil costs 1.5 times as much as heavy fuel oil.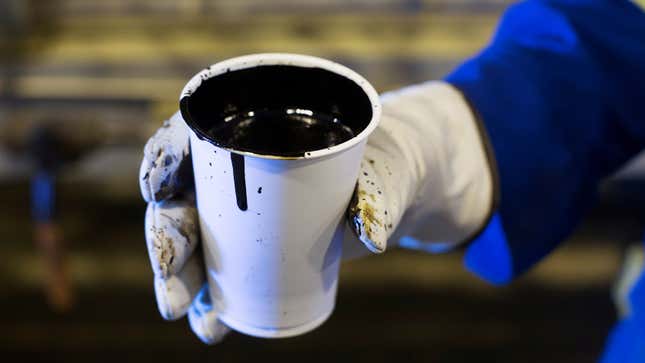 Fuel accounts for as much as half of the operating costs for the shipping industry, according to David Lifschultz, CEO of Genoil, a company that upgrades heavy oil. He echoed the conclusion of the IHS Markit report, saying that the shipping industry is procrastinating on the problem of cleaning up its fuel. If the shipping industry makes a last-minute dash to use gas oil instead of fuel oil, it'll make gas oil prices spike.
The economically smarter way out, Lifschultz argues, is to invest in equipment that can clean up fuel oil. Genoil offers such equipment, which can cost between $30 million and $70 million, depending on what other equipment is available to support the process of removing sulfur from fuel oil.
The process involves heating fuel oil to 700°C and reacting it with hydrogen in the presence of metal catalysts to aid the conversion. Much of the sulfur and nitrogen from the fuel is removed this way, and can be caught in scrubbers installed on the equipment, stopping it from entering the atmosphere. The process would produce its own carbon dioxide emissions, because it will burn some fuel for heat, but the reduction in total emissions from cleaner fuel would be greater.
The shipping industry is under pressure to find the cheapest possible way to comply with the new regulations, especially as it's going through a rough patch. In February, for instance, South Korea's Hanjin Shipping declared bankruptcy, and many other shipping companies have reported losses in 2016 and first half of 2017. The problem was overcapacity, as companies kept building bigger and bigger ships while demand didn't increase at the same pace. If fuel costs, which have been quite low in the last few years, start to pile up, it could spell much bigger problem for the industry.
Still, even if the shipping industry reduces its emissions, there are other environmental problems it creates. Ship scrapping is a highly polluting exercise: asbestos, heavy metals, and oils are toxic. Most scrapping now happens in India, Pakistan, and Bangladesh where environmental controls are lax and thus costs are lower.