It's easy to drive past Columbus, Indiana. Judging from the road signs along the interstate, the town's chief claim to fame is that it's the birthplace of race-car driver Tony Stewart and US vice president Mike Pence.
But for years, in-the-know design fans have at least heard of this town in the remote midwestern US as a mecca of modern architecture. Titans of modernism such as Eliel and Eero Saarinen, I. M. Pei, Alexander Girard, Robert A. M. Stern, Richard Meier, Robert Venturi, and Cesar Pelli shaped the town of 46,000 residents, about an hour's drive from the nearest international airport.
For the first time, Columbus is holding a city-wide celebration of its architecture legacy: Exhibit Columbus is an ambitious three-month long festival featuring contemporary installations erected next to the old, iconic buildings.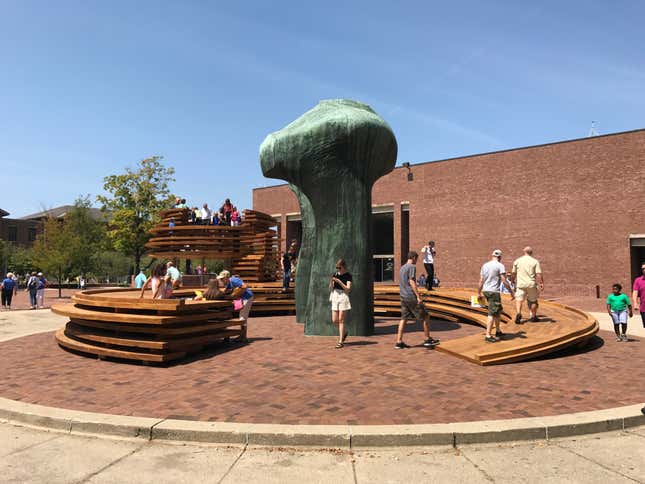 Getting starchitects of the day to work on public buildings was the brainchild of industrialist J. Irwin Miller, chairman of the Cummins Engine Company, which established its headquarters in Columbus. He believed that inspired architecture and well-designed community facilities would lure top engineers to the remote town. Exposed to modern art and design during his studies at Yale and Oxford, Miller persuaded Columbus city officials to choose architects for public projects from a shortlist of five that he had drawn up. In exchange, Miller's foundation would pay the architects' full fees.
"Mediocrity is expensive" became a well-known maxim of Miller's. Shoddy, cheaply-made buildings were money pits of taxpayer dollars, he insisted. "Whatever you do in this world, you've got a responsibility and a privilege of doing it the very best way you can. And whether it is architecture or cooking or drama or music, the best is none too good for any of us." he said in a 1992 video commemorating his career at Cummins.
Miller had a sense for spotting the best designers of the time. He had a 35-year long collaboration with graphic designer Paul Rand, whom he appointed steward of Cummins' corporate brand identity system. He hired Eero Saarinen and Alexander Girard to design his family residence, inspired by Ludwig Mies van der Rohe's Barcelona pavilion.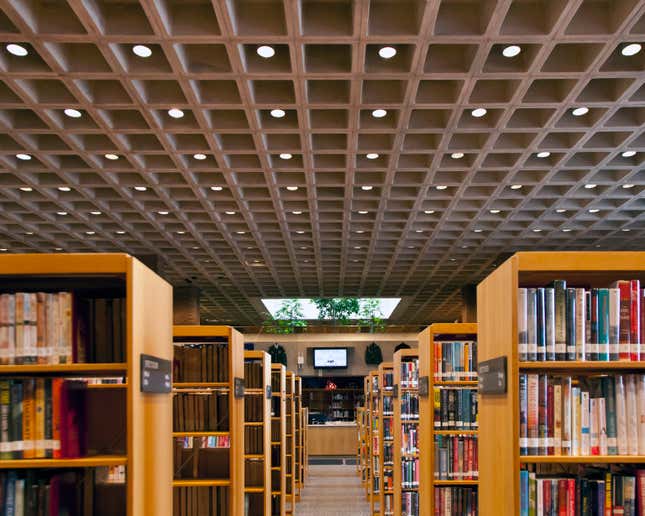 With some 80 notable structures—schools, libraries, banks, and public buildings—Columbus offers a Disneyland-like experience for visiting architecture gawkers. There's endless fodder for Instagram vignettes. But it's devoid of large tour buses, slow-moving tour groups, or even a direct shuttle from the airport, giving the town a precious, unspoiled quality. The world-class architecture, as Miller envisioned, served its residents first, not tourists or architecture critics.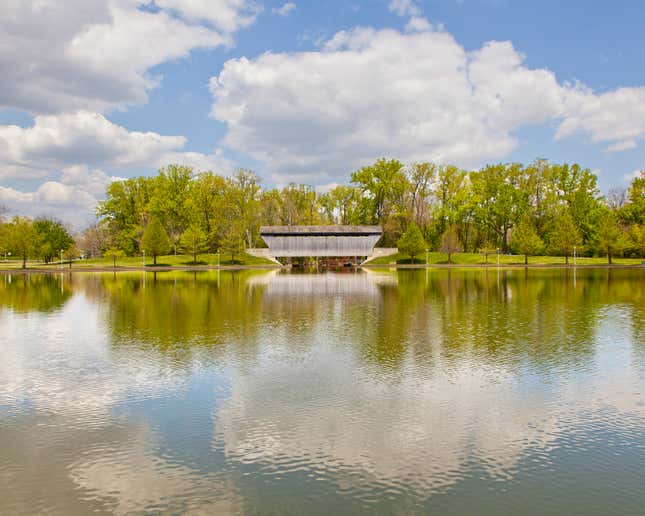 Seeing Columbus
For first-time visitors to Columbus, the sight of showy contemporary structures next to its iconic buildings can be jarring. When I first arrived in town for Exhibit Columbus's Aug. 24 preview, I puzzled over a circular wood structure that marred my view of the thrilling First Christian Church designed by Finnish architect Eliel Saarinen.
That structure, I learned later, was called Conversation Plinth (above), a dramatic spiraling ramp that "puts viewers at eye-level with the architecture," as its creators, Tomomi Itakura and Yugon Kim of IKD Design, told me me. Itakura and Kim are among the five winners of the Miller Prize, a juried competition to erect temporary installations around Columbus as part of the exhibition. The plinth is inspired by the world-famous "conversation pit" in Miller's house and the material is made of cross-laminated timber made from Indiana hardwood scraps.
Another Miller Prize-winning installation, called Another Circle, is presented in a grassy knoll at Columbus's main public park. From afar, the shrapnels of limestone look like a contemporary Stonehenge or perhaps an avant-garde graveyard. Architects Benjamin Aranda and Chris Lasch used a GPS device to choose the precise spot of each stone and allowed artisans to decide on the shapes. The result, they explain, creates an assortment of seats, stools and picnic tables for park goers.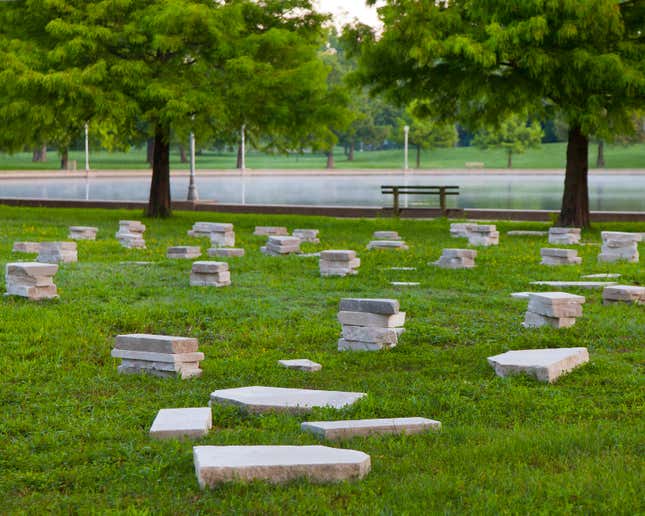 Local community members built several festive structures in front of historic buildings too. In front of the post office, seniors from three area high schools conceived of "Between the Thread," a dreamy, moving maze made of miles and miles of plastic string typically used in woven friendship bracelets.
For Columbus residents who live and work in these stunning buildings every day, the new installations allowed them to see their old surrounding with new eyes.
"Columbus had started to become known for what it did, not for what it is doing. We thought this was a perfect moment to reassert the relevance of Columbus's architectural legacy and to to catalyze the next generation to take action in service of this legacy," explains Richard McCoy, curator of Exhibit Columbus and director of Landmark Columbus, a non-profit dedicated to preserving the town's design legacy.
Saving Columbus
Programs like Exhibit Columbus are crucial given the absence of preservation laws in the town nicknamed "Athens of the Prairie." Except for the seven buildings named as historic landmarks by the US National Park Service, technically anyone with the money and bravado can bulldoze any building. An "architecturally-significant" bank designed by Fisher and Spillman Architects was leveled in 2014. Any of the town's architectural marvels, say Robert Venturi's trapezoid-shaped fire station, could conceivably become a future Taco Bell. With no millionaire benefactors coming forward to continue Miller's legacy after his death in 2004, the town is on its own.
"People assume we've been protecting our landmarks and we actually haven't been," said Erin Hawkins to regional news outlet Belt. "We're fortunate that people want to do the right thing, but that certainly isn't assured. Our architecture and design heritage is what sets Columbus apart. It's so much a part of our identity. And if we no longer had those assets, we would have to be doing things very differently around here."
Columbus, the movie
A stunning new film starring John Cho may lend Columbus's beleaguered landmarks the protection of greater fame.
The film's director, Kogonada, says he decided Columbus would be the right setting for his moody feature about an unlikely friendship between two characters figuring out their relationships with their parents. An acolyte of the Japanese silent film master Yasujirō Ozu, Kogonada says that he sensed the "hopeful, melancholic and poignant" aspects of modernism in Columbus. "There's something overwhelming about seeing a collection of these modern buildings in a small town," he said. "For me it was almost a case study [about the question]: 'does design make a difference?'"
After spending a month in town, Kogonada says he got a sense why residents of Columbus aren't more overtly self-promotional about their modernist gems, as Chicago or New York natives tend to be. "Many of them knew that their town is known for architecture, but many found it hard to see what the big deal was because they're so familiar with it. But there were also some who could see it and it was a different town for them," he explains.
"I think this is true with all architecture in general…It's the only art form that we walk through and becomes part of our daily lives, so it's very easy for it not to be an art object," Kogonada. He says that after almost every screening of Columbus, former residents would approach him to express their fondness for the town they left.
"It was such a wonderful experience," reflects Kogonada, who spoke to me before heading back to Columbus for the film's premiere weekend. "People joked, 'oh maybe we should make films here all the time.'"
Exhibit Columbus runs through Nov. 26, 2017. The schedule of design and architecture events is on its Facebook page. Columbus, the movie, will be screened at the Architecture & Design Film Festival.