Hurricane Harvey, which has already devastated much of Houston, Texas, made a second landfall early this morning (Aug. 30), hitting the state's southeast coast as well as western Louisiana, inundating homes and businesses with rapidly rising floodwaters.
"Catastrophic and life-threatening flooding continues in southeastern Texas and portions of southwestern Louisiana," the National Hurricane Center said.
Journalist Juan Rodriguez, a reporter for local station 12NewsNow, was in Orange, Texas, covering the storm when he heard the floodwaters were quickly rising in Port Arthur, where he lives.
"I was in contact with my family back in Port Arthur, asking them, is everything OK?" Rodriguez told Quartz in a phone interview. "At midnight the water was about two inches away, and that's when my family evacuated. By six a.m. the water was about waist deep in the house."
Relief operations were underway but the Jefferson County Sheriff's office posted on Facebook that officials are "inundated with calls for rescue." "Emergency responders are working along with citizen rescue crews to pull people out of homes and get them to safety," the post said. "They have hundreds of calls stacked up."
Meanwhile, residents across the region posted frantic pleas for help on social media. Port Arthur mayor Derrick Freeman wrote in an overnight post on Facebook that rescue would come soon, and advised people to seek higher ground if possible. "Our whole city is underwater right now but we are coming! If you called, we are coming," he said. "Please get to higher ground if you can, but please try stay out of attics."
In a sign that the storm had touched most corners of the city of 50,000, Freeman himself posted a Facebook live video wading through several feet of water in his home the next morning. "It's just a lake in here," he said.
In neighboring Beaumont, the situation was also dire. Police have confirmed at least two storm-related deaths, including one woman, 41-year-old Collette Sulcer, who was swept into a canal with her young daughter after exiting a vehicle stuck in high water. Officers found the toddler alive but "suffering from hypothermia," and clinging to her drowned mother. The child is now reportedly in stable condition.
Mayor Becky Ames told NBC's Today show that officials are likely to encounter "some more horrible situations," when the waters recede, "because we do know it's pretty bad out there."
"It's nothing I've ever seen before and I've lived here my entire life, she said. "Every single body of water around us is at capacity and overflowing and the rain is still coming down."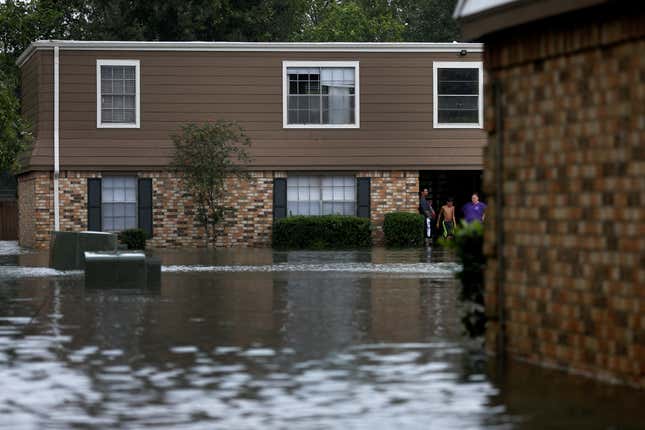 Rodriguez, waiting out the weather in a hotel lobby in Orange, said he had planned to return to Port Arthur today, but the roads were now impassable. As the sun shined over flood-drenched Houston, Rodriguez said the rain was still falling in the southeast.
"We're hoping that ray of sunshine hits Southeast Texas soon because we definitely need it," he said.