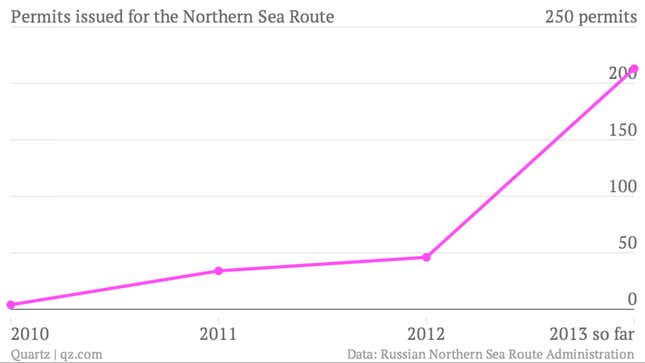 The Suez Canal has new competition. Captains watching the creation of a rare new ocean passage–the Northern Sea Route through the melting Arctic—say that shipping has quadrupled (paywall) over just the last year. The route's governing body—known as the Northern Sea Route Administration—has so far granted permission for 213 shipping trips through the passage this year. As this chart shows, that is up from 46 in 2012, 34 in 2011 and four in 2010.
It's actually a slow buildup—over the next couple of decades, traffic could be up 30-fold and ships could be moving a full quarter of the Asia-Europe trade through the Arctic, experts estimate. One of the main goods will be liquefied natural gas from northern Europe and Russia.
The time ships save by traversing the new ocean passage is significant. A ship traveling from Rotterdam takes 33 days via the Suez Canal to reach South Korea, 10 days more than the 23 days via the Northern Sea Route.
But the Suez need not feel threatened—not yet anyway. The 2012 Arctic traffic was 1.25 metric tons compared with 740 metric tons through the Suez. Before the Northern Sea Route truly gets busy, ports must be built for safety and relief purposes, and insurers will need to get more comfortable with the Arctic passage to lower their higher premiums for that route.