A car bomb exploded near a mass Buddhist sermon on the outskirts of Myanmar's second largest city on July 21—a sign that violence could escalate in the former military regime as it attempts to transition into an open economy and democracy. At least five people were slightly injured.
The explosion appeared to come from a car parked near where an anti-Muslim cleric, U Wirathu, who has called himself the "Burmese Bin Laden", was speaking on the outskirts of Mandalay. Wirathu has risen to prominence for his vitriolic sermons against Muslims (and calling for measures like restricting Muslim-Buddhist marriages). He leads a movement of Buddhist monks called 969 that has been blamed for fanning violence, which has result in more than 200 deaths and the displacement of about 150,000 people—mostly Muslims—over the past year.
"Ethnic and religious tensions will almost certainly rise as a result of this attack," Arvind Ramakrishnan, an Asia analyst at the risk analysis firm Maplecroft told Quartz. "Attacks against Muslims can be expected to intensify in the short to medium term."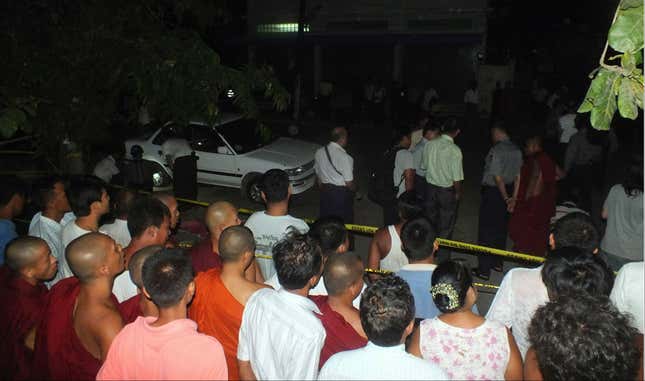 Boasting abundant natural resources and a strategic location between India and China, Myanmar has attracted a rush of foreign investors interested in tapping its opening markets. But as violence between the country's Buddhist majority and Muslim minority spreads across the country, businesses and foreign investors are taking pause and questioning its weak government. Authorities have done little to stop the violence. (Government corruption is already a concern.) In support of the country's Buddhist majority, president Thein Sein's office has described the 969 movement as "a symbol of peace" and Wirathu as "a son of Lord Buddha." Just a day before the bombing, authorities lifted a state of emergency in the western state of Rakhine, where many of the country's Muslims live and much of the violence has taken place.
Wirathu, who continued speaking after the explosion, told the Associated Press that he believed the bomb was the work of Muslim extremists. Police say they are still investigating. Wirathu also took the chance to take a dig at Western media, after Time magazine featured him on  cover earlier this month as the "Face of Buddhist Terrorism." Wirathu said, "The first threat to me was through the Time magazine." The second threat intended to silence him, he implied, was a car bomb.