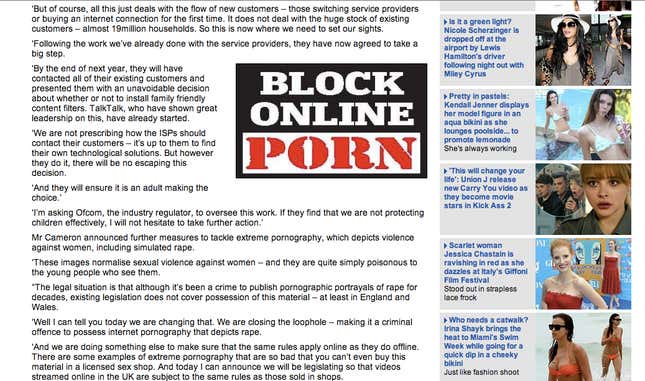 It is a measure of just how deeply Britons feel about their right to access legal pornography that even the impending arrival of a royal sprog has not managed to bury the news. David Cameron, the British prime minister, announced in a speech to the National Society for the Prevention of Cruelty to Children (NSPCC) today that "by the end of this year, when someone sets up a new broadband account the settings to install family friendly filters will be automatically selected." Those filters will automatically block all internet pornography. Any internet subscriber who wishes to opt out of filtering will have to contact their provider to get it turned off. But internet subscribers who opt out would still be in violation of the law if they searched for porn that depicts rape or children.
The proposal is part of a raft of measures announced today, which include creating a list of terms for which search services will be asked to withhold results, giving law enforcement and child protection agencies greater powers, and outlawing the possession of pornography that depicts rape (child porn is already illegal). These measures are not uncontroversial—pressure groups, academics and the press have been quick to point out loopholes, technical backdoors and other shortcomings. Chief amongst their criticism is that pedophiles would have to be remarkably stupid to look for material on Google; most illegal activity online happens in other venues, such as internet relay chat and restricted-access networks.
Indeed, blocking websites, whether they are legal or not, has widely been criticized as fruitless and ineffective, with many arguing for provisions to take down content instead. A paper published earlier this year in the academic journal "Policy and Internet" found both technical and legal arguments against blocking. A pamphlet published by European Digital Rights, a Brussels-based lobby group, put it starkly: "crimes should be punished and not hidden."
Viewing adult pornography online is not, however, a crime, which is why Britain will still allow adults to ask for unfiltered access to the internet. But not everyone is convinced that Cameron's measures are sincere. A letter sent by the department for education to British internet service providers (ISPs), and leaked to the BBC, requested that they rephrase their filter-related wording without actually making any change to how it works.
Without changing what you will be offering (ie active-choice +), the prime minister would like to be able to refer to your solutions are "default-on" as people will have to make a choice not to have the filters (by unticking the box). Can you consider how to include this language (or similar) in the screens that begin the set-up process?
What's more, a government survey found that only a minority of parents supported filtering by default. So why then is Cameron pushing an unpopular idea? He may be trying to appease the highly influential right-wing British newspaper, The Daily Mail,which has been running a campaign against online porn for months. The prime minister released his speech to the paper a day in advance. In its coverage of the speech, the paper quotes Cameron as saying, "The Daily Mail has campaigned hard to make internet search engine filters 'default on.' Today they can declare that campaign a success."
Yet the Daily Mail has built the world's most trafficked news website largely on the basis of pictures of celebrities in various stages of undress. Considering the unpredictable and overly enthusiastic nature of filtering algorithms, it is not inconceivable that the Daily Mail may find itself a victim of its own success.