If you've logged onto Facebook in the past couple of days, and you happen to follow the platform's founder Mark Zuckerberg or his wife, Priscilla Chan, you might have seen their announcement of the birth of their second daughter, August, born in—you guessed it—August (no day specified in the post).
The couple welcomed August's arrival with a public letter, a note about childhood that was lovely if not quite as grandiose as the one they had written for their firstborn (surely providing fodder for future siblings rivalry). Because Facebook is all about minding other people's business, you may be fine that the post (and the 145,000 comments it generated) sits on your timeline. You might also be interested in reading all of Zuckerberg's updates about his presidential-like journey through America, his musing about the value of communities, and his updates on Facebook growth that make it sound like a social enterprise, rather than a business worth billions of dollars. But if you are not particularly taken by the Zuckerberg-Chan family posts, you have essentially no way to make sure you don't see them.
Because you can unfollow Zuckerberg and Chan if you wish, but you can't block them.
Trying to block either of them, which is the only way to make sure their updates never intrude into your timeline, will result in an error message that says "this profile can't be blocked for now"—no further explanation given.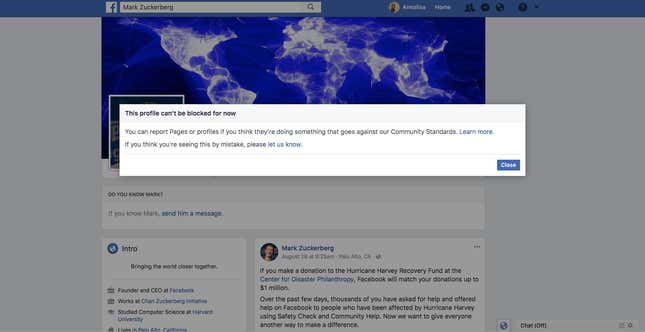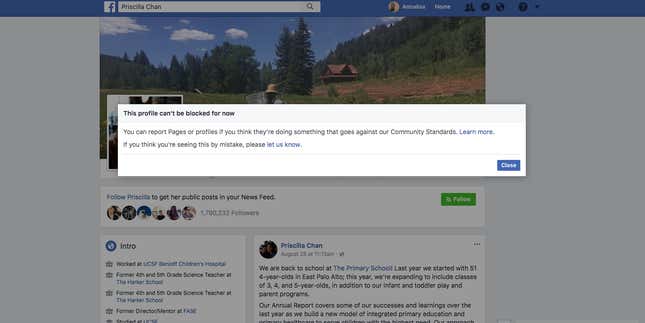 No other profiles seem to enjoy the same privilege, not even Sheryl Sandberg's:

Is this because Facebook is theirs and they do what they want?
According to a Facebook spokesperson, "people trying to block a profile or Page may see an error message if it has been blocked many times within a short period." In other words, the official company line is that Zuckerberg and Chan's profiles may be deluged by Facebook users trying to block them.
That said, when we tried to block a few other pages that seem likely to be experiencing a similar torrent of blocking requests, we didn't encounter the same problem.