The destruction from Hurricane Harvey has raised new questions about the practicality of US president Donald Trump's promised border wall with Mexico, and efforts to fund it in the 2018 budget could lead to a bitter battle between Congress and the White House this fall.
But, at least for now, US Customs and Border Protection is forging ahead as if the project has been fully approved. On Thursday (Aug. 31), CBP released the names of four construction companies that had been awarded contracts worth about half a million dollars each in federal funding to build wall prototypes in San Diego, California, and supplied two artists' renditions of what the new wall could look like.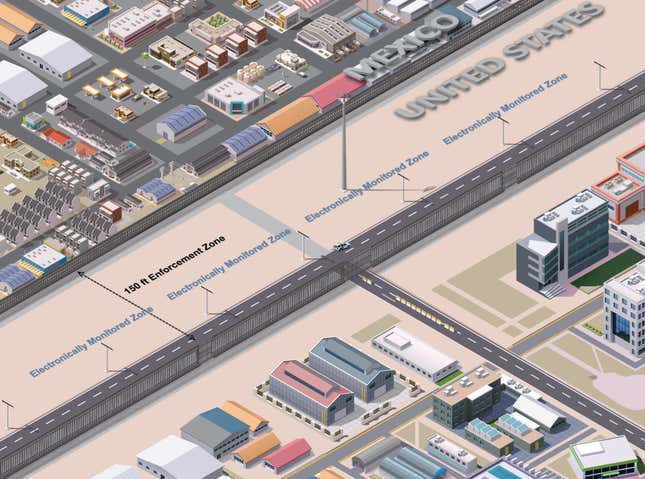 In the drawings the agency displayed, the wall is actually two walls, with a 150-foot "enforcement zone" between them. The first wall, situated right at the actual border, would be see-through, as Trump has requested, (making it more of a fence, really) while the second would be made of concrete, Ronald D. Vitiello, the acting deputy commissioner of CBP, explained in an Aug. 31 press conference in Washington, DC.  The agency put out bids for the second, concrete wall earlier this year.
The four companies awarded contracts are Caddell Construction of Alabama, Fisher Industries of Arizona, Texas Sterling Construction from Houston, and W. G. Yates & Sons Construction of Mississippi. They'll start building the prototype walls, which will each be 30 feet long, in San Diego this fall, Vitiello said. Funding for the prototypes is coming out of a $20 million pool the Department of Homeland Security redirected from other budgets earlier this year.
Vitiello said that it doesn't make sense to calculate the cost of the entire wall based on the price tag of these prototypes. "Where we put it really matters" to how much it costs, he said, and particularly if the agency has to acquire land to build. "I would not take the cost of the 30 foot segments and try to extrapolate it." DHS has previously estimated the 1,250 mile wall could cost $22 billion and take three years to build.