The marketing campaign for Sich Casket, a China-based manufacturer of coffins for the North American market, tries to pull off a difficult trick: celebrate the company's Chinese roots while also distancing itself from those roots as much as possible.
"Sich—the 'unChinese' Chinese casket company," reads the opening banner on the company's website. More slogans that seem like deliberate plays on Western stereotypes of China scroll by, like "The best thing to come out of China since soy sauce" and "We speak 'funeral home' fluently."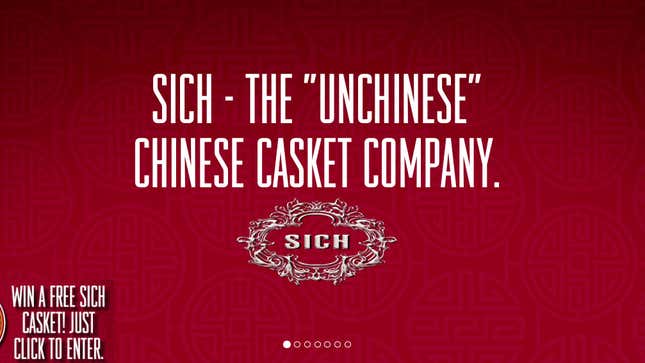 Sich has decided to lean into the prejudices that some funeral industry observers say have been deployed to keep less-expensive, imported caskets like theirs out of the $20.7 billion US funeral industry.
"Much like the automotive industry when you first had Japanese cars coming over, there is a lot of misinformation, a lot of misconceptions, a lot of prejudice when you first enter the market" for caskets, says Rolf Gutknecht of LA ads, the marketing firm that created Sich's campaign.
"We didn't want to hide from the fact that they were Chinese," Gutknecht says. "We wanted to say, 'listen, we're not Chinese as you may know Chinese, with those myths and those prejudices there. We are a different kind of Chinese. We do things differently.'"
It's a turbulent time for the US funeral industry. In 2015, the percentage of Americans choosing to be cremated surpassed those choosing burial for the first time. Costing an average $1,100, cremations are far less expensive than traditional burials, which typically cost between $8,000 and $10,000. The casket is the single biggest expense of a funeral, accounting for roughly 25% of the total cost.
US funeral homes have typically sourced caskets from one of three large domestic manufacturers: Hillenbrand, Inc. (more commonly known as its subsidiary, Batesville), Matthews International, and Aurora Casket (the latter two merged in 2015). But federal law requires funeral homes to use the casket of their customers' choosing, including those bought elsewhere. Starting in the early 1990s, online retailers (including Wal-Mart and Costco) have offered lower-priced, primarily foreign-manufactured caskets to savvy shoppers looking to save money on expensive funerals.
In 2008, just 2.4% of caskets sold in the US were made in China. That number is growing, and could be more than 75% by 2025, one consultant told the Cincinnati Business Courier.
Many funeral providers fought back, spreading rumors about the poor quality of these less-costly, foreign-made products.
"The caskets you get online are inferior, yes they are," a funeral director named Pat Lane told Wired magazine in 1999. "Let's say your next door neighbor dies and the family buys a casket online. We put her in the casket, take four steps up the stairs at the ceremony, and mom falls out the bottom. Who are they gonna sue?"
Actual proof of such scenes is harder to come by.
"I have never heard a confirmed story of that happening," says Josh Slocum, executive director of Funeral Consumers Alliance. "I've heard that lie so many times in the service of scaring the dickens out of families so they buy something more expensive."
Sich is seeking a third way. It markets and sells directly to funeral homes, with the promise that its low wholesale cost means funeral homes will still make a profit even after retail markup. As another of its ad campaign slogans says: "Earning a decent profit is as American as apple pie."