After three years of delays, the Louvre Abu Dhabi announced today that it's finally ready to welcome its first visitors on November 11.
Housed in a dramatic building designed by French architect Jean Nouvel in the capital of the United Arab Emirates, the so-called "Louvre in the Sands" claims to be the region's first "universal museum" showcasing art and culture from around the world. The opening exhibitions will showcase artifacts on loan from French art institutions, sculptures by American artist Jenny Holzer, and a gallery dedicated to sacred religious texts.
Mohamed Khalifa Al Mubarak, chairman of Abu Dhabi Tourism & Culture Authority, lauds Louvre Abu Dhabi as a long-awaited marker of UAE's "belief that nations thrive on diversity and acceptance, with a curatorial narrative that emphasizes how interconnected the world has always been."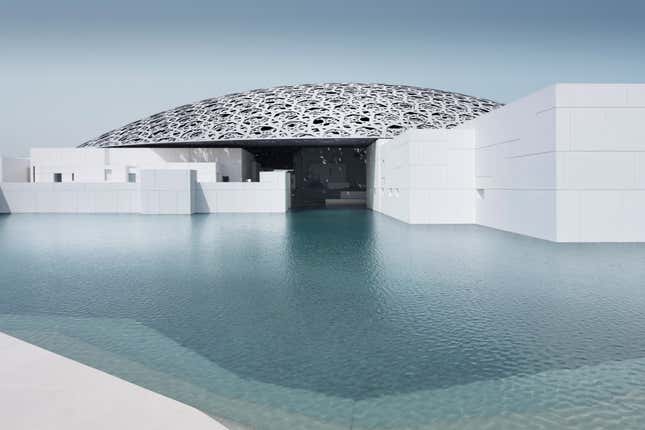 A decade in the making, the Abu Dhabi branch of Paris's famous museum cost the UAE government nearly $1.4 billion: It paid €400 million ($525 million) to the French government to use the "Louvre" name for 30.5 years. It will pay an additional $747 million in fees for borrowed artworks, special exhibitions, and curatorial advice. Realizing Nouvel's building design, comprised of 55 separate small buildings in a vast hall capped by a 180-meter dome made of 7,000 tons of steel, cost another $100 million.
The Louvre Abu Dhabi will be one of the flagships of Saadiyat Island, UAE's vast cultural complex which is still very much a big construction site today. Only two cultural venues are open right now, an existing Manarat Al Saadiyat cultural center and a UAE Pavilion transplanted from the 2010 Shanghai World Fair. The complex is supposed to get a Frank Gehry-designed Guggenheim Abu Dhabi, but the project has been marred in disputes over controversial labor disputes, and an opening date has yet to be announced.