A hurricane's storm surge has the deadly potential to catch people off guard. It can occur far from the storm itself, and cause rapid, devastating floods, hours before or after the storm hits. According to the National Hurricane Center, surges cause more US deaths than any other hurricane-related event.
As Hurricane Irma makes its way north across Florida, officials warn that storm surge is likely in certain areas.
"This will cover your house," Florida governor Rick Scott told the Associated Press. "It flows in fast, very fast. You will not survive all this storm surge."
When people think about hurricanes, they tend to think more about the dangers related to powerful winds, and less about the dangers of rising, fast-moving waters. They are subject to complex factors of wind, pressure, and offshore depth levels that can be difficult to predict.
"People are drowning in hurricanes," said Jamie Rhome, a storm surge specialist at the National Hurricane Center, in a 2016 interview. "The fact that people just don't understand this phenomenon at all, and that we're going to have a major event at some point, is what keeps me up at night."
Storm surge occurs when a hurricane's powerful winds and air pressure push water far above normal tide levels. It can cause "extreme flooding in coastal areas particularly when storm surge coincides with normal high tide," according to the National Hurricane Center.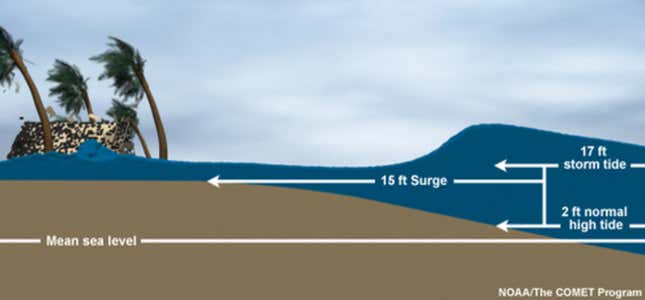 Parts of Florida are expected to see water levels as high as 15 feet (4.6 m) above the ground, according to an advisory by the National Hurricane Center issued at 11 a.m. on Sep. 10:
Cape Sable to Captiva: 10 to 15 ft
Captiva to Ana Maria Island: 6 to 10 ft
Card Sound Bridge through Cape Sable, including the Florida Keys: 5 to 10 ft
Ana Maria Island to Clearwater Beach, including Tampa Bay: 5 to 8 ft
North Miami Beach to Card Sound Bridge, including Biscayne Bay: 3 to 5 ft
South Santee River to Fernandina Beach: 4 to 6 ft
Clearwater Beach to Ochlockonee River: 4 to 6 ft
Fernandina Beach to Jupiter Inlet: 2 to 4 ft
North of North Miami Beach to Jupiter Inlet: 1 to 2 ft
Mike Brennan of the National Hurricane Center said that even after the storm passes, the danger remains.
"For those in the Lower Keys who may be listening," he told the Miami Harold, "you don't want to go outside even if the wind dies down because of the surge."