Cupertino, California
Apple took the unusual step of unveiling three flagship phones today at its press event at its new campus. For the last few years, the company has had two new main top-of-the-line phones—a regular and a Plus-size model—that it sold each year. But this year, it introduced three new phones at once. The new iPhone 8 and 8 Plus (Apple decided not to do an "S" model this year) have moderate hardware upgrades over their iPhone 7 predecessors.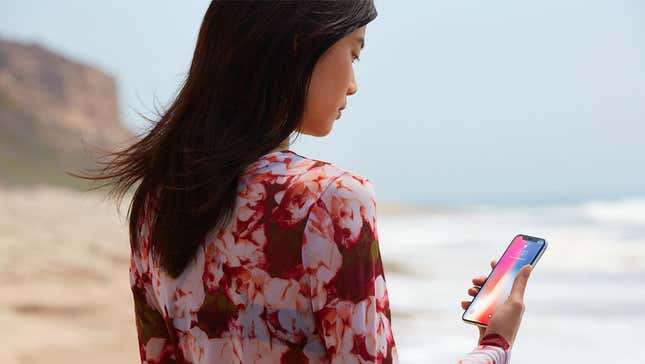 Then there's the iPhone X—it features more or less all the same new hardware as the 8 models, plus a few more sensors, and it also has a large, higher-definition screen inside a relatively compact body. But it starts at $999.
So which iPhone, of the many that Apple now sells, is the right one for you?
Here's a quick rundown of every iPhone that Apple will be selling by later this year, and the reasons why you might choose each model:
iPhone 8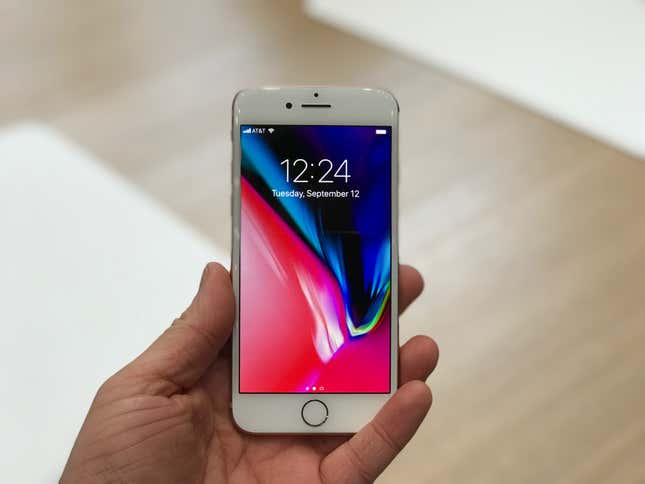 Availability: Preorder on Sept. 15, and in stores Sept. 22.
Price: From $699
Storage space: 64 GB or 256 GB
Why you should get it: If you were thinking about getting the iPhone 7 and held off, this is the time to upgrade. There's a more powerful camera, more storage, and a faster processor than the previous model. It's also the only iPhone (other than the 8 Plus) that comes in that fetching new shade of gold.
The iPhone 8 is water resistant, has wireless charging, and features a new tempered glass back. Apparently it won't be as fragile as the all-glass iPhone 4 was, in case anyone is having flashbacks to that exceedingly beautiful but breakable phone. The new phone feels smoother in the hand than the iPhone 7 does, and a fair bit lighter. Otherwise, it's pretty much the same design as the older models.
iPhone 8 Plus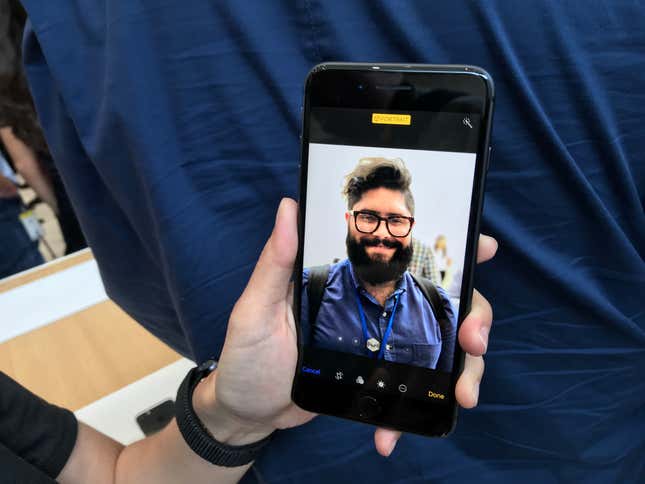 Availability: Preorder on Sept. 15, and in stores Sept. 22.
Price: From $799
Storage space: 64 GB or 256 GB
Why you should get it: This is probably the most difficult model to make a case for. The 256 GB variant only costs $50 less than the iPhone X, and if you're buying a new phone on an installment plan through Apple or your cell provider, you won't notice that extra outlay over the course of two years. (To be fair, the $999 version of the iPhone X has just 64 GB of storage.)
The 8 Plus has all the same features as the 8, as well two rear-facing cameras that allow it to perceive depth and create dramatic portrait photos, much like the iPhone 7 Plus could. The camera definitely seemed sharper than the 7 Plus's during the short demonstration I was given, but again, for $50 more, you can buy a far more compact phone, with a larger screen.
iPhone X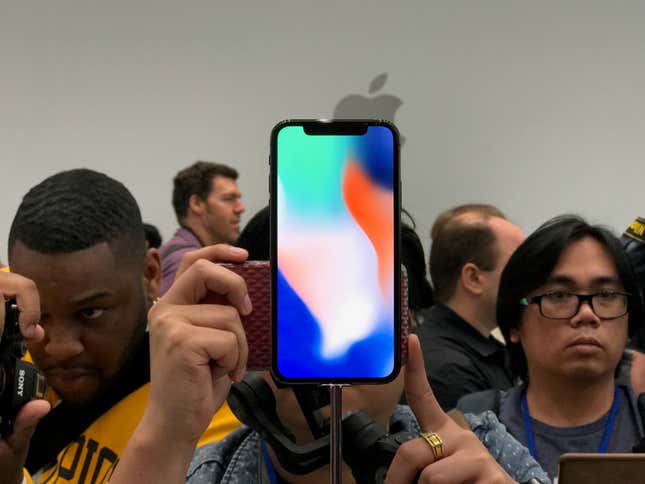 Availability: Preorder on Oct. 22, and expected to ship Nov. 3.
Price: From $999
Storage space: 64 GB or 256 GB
Why you should get it: This is Apple's new flagship phone, and features its latest technology. While much of the hardware is the same across the 8, 8 Plus and the X, the X features a greater number of sensors. The phone uses these for Face ID, a new way of authenticating who's using the phone: its myriad cameras and sensors create a model of your face that Apple says is near impossible to fool.
The phone also has a large and bright 5.8-inch OLED screen—the largest Apple's ever produced—even though the X is only 0.2 inches larger than the iPhone 8, and about two-thirds of an inch smaller than the iPhone 8 Plus. Apple showed off how big this screen looks when viewing images and apps in fullscreen during its presentation. Unfortunately, the press was only allowed to look at (and not touch) the iPhone Xs that were on display—but at first glance, the screen looks as impressive as those on Samsung's latest flagship devices. (The Korean company also happened to build the displays for Apple's phones.)
If you want the latest and greatest from Apple, this is it. But if you need a new phone sooner than November, or if $1,000 is just too much for a phone, perhaps the 8 Plus will fill the void.
iPhone SE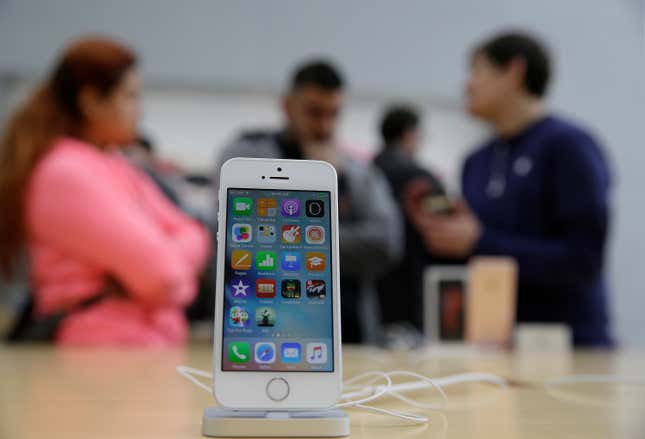 Availability: Now
Price: From $349
Storage space: 32 GB or 128 GB
Why you should get it: If all of Apple's new phones are just too large for your hands, the SE is the phone for you. While it essentially has the same design as the iPhone 5 (first released in 2012), it features the same hardware found in an iPhone 6S, and has TouchID fingerprint scanning, and an HD retina display. It's the iPhone, just in a more manageable package.
iPhone 7/iPhone 6s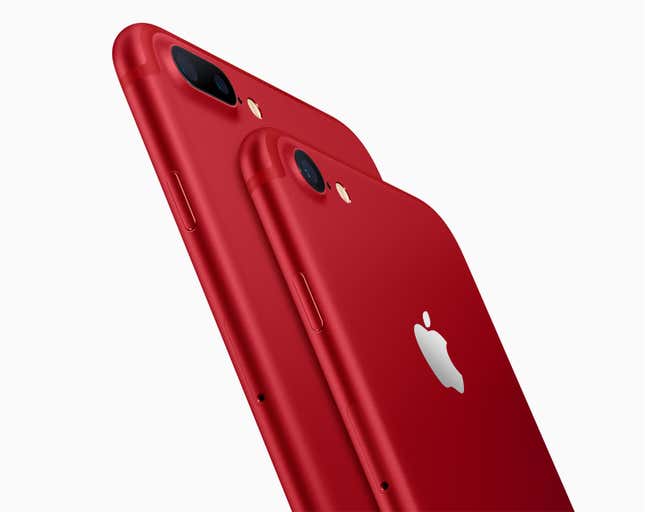 Availability: Now
Price: From $549/$449
Storage space: 32 GB or 128 GB
Why you should get it: Apple has usually kept the last generation or two of iPhones available for purchase when it introduces new phones, and they are often far more economical choices than the newer models. If the new iPhone X's price tag is too high for you, I would argue that it seems like the marginal gains of the iPhone 8 wouldn't be worth the extra cash over an iPhone 7. The iPhone 7 Plus has an excellent camera, and now starts at $669—$130 less than the iPhone 8 Plus.
I'm not really sure who the iPhone 6S is now for—I guess those who want a slightly larger screen than is available on the iPhone SE, and don't want to shell out an extra $100 for an iPhone 7.