I lost count of how many times I was welcomed to the donut.
Between getting out of my taxi, walking to the front gate of Apple's visitor check-in, walking up the hill in Apple Park between its new campus and the edge of the land it owns, walking around the Steve Jobs Theater at the top of that hill, walking around its glass circumference, and down its vast marble staircases, I must have been greeted every 20 feet. There were smiling Apple employees, or people wearing Apple shirts, at least, welcoming me to Apple's press event everywhere I looked. They all seemed so proud of what they were a part of today. Everyone was smiling, even as they stood in the 90-degree sun. I was sweating; the naturally cooled ventilation of the Jobs theater, albeit very environmentally friendly, was not cooling the glasshouse down enough for the roughly 1,000 people who had convened in it.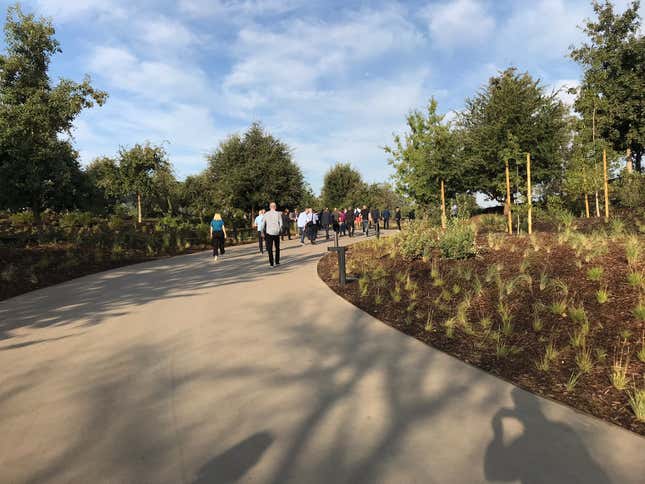 Apple had brought hundreds of employees and friends, and about as many journalists, to its new corporate headquarters in Cupertino, California, to unveil three new iPhones, a new Apple Watch, and a new Apple TV streaming device. But really, what the company wanted to show us was the splendor in which we were enveloped.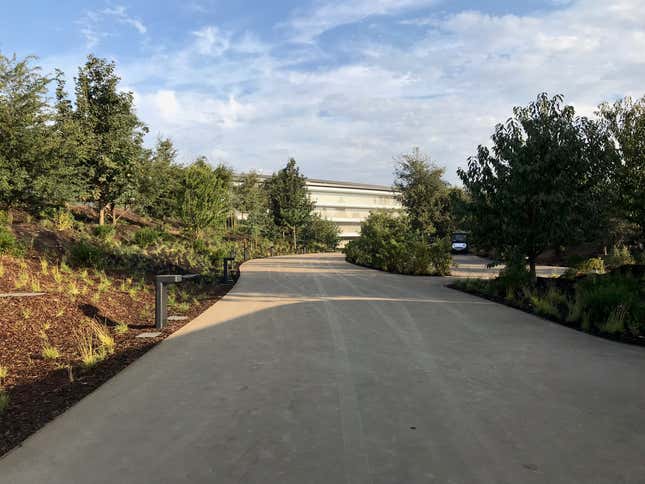 The Apple Park, a 175-acre enclave comprising the company's new ring-shaped headquarters, the theater, multiple parking lots, a massive gym, and some support buildings, was the last major project that Steve Jobs worked on before his passing. Jony Ive, the company's head of design, has been directly involved in the minutiae of its design, down to its elevator buttons, thresholds, and toilet seats. It is the living embodiment of the Apple ethos of design and work.
But unlike the beautiful gadgets that have underpinned the company's last two decades—the iPod, the iPhone, and to a lesser extent, the iPad, have defined the way we interact with media and the world—there is little beyond the pristine veneer of the campus.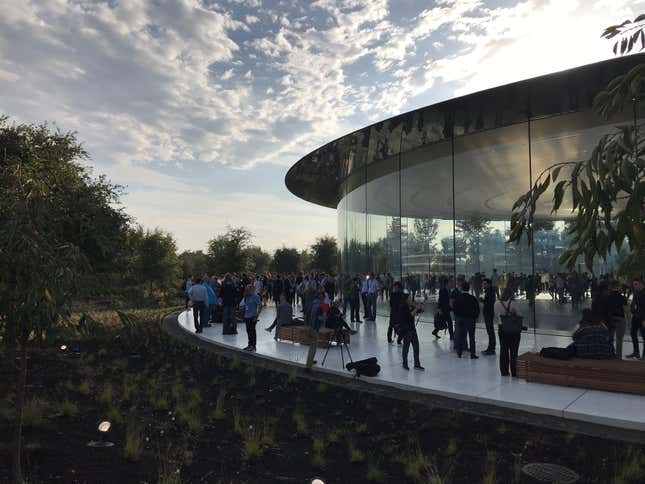 Many tweeted in awe at the construction of the Steve Jobs Theater. It's a circular building with a massive carbon-fiber roof that is only supported by glass walls. It's an architectural miracle, that looks really great when the sun hits it just right. But it's also just a giant, empty waiting area, without a seat to sit on or a single thing to interact with. It's a barn. It's a greenhouse. It's an empty Apple Store.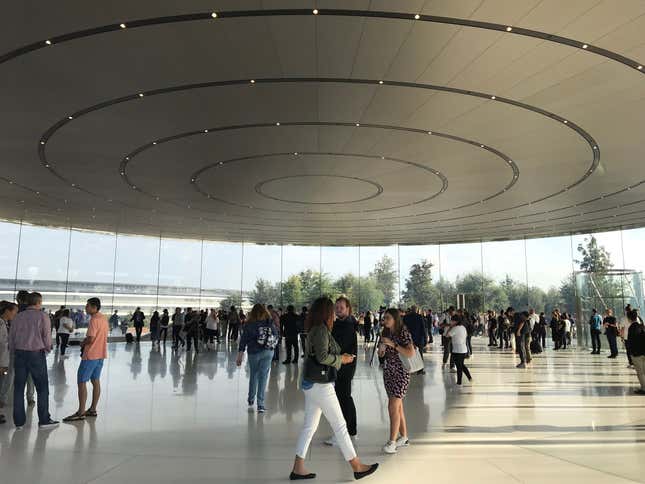 On either side of the waiting area are two giant marble staircases that bend down toward the underground auditorium. They feel more sculpted than constructed. They are lovely to touch. But they're also very narrow, and forced 1,000 people to walk double-file down two stories of stairs to get to the stage area.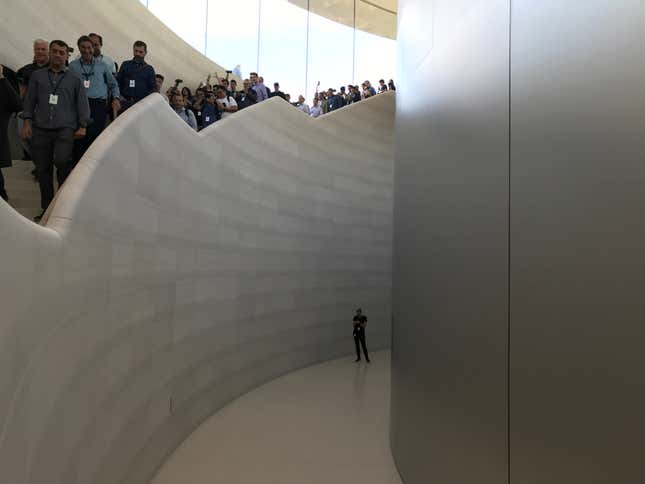 Outside the theater, you can pretty much only see in one direction: trees and dirt mounds obfuscate everything apart from the donut. Presumably, when the hundreds of trees that Apple has planted grow to maturity, there will be nothing beyond the campus. It will be a perfectly enclosed, and beautiful world, accessible only with badges at security. But we were not allowed to see the headquarters up close—it was kept at a distance, much like the company's newest phone, the iPhone X, was kept on pedestals from us by a few tactfully placed Apple employees. Look, but do not touch. Admire the beauty, and nothing else.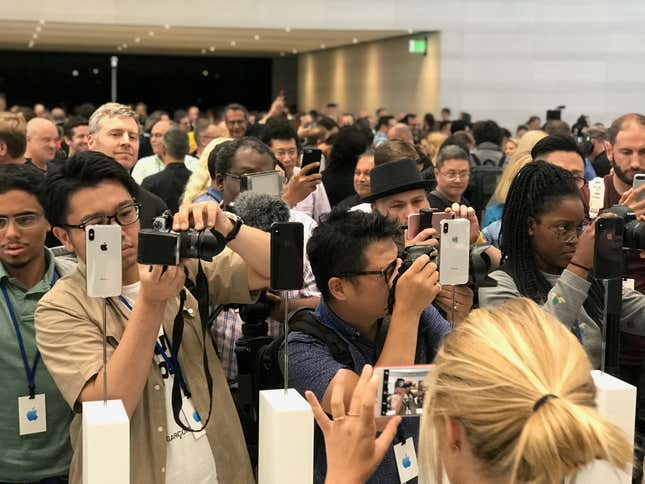 Apple has built a $5 billion headquarters—over three times the cost of the tallest building in the world—that it is exceedingly proud of, even if it's missing some compassion. As I left the event, I was again greeted by myriad Apple employees, lining the path down from the theater (heaven forbid I deviate slightly from the path before me), asking how much I liked what it just saw. I said it was nice, or cool, or neat, whatever positive but noncommittal phrase came into my head every 20 feet when I had the same short conversation and kept walking.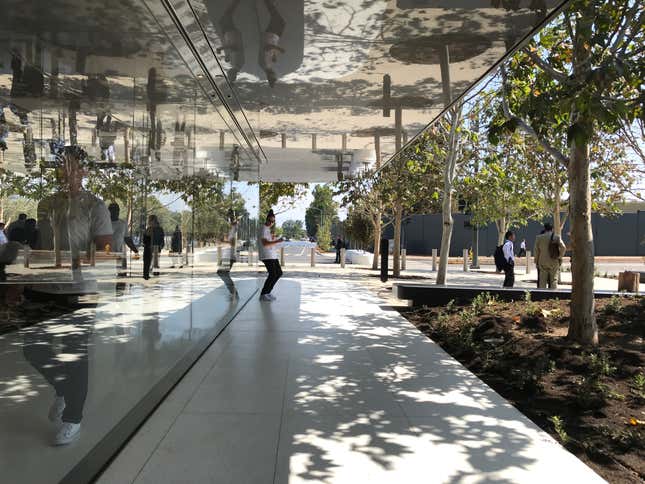 At the company's visitor center, which sits across the street from the entrance to its actual campus, there is an open-air roof deck with views back toward the donut. Dozens of Apple employees were on hand to assist if I wanted them to take a photo of me with the campus in the background. The marble of the stairs up to the roof deck matched the marble on the stairs in the theater, and I wondered how many people would ever see both in one day.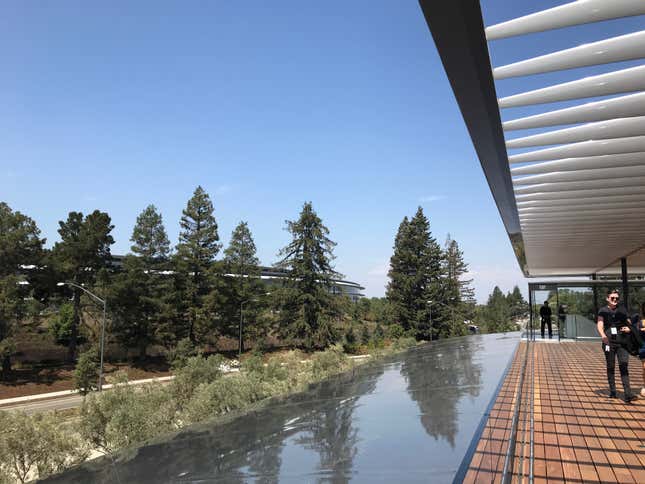 Apple prides itself on being better than its competition, and I can safely say that I've not been to any other corporate headquarters that felt like Apple's (excepting, perhaps, the Antinori family vineyards in Tuscany, Italy). It's as if someone took the design ethos of Eero Saarinen and covered it in aluminum.
Every surface, every path, every plain, and every sight line on Apple Campus has been considered. Materials were agonized over. But what I don't get, after spending far more hours wandering around a glass cathedral in the middle of Silicon Valley, is why.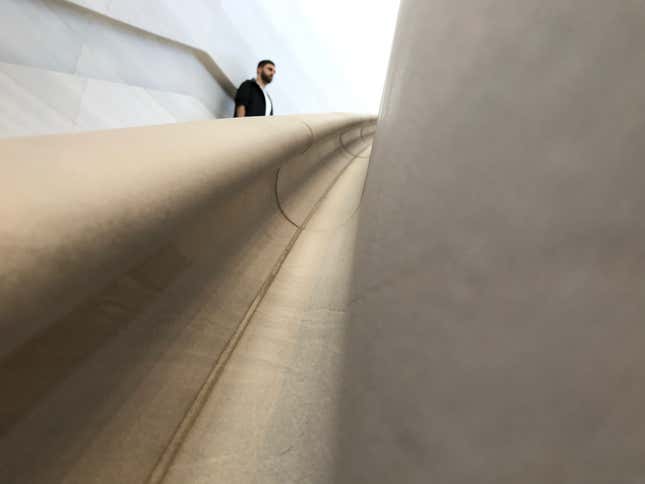 Artists attempt to elucidate truths through their work; that is why they agonize over material and form. Even other beautiful corporate campuses—like Antinori's, or IBM's—have a reason for their design considerations. Antinori burrowed into the Tuscan hills to keep its wines cool as they developed, and to minimize the footprint on hills that have been unchanged for centuries. IBM built a crescent-shaped campus from local stone and wood to blend into the forests of upstate New York, and to encourage collaboration amongst its scientists. Apple has shipped in dozens of variants of trees and tons of dirt into a former office park owned by Hewlett-Packard.
People criticize Apple for creating products that are as capable as their competitors, but often far more expensive. Apple responds by saying its products are the best-designed, the most trusted. But what does it mean when the product is its own campus, for its own employees, who might not even enjoy how they've been told to work?
So much seems to have been considered about Apple's campus, apart from what it's really for. Much like the iPhone X, it's gorgeous, but the impressiveness of it all just leads to more questions about its cost, and its existence.