The waning of the long American love affair with the automobile seems to have begun nine years ago, and appears to be unconnected to the economic downturn, according to a new study by the University of Michigan.
The apparent decline in driving feeds into other important US trends, including a drop in US oil demand and a plunge in greenhouse gas emissions.
A month ago, a University of Michigan researcher, Michael Sivak, released a study showing that the number of light-duty vehicles in the United States—cars, pickups, SUVs and vans—peaked in 2008. The study fell into a relatively new body of scholarship showing that Americans seem to be driving less. But Sivak included a caveat that the trough may have reflected the financial crash rather than a shift of habit; once economic conditions improved, he posited, a new driving peak could emerge.
Now, Sivak is out with a new study showing that American motoring as measured by miles driven actually peaked in 2004, or four years prior to the global economic plunge, suggesting an enduring trend. The two studies taken together show that Americans now own fewer cars and light trucks than they once did, and they drive them less than they used to. "This is an important finding of a double reduction, because one does not necessarily lead to the other," Sivak writes.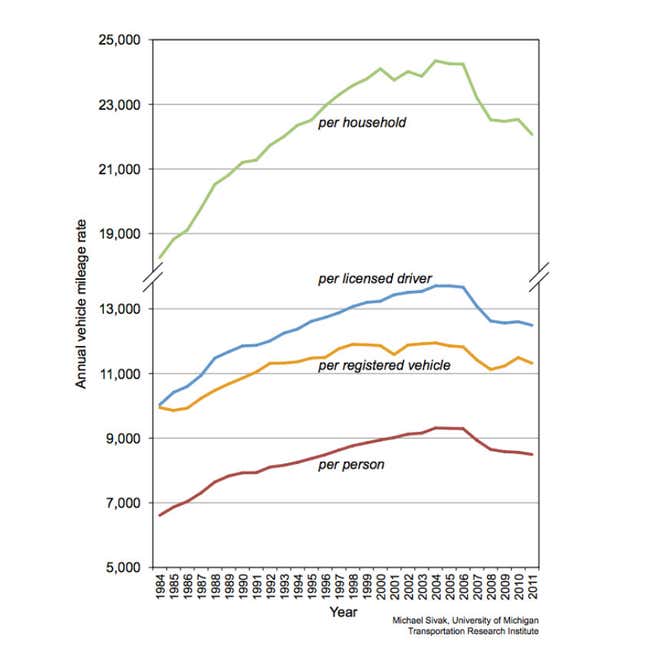 As the chart shows, the year 2004 was the US peak for absolute distances driven, and for miles traveled per licensed driver, per household and per registered vehicle. Absolute miles driven in US-registered light vehicles declined by 5% from 2006 through 2011, to 2.6 trillion miles from 2.7 trillion miles. The distance per licensed driver fell to 12,492 miles in 2011 from 13,711 in 2004, an 8.9% decline. Households as a whole were driving 9.4% fewer miles in 2011 as compared with 2004.
Sivak attributes the decline, among other factors, to increased urbanization, greater use of public transportation, and changed driving habits. Look for at least one knock-on trend—the no-car garage.