One of the most common complaints about iPhones isn't their cost or the features they lack—it's that the cables they come with break and constantly need to be replaced. Also that they always seem to die at inopportune times.
To that end, the most important thing Apple unveiled at its grand event on Tuesday (Sept. 12) was not the iPhone X, the updated Apple Watch, or any other specific gadget. It was that all of the company's newest lines of phones—the iPhone 8, 8 Plus, and X—will all support wireless charging.
Back in February, Apple joined the Wireless Power Consortium (WPC), a group of companies promoting a wireless-charging standard called "Qi" that can be found in many Android phones available today. Many of Apple's competitors already have phones that can be dropped onto a charging surface with Qi technology, where they charge without any need for additional cables.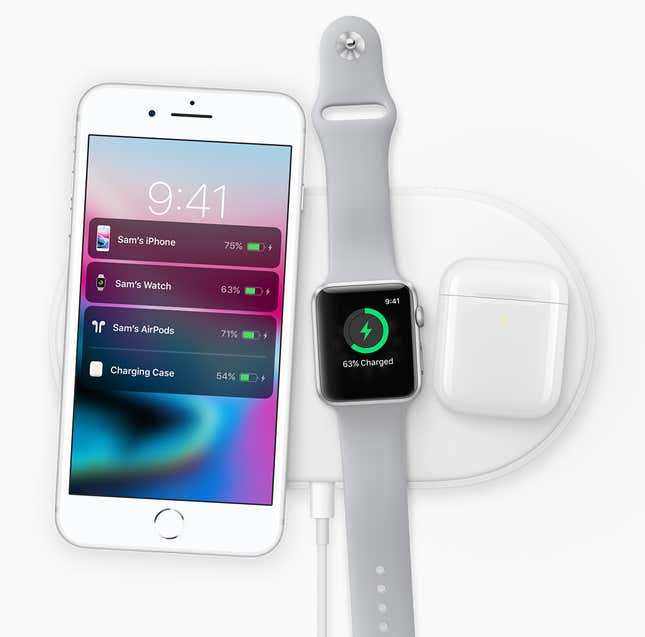 On Tuesday, Apple said it's working with the WPC to take this concept even further, using a proprietary technology called AirPower. That's a type of wireless charger, to be released in 2018, that can adequately charge multiple devices on one surface. Apple showed off a quick demonstration by putting three devices—a new iPhone, an Apple Watch (which has had wireless charging since its inception), and a modified version of its AirPods headphones—on a pad together to charge. (Traditionally, electromagnetic wireless charging like this requires a separate pad for each device.)
While wireless charging is inherently useful—you will no longer be at the mercy of your fraying cables—it also has major implications for the way we use electronic devices.
Think back: What was the first device you remember plugging into a computer to charge? More than likely, it was an iPod or an iPhone. Now just about every electronics device uses USB cables that can charge from a computer or a tiny brick that plugs into the wall, and every convenience store, pharmacy, and electronics store sells those tiny bricks and cables like candy. Apple popularized that way of charging devices, and could do the same for wireless charging.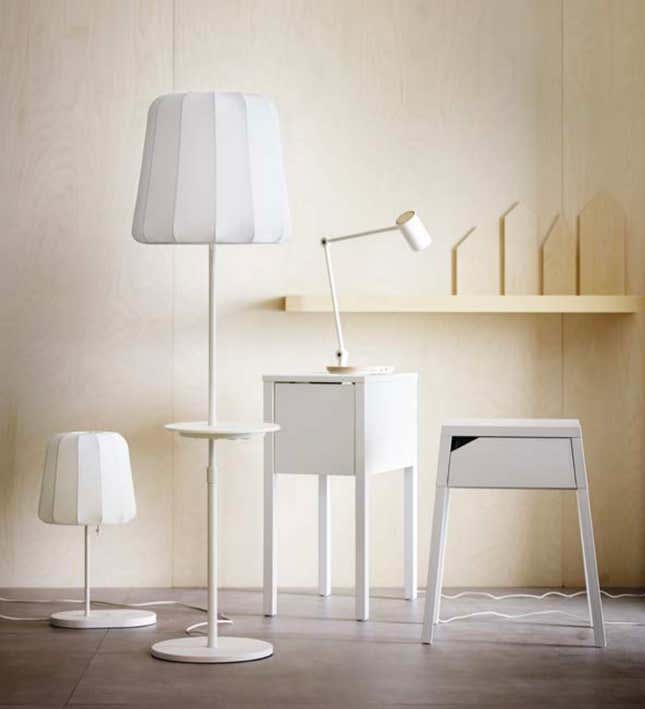 Case in point: Apple sold nearly 212 million iPhones last year. If it sells that many again, once its new iPhones hit the market, then it's entirely likely that the already burgeoning wireless accessories market will expand even further. During its iPhone event, Apple also called out partners Mophie and Belkin as two companies whose wireless products it will sell in Apple stores.
Wireless chargers are already at hundreds of Starbucks locations across the US, and are common at airports. Apple said it envisions a world where many surfaces—from your bedside table to your car's dashboard to your desk at work—could have wireless charging docks, meaning you'll never have to worry about remembering a cable again.