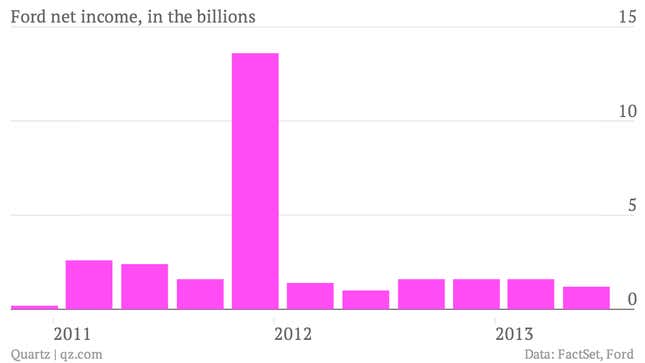 The numbers: Great. Automaker Ford reported earnings per share of $0.45 on revenue of $38.1 billion, handily beating analyst expectations. The company also raised its outlook for the rest of the year. Its shares were up by more than 3% in pre-market trading.
The takeaway: It was all about pickup trucks for Ford. Sales of those products in the US are up by 22%, helped by a boost in construction. Ford also saw strong sales in key market China, where it is up by almost 50%. Even in Europe, where auto sales overall have suffered due to the debt crisis there, Ford managed to reduce its losses. With the company firing on all cylinders, Ford said it now expected its 2013 pre-tax profit to come in at or above $8 billion, when the firm had predicted it would just match that figure.
What's interesting: The good news at Ford is leading to job growth. The company recently announced it planned to hire 3,000 salaried staffers, about 800 more than expected. But hot startups have had more pull with engineers and other skilled talent than automakers. So Ford is launching a social media campaign to attract potential employees. Its hiring campaign is a stark contrast to the recent bankruptcy of Detroit. Ford's headquarters is located just outside the struggling city, in Dearborn, Mich.